Unleash Your Creativity with This Free AI Art Generator Tools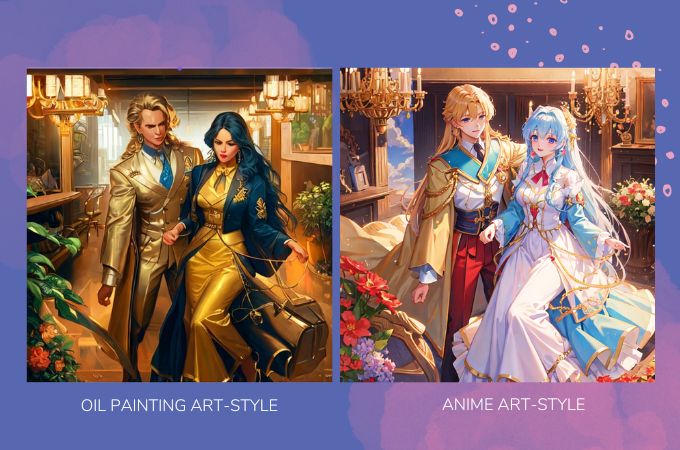 Nowadays, AI has been proving how limitless it is, especially in making artworks. With it, you are able to transform your imagination to unique digital artworks you can flex on your social media accounts and sites. You no longer have to master any artistic skills because in just a few clicks, the art you've been eyeing for can just be on your screen in just a matter of seconds. But with so many AI apps found online, let us help you to enjoy it without spending a single cent by browsing and trying the best and free AI art generator app below. Check them out now!
PicWish AI Art Generator
Experience the incredible capabilities of the PicWish's AI Art Generator, one of the best AI art apps today. It offers a wide range of presets for unparalleled versatility. This includes designs for avatars, illustrations, wallpapers, and posters. Customize your creations with a variety of styles to perfectly match your preferences. PicWish delivers exceptional quality and sharpness, making your images suitable for commercial use. Powered by its advanced AI algorithm, PicWish generates stunning images within seconds.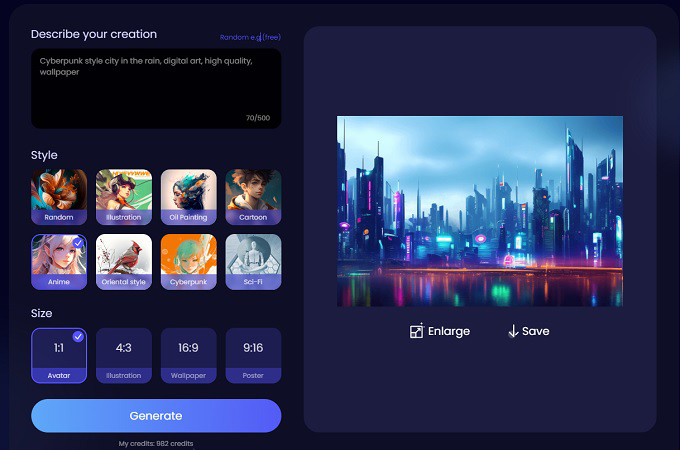 Note:
PicWish AI Art Generator offers 100 credits giveaway! Grab it while it lasts!
DALL-E 2
DALL-E 2 art generator by Google generates artwork instantly based on the text you enter. It can accurately produce results for any given input text. You can even modify the generated image by altering a few words from the initial text. And if you want more creative freedom, you can expand the canvas as well. Additionally, the app provides you with the option to produce variations of the image by adding other angles.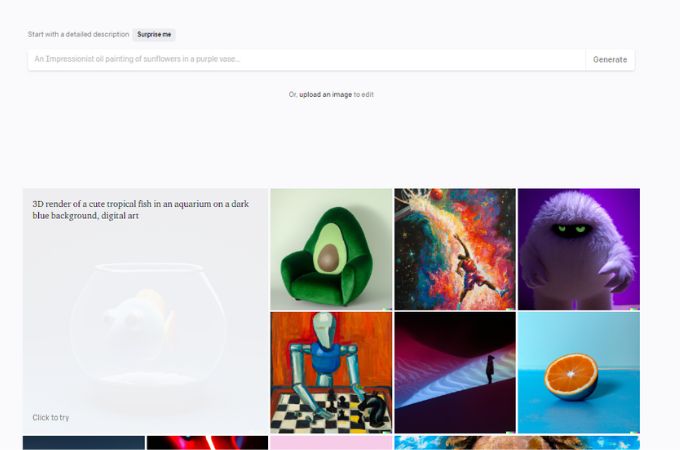 Cutout.pro
For the best AI art app, Cutout.pro is one of the tools that you don't want to miss. It has different ways in generating the art you want– input the description of your artworks, pick among its collections of descriptions, or upload images that you want to modify. On this tool, you can even change your art styles, from photographic ones to J-Manga, from painting to realistic graphics, or from vector art to flat comics. What made this tool interesting is you can even choose the size of your output before downloading it.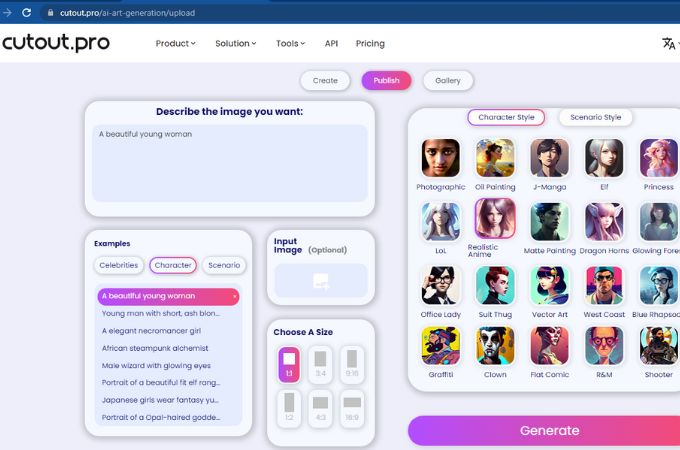 Artimator
Another best AI art generator app is Artimator. If you are looking for free and unlimited images to create, this tool is great for you. This AI art generator has the most straightforward interface which is applicable for beginners. You can just describe the artwork you imagine through text detail by detail then generate. Or you can also import the image and choose the new art style you want to apply on it. This app is accessible both in desktop and mobile devices, which gives you more convenience.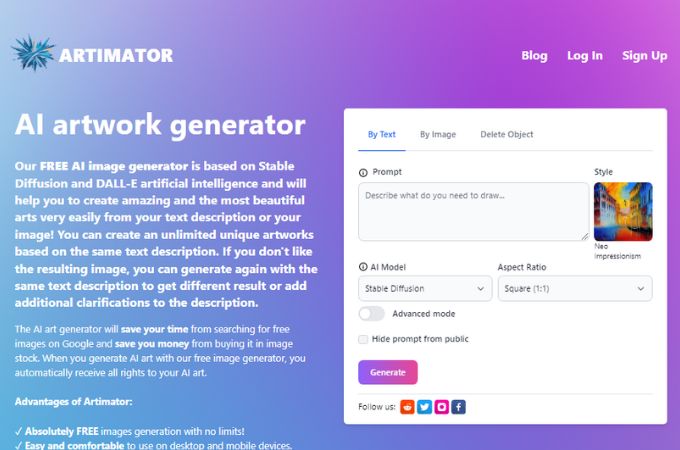 NightCafe
For a digital artist wanna be, you may want to start by using NightCafe. Being the best AI art app, this tool lets you turn your imagination to stunning digital art which you can share on its own NightCafe community. You can unleash your creativity on this app by simply describing the artworks you want to produce. More than that, before this AI generator gives you the result, you can also edit the settings of your image to choose the appropriate art style on your photo. You can make it as an artistic portrait, vibrant, mecha-like, modern comic, and etc,.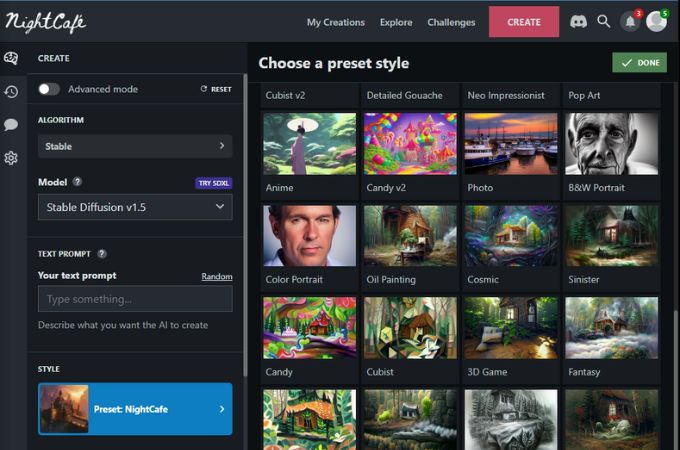 IMGCREATOR.AI
One more free AI art generator app included in this list is IMGCREATOR.AI. If you want variations to your digital arts, then this tool is great for you. You can effortlessly ask this AI art creator to make your imaginations into anime, illustration, 3D design, or even generate realistic photos. All you have to do is to input your text or upload your image to give it a brand new look and come up with a new artwork. Additionally, its output's resolution ranges from 640px up to 2048px. But what I think the edge of this app is its ability as an auto background remover app, whereas, you can simply upload your product photo and let the tool generate a hyper realistic background for you.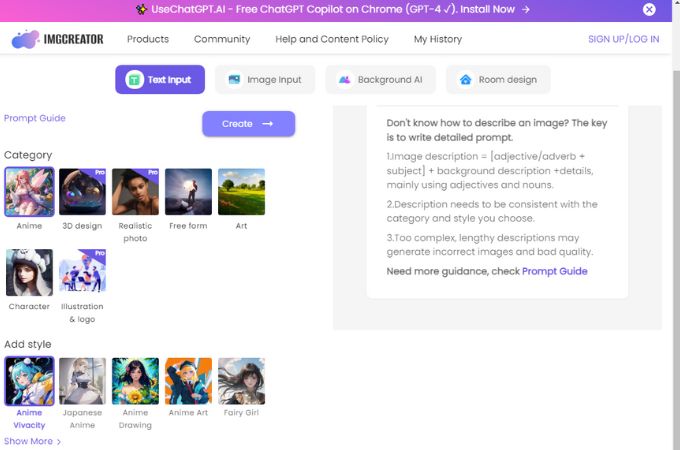 Fotor
Fotor is high rated and free AI art generator that provides a range of stylish images in categories like 3D, realistic, oil painting, cartoon, illustration, and cyberpunk. The tool boasts an extensive collection of templates that allow users to create futuristic images. Users can also leverage prompts for the style and background of the image to generate unique and appealing images.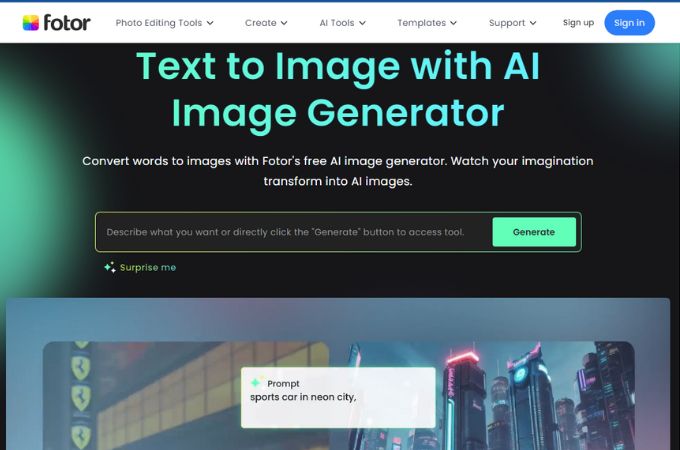 OpenArt
OpenArt is also the best AI art generator app listed in this article. This tool lets you both maximize your creativity and productivity with its AI-powered art-generation power. With this, you can instantly turn your thoughts to words to stunning digital art and images. By using this, you'll be surprised at how the images it gives you are in UHD – whether they are digital oil painting, photorealistic arts, sci-fi, etc. And yes, even your marvelous imagination over something, can be made true using this app. This app is free, yet it is limiting you to 1000 credits only which is not bad for you to explore this art generator.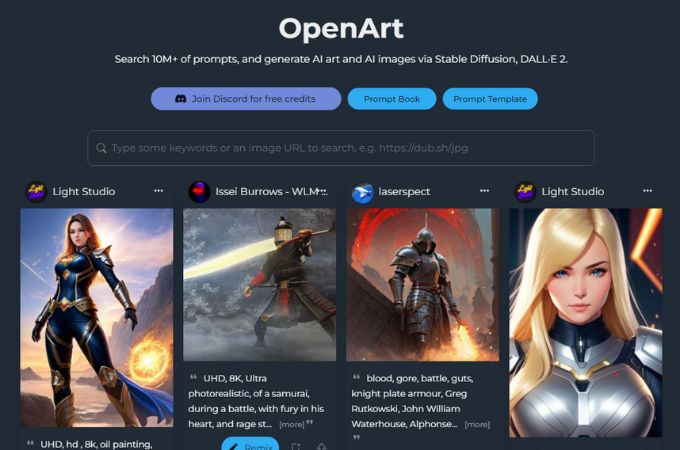 Conclusion
Now that everything is powered by artificial intelligence, being artistic is now more convenient. It even gives us more time to explore the world of arts and appreciate the beauty of it. After the list we have for you, time to try them and choose among them which is the best and free AI art generator for you. Don't forget to try them and share your thoughts with us.