Required Size and Tools to Compress Photo for US Visa
US Visa Photo Size Requirements
Your visa application photo must meet certain size and content criteria. Otherwise, you will be asked to submit a new one. So, in order to make sure that you will just submit one time, take note of this list: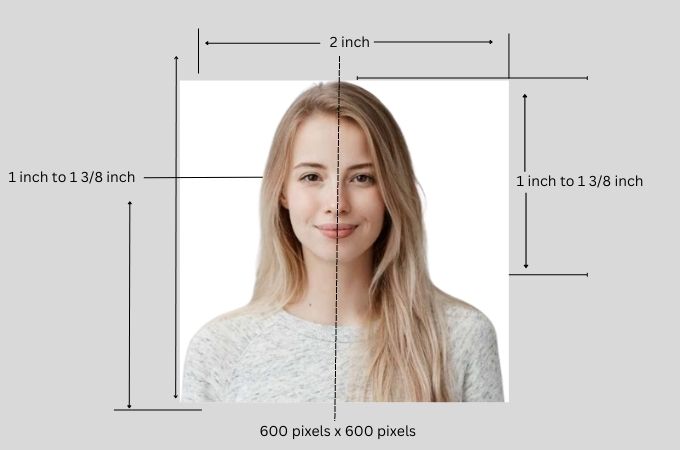 Your photo should reflect your current appearance and be taken within the last six months.
Your entire head, including hair and chin, should be visible in the photo.
Make sure that your head is crop proportionally, filling the 50% to 70% of the photo – the head length must be 1 inch to 1 ⅜ inch.
The nose must be centered and the eye's height must be ⅔ from the bottom of the photo.
The photo background should be plain white or off-white, with no clutter behind. .
Your face should be well-lit with no distracting shadows, and you should try to maintain a natural expression.
The digital photo uploaded with your DS-160 form should be square-shaped, measuring 5cm x 5cm with a minimum dimension of 600 pixels x 600 pixels and a maximum of 1200 pixels x 1200 pixels.
Resize your Photo to US Visa Photo Size
PicWish Online
If you already have a photo that you want to upload with your DS-160 form yet it doesn't meet the criteria needed, you can always rely on an amazing resizer like PicWish.
PicWish is an online tool that can resize your image to your preferred sizing including US Visa ID photo. This tool's ID Photo feature offers several common ID sizes such as 2 x 2 inches, 30 x 40, and 35 x 45. Interestingly, you can also change your background to a plain solid color using this tool alone. Moreover, you can also zoom in and position your photo before saving it for a more appropriate proportioned ID photo.
Here are the steps on how to use this US visa photo tool resizer:
Go to the main page of PicWish and navigate to its ID Photo feature. Then, click the "Start Now" and "Upload" consecutively button.

Then, pre-select the correct size and background color for US Visa and click Upload Image.

Next, click Edit if you are not satisfied with result yet. Otherwise, hit the Download image button to save your image.
PicWish Windows
If you're applying for a US Visa, you'll need to submit a high-quality ID photo that meets the specific requirements of the US Department of State. PicWish's ID Photo feature makes it easy to create a photo that meets all of these requirements, including the size, background color, and other specifications. By using PicWish, you can avoid the hassle and expense of going to a professional photographer or photo booth. Moreover, if you have to bulk resize photos, this software can process up to 100 photos simultaneously.
Download
Follow the steps below to resize your US Visa Photo:
After downloading the tool, go to the ID Photo tab and upload your image.
Then, change the background under the Color tab.
Next, select Common 1 for you US Visa Photo.
Hit Save All to download your output.
Compress Photo for US Visa Instantly
After having a cropped image, you would notice that the file size of your photo has changed. It is either too small or too large for the US visa photo size. Fortunately, PicWish Windows can help you reduce the size of your image to the US Visa standard (600×600 pixels or 1200×1200 pixels). This lossless image compressor, guaranteed that your image will meet the criteria of the photo you will about to submit.
PicWish is a great compressing tool as it lets its user control the compression level of the photo from Light, General, Strong, Strongest. It also allows you to adjust the resolution of your photo accordingly. Moreover, your compressed image can be saved in different formats such as PNG and WEBP. And if you have too many image to process, well, this tool can greatly work in batch photos up to 100 images.
Here's how to use this US visa photo tool for compressing your picture:
From the app's toolkit, select Compress.

Upload the photo as instructed.
Next, adjust the compression level and resolution of your photo to adhere to the US visa requirements.

Then, click the Start button.
Wait shortly and save your file.
Conclusion
Now that you already have the perfect guide on how to achieve the US visa photo size successfully, you can now get prepared and head off to the US embassy near you and file for it. With PicWish, your application's requirements are made easier.