2023 Color of the Year
What is Color Viva Magenta?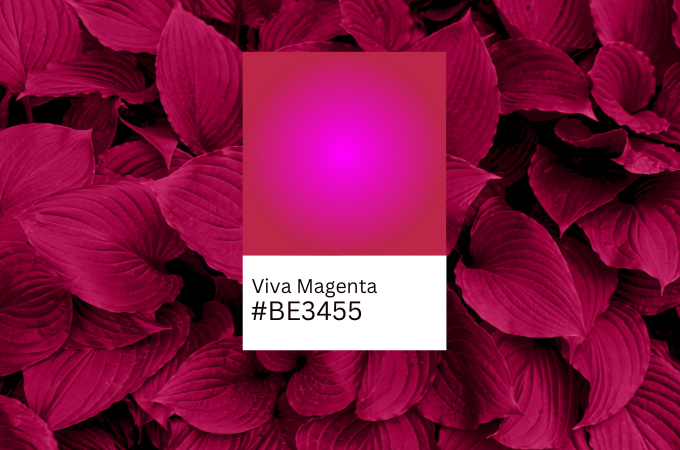 Viva Magenta is a lively and energetic color. It's like a bright red from nature, and it shows a new kind of strength. This year's Color of The Year is strong and makes you feel strong too. It's a lively red that makes you want to try new things and express yourself freely. It's an exciting and limitless color that stands out and makes a statement.
Viva Magenta Pantone 18-1750 is a unique shade of red that's both warm and cool at the same time. It's a color that fits well in our world, whether it's in the physical or virtual space. It's assertive but not aggressive, like a strong idea wrapped in a gentle package.
Breakdown of Viva Magenta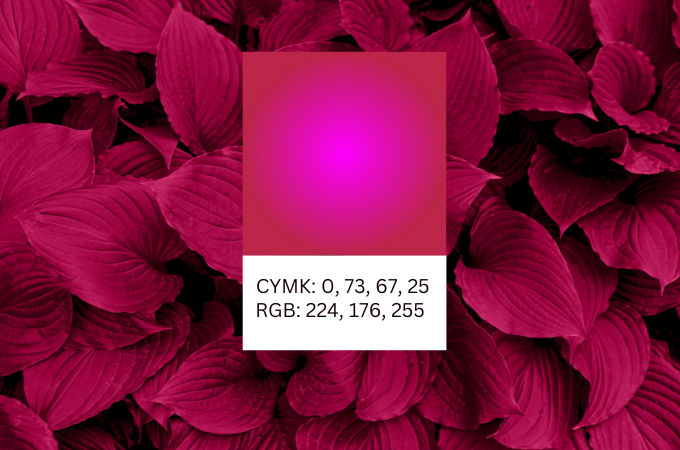 This is a vibrant pink color with strong red undertones. It is a combination of different shades of red, crimson, and pink, with a CMYK value of 0, 73, 67, 25 and a hex code of #BE3455. It is inspired by the organic red cochineal dye that comes from small beetles. Meanwhile, it has RGB values of 224, 176, and 255.
Other Shades of Viva Magenta
Another notable for Viva Magenta is that it has many shades. There are some small differences between these colors. Some are more vibrant, and some are gentler. We will explain them in detail below and provide the hex codes to show you the exact colors.
Dark Pastel Red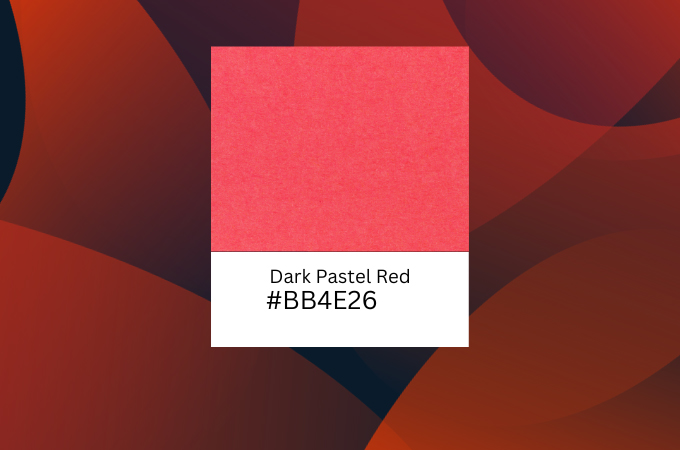 Also known as "Strong Red." It is a color that combines the characteristics of being dark and pastel at the same time. It is a muted, softer shade of red that has a subdued and somewhat lighter appearance compared to a standard, bright red.
Hex code: #BB4E26
CYMK: 0, 80, 61, 24
RGB: 187, 38, 73
Royal Fuschia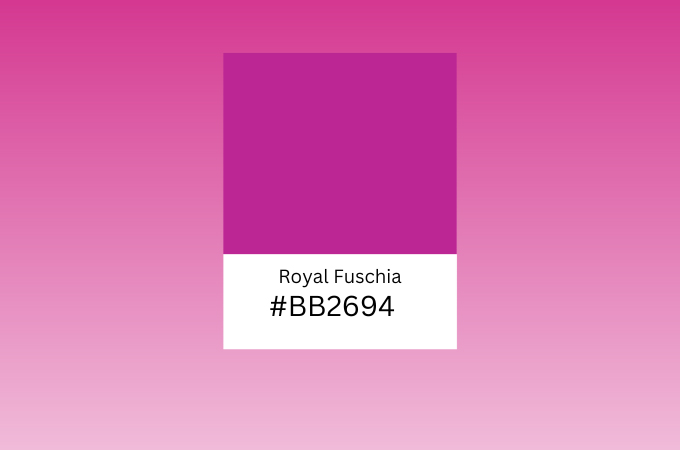 Royal Fuschia is a vibrant and bold shade of pinkish-purple. It's a deep and intense color that combines the characteristics of both royal purple and fuchsia pink. It's often used in fashion, design, and decor to add a lively and eye-catching element.
Hex code: #BB2694
CYMK: 0, 79, 20, 26
RGB: 73, 14, 58
What goes with Viva Magenta
Complementary Palette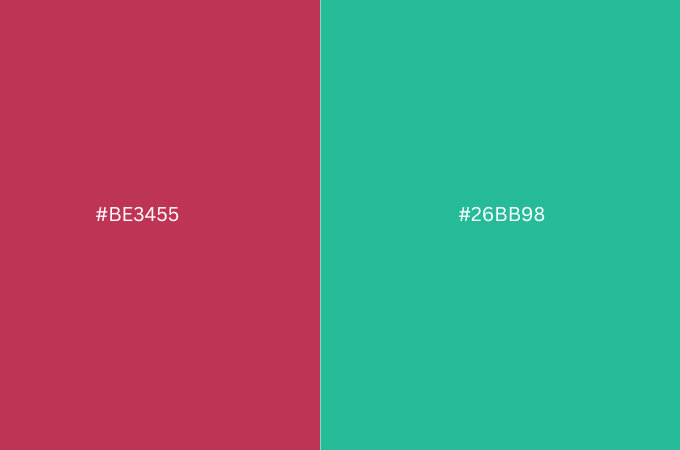 Complementary colors are like opposites on the color wheel, and they make each other look great. Research says that using colors that are very different is the best way to catch someone's eye. So, according to the RGB system, if you want to make #BE3455 color stand out, use #26BB98. The color that goes really well with Viva Magenta is Mountain Meadow, and its hex code is #26BB98.
Split-Complementary Palette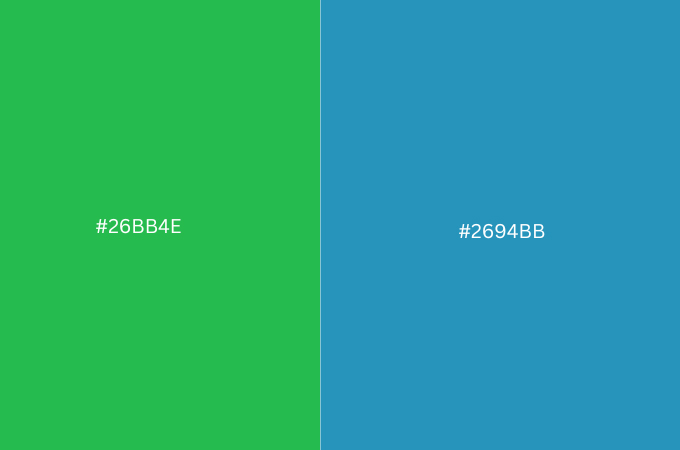 When we talk about split-complementary colors, it means we're using the main color and two colors that are close to the color opposite to it on the color wheel (about 30 degrees apart). According to the RGB color wheel, the colors that go really well with Viva Magenta (#BE3455) are #26BB4E (which is like American Green) and #2694BB (a kind of Cyan Cornflower Blue).
Triadic Palette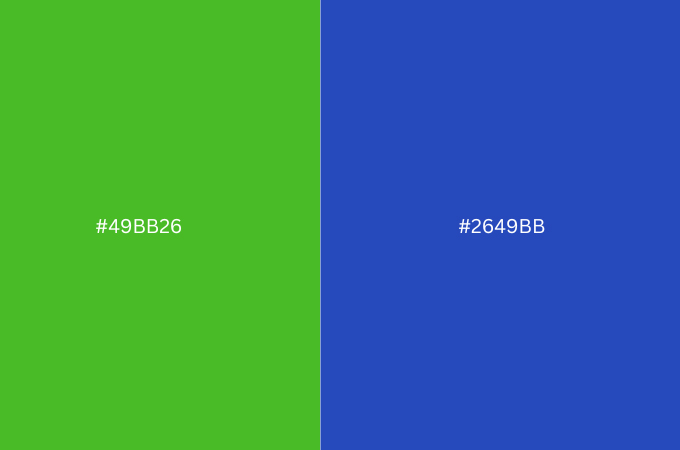 Its triadic color palette includes three colors, and they are spaced 120 degrees apart on the RGB color wheel. This means they're well spread out. So, when you combine #49BB26 (Kelly Green), #2649BB (Denim Blue), and #BE3455(Viva Magenta), you get a really nice and eye-catching set of colors. They have the most difference in color, which makes them stand out when you use them together.
Tetradic Palette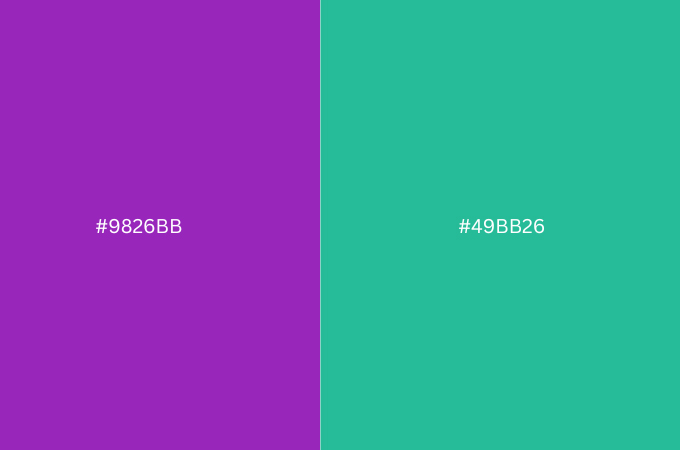 Tetradic color palettes are a bit tricky and might not work perfectly right away. It's a good idea to make small changes to the colors to get the look you want instead of using them as they are. Tetradic palette includes four colors: #49BB26 (Kelly Green), #26BB98 (Mountain Meadow), #9826BB (Dark Orchid), and the main color, #BE3455.
Square Palette
This palette is similar to the triadic one, but the colors are spaced 90 degrees apart on the color wheel. Take note that sometimes, a square palette might be a better choice than a tetradic one when you're working with several colors. It can look more balanced and pleasing to the eye. The square color palette includes #94BB26 (Dark Lemon Lime), #26BB98 (Mountain Meadow), and #4D26BB (Ocean Blue).
Application of Viva Magenta Pantone
Now, let us check how we can use the 2023 color of the year on our daily lives.
Fashion Design
Go all out and wear the Color of the Year as your main fashion statement. Viva Magenta works great as an accessory. You can pair it with light grays, blues, or pastel colors. The cool thing about it is that it's not too overpowering. It's a balanced red that brings a sense of fun and celebration. It also looks fantastic on lips, cheeks, and nails. It's a versatile shade that looks good on everyone, no matter their age, gender, or skin tone.
Interior Design
For interior designers, you can use the Color of the Year in big ways, like having a velvet couch or a shiny wall in that color. But if you prefer a more subtle home, you can still use it as a little splash of color. For instance, you could have a special glass light or some fancy flowers in your dining room that have this color, even if the rest of the room is pretty plain. Or you could use it in an art piece or a digital artwork to make your white entryway more interesting.
Graphic Design
Many people today spend a lot of time staring at screens, and these screens usually have light and plain colors. Designers who want to use a color that stands out in this space will really like the Color of the Year 2023. If a brand uses Viva Magenta, it shows that they're not afraid to be different, they're interesting, and they think creatively to find new answers.
Use Viva Magenta as Background
We are lucky that this year's color of the year is available to use in lots of ways. Another application you can consider is to make it as your background. One of the best tools to achieve it is PicWish. Boosted by an advanced AI technology, it precisely removes background from images within seconds. Additionally, you can choose any color palette including Viva Magenta to apply it. Follow the steps below to learn more.
Go to the background remover feature of PicWish.
Upload the image you prefer and wait for a few seconds to remove the background.

From here, click the Edit button and go to colors.

Hit the Color Palette and type the hex code #BE3455 to select Viva Magenta.

Lastly, click the Save button to download the image.
Conclusion
Viva Magenta, the 2023 Pantone Color of the Year, brings a vibrant and energetic addition to various aspects of our lives. Whether in fashion, interior design, or graphic design, it offers versatility and a touch of excitement. Its use as a background, with tools like PicWish, offers even more creative possibilities. Embrace Viva Magenta and infuse your life with its lively spirit.