2 Efficient Solutions to Remove Emoji from Picture
Various ways to remove emojis with the us of Online Tools
PicWish – 100% Free
PicWish is considered one of the powerful online tools despite being released just a few weeks ago. It has various advanced photo editing features which it offers for free like photo retouching which can remove any objects like emojis from your photo. With its amazing three manual removal tools which include brush, rectangle, and lasso tool, you can easily get clean photos with just a few simple steps.
Remove emoji from photo online with the help of PicWish
Visit photo retouch page to get started.
Hit the "Upload Image" button to import the photo with emojis on it.

Choose among the three removal tools and highlight the emoji.

Hit "Erase" to automatically process your work and click "Save" afterward.
InPaint
InPaint is another online tool that can prove to be a good choice in removing unwanted objects from a picture like emojis. You can delete small to big objects that can ruin your beautiful photography. With the use of Inpaint removal mark tools, you can freely highlight the object like emojis from your picture. In addition to that, you can do batch processing to save time.
To remove emoji from picture try using Inpaint
Open your browser and look for the official page of Inpaint.
Upload your photo by clicking the "Upload Image" button.

Use the red mark icon to highlight the emoji that you want to delete.
Hit "Erase" to process your work.
Once done, click the "Download" button.
Pixlr
The 3rd web-service tool that can also eliminate emojis in an instant is Pixlr. With this web app, you can do anything you want to beautify your photo. Alongside its removal tool, you can delete any objects from your photo and save them to their original quality. With Pixlr, you will easily learn how to remove emoji from photo because of its simple interface.
Follow these simple steps to eliminate the emoji using Pixlr
Search the official web page of Pixlr.
Click "Open Image" to import the picture that you need.

Manually remove the emoji using its heal/ repair tool.
Finally, download your work by clicking the "Save" button.
Mobile Apps to Remove Emoji
Apowersoft Background Eraser (Android & iOS)
Apowersoft Background Eraser is one of the best photo background editor apps that can easily remove any undesirable objects that can destroy the overall view of your photo such as emojis. It uses a brush tool that you may use manually to highlight the emoji. In just seconds you can remove emoji from photo and will have a clean photo.
Delete the emoji from your picture fast and easy – Apowersoft Background Eraser
Open the app, choose "Photo Watermark Removal" to get the photo with emoji.

Use the brush tool and highlight the emoji.

Then, hit the check mark icon.
Lastly, hit "Save" to download the photo.
Photo Retouch
Mark the unwanted content from your picture like emoji using Photo Retouch. With just one touch, you can perfectly remove it from your photo without wasting your time and effort. Effortlessly remove emoji from picture using its object removal tools which include the brush, lasso, mask, and eraser tool.
Here is the guide to delete emoji from your picture with Photo Retouch.
Download and install the app from Play Store.
Run the app, upload photo by tapping the "Album" icon.
Select "Object Removal" and choose among the tools that it offers.
Once the emoji is highlighted, tap the "Go" button.
Once satisfied, hit the import icon to save your work.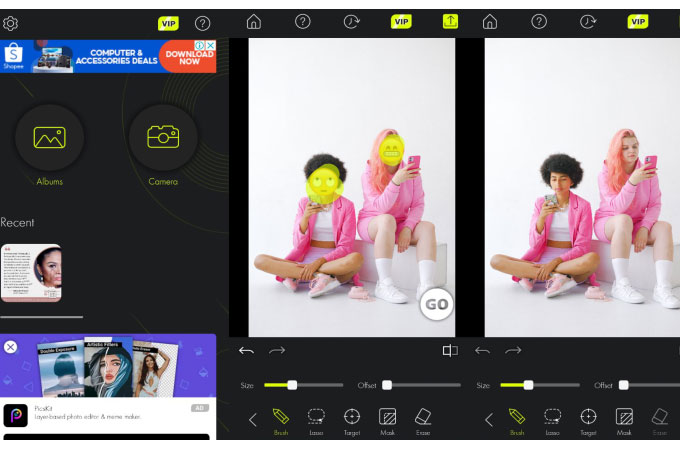 Conclusion
With these amazing 5 photo editors, you don't need to worry about eliminating undesirable objects from your photos. Among these tools that can help you out on how to remove emoji from photos, we highly suggest PicWish for online and Apowersoft Background Eraser for mobile solutions. They have the simplest and effective ways of removing emojis precisely. Share with us your experience in the comment section below.