How to Remove Unwanted Objects from Photos (2023)
Online Solutions – how to remove unwanted objects from photos
PicWish – 100% Free
PicWish is making its name in the photo editing field. This web-service tool is totally 100% free. It has AI tech that can easily give you clean results. This online tool removes unwanted objects freely and naturally which brings the photo into focus and can effortlessly highlight the content that you want to have in your work. More than that, PicWish doesn't require any photo editing skills, it is special made for everyone from professionals to beginners.
Remove unwanted objects from photos with the help of PicWish
Visit the official page of PicWish on your browser.
Upload a photo by clicking the "Upload Photo" button.

Use the removal tools to highlight the unwanted object.

Once done, hit the "Erase" button to process your work and hit "Download" afterward.
Picsart
You don't need to exert a lot of effort in editing your photos with this online tool called Picsart. With its removal tool, you can eliminate unwanted objects like text, logos, timestamps, and any other elements that can destroy the beauty of your photography. Indeed, Picsart can meet your expectation in photo editing with the help of its brush tool.
How to remove unwanted objects from photos with the use of Picsart
Go to the official web page of the online tool.
Click "Upload" to get the image that you need.

Brush over the element that you want to delete and hit "Remove".

Lastly, click "Apply" then "Export" to save the edited image.
How to remove unwanted objects from photos on desktop
Apowersoft Watermark Remover
Apowersoft Watermark Remover is a desktop program that can magically remove any undesirable objects from your picture. This program has three selection tools: the marquee, polygonal lasso, and brush. Also, this program works fully with all commonly-used photo file types. With Apowersoft Watermark Remover, you will easily learn how to remove unwanted objects without any hassle.
Follow these simple steps to delete the unwanted objects with Apowersoft Watermark Remover
Download and install the program from its official page.
Select "Remove watermark from image" to upload photo from your computer library.

Choose among the removal tools to select the object.

Finally, hit the "Convert" button for your work to be processed.
Adobe Photoshop
Who doesn't know this photo editing program called Adobe Photoshop? This program can do almost all the photo editing techniques that can make your photo extra amazing. You can erase any unwanted object using one of its removal tools, including spot heal, patch, and clone stamp tools. Remove unwanted objects will be much easier with this program if you will be familiarized with it.
Here is the guide for you to follow in removing unwanted objects with Adobe Photoshop
Get the program and install it on your desktop.
Run the tool, under "File" click "Open" to upload a image.

Select any removal tools that you want to use to remove the object.

Once satisfied with the result, go back to "File" and click "Save".
Mobile Solutions
Apowersoft Background Eraser (Android & iOS)
Apowersoft Background Eraser lately adds a new feature that can manually remove any undesirable elements on your photo. With the use of its photo removal tool which is a brush, you can remove unwanted objects from photos fast and easily. You can save time and effort without having any photo editing skills. This app will let you meet the expectation that you want for your photo.
Know how to eliminate unwanted objects with this awesome tool called Apowersoft Background Eraser
Go to the Play Store or the App Store to download and install it on your phone.
Tap "Remove Watermark" for you to get the image.

Adjust the size of your brush and highlight the unwanted object.

Then, hit the checkmark icon and tap "Save" to downlaod the image.
Remove Unwanted Object
Another object removal app that you can rely on is Remove Unwanted Object. This app will help you with how to remove unwanted objects from photos. This app will let you save time to retouch your image with its simple image processing. You can precisely remove telephone wires, posts, power lines, stop lights, and more.
Here are the steps on how to use Remove Unwanted Object
Download the app and have it installed on your mobile phone.
From its interface, choose "Gallery" to import the photo that you will use.
Choose one removal tool and select the undesirable object.
Hit "Process" and download the image by tapping the diskette like icon.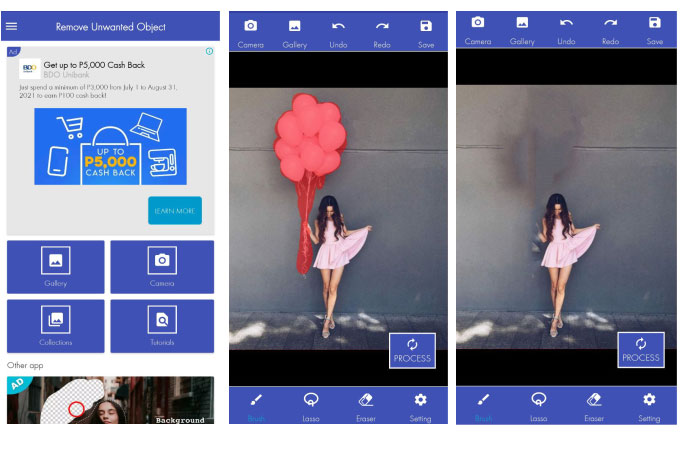 Conclusion
Learn how to remove unwanted objects with the best tools written above. You can try them all and choose the best one that can meet your satisfaction. I personally suggest PicWish because of its user-friendly interface and useful photo editing features. Share with us which one you like the best by writing in the comment section below.