Ultimate Guide How to Look Good in Passport Photo
Due to loosened border restrictions, people are now heading abroad to visit tourist destinations they had missed since the pandemic hit. And for those of you who are also planning to travel for the first time, now is a perfect time to obtain a passport. Meanwhile, if you have a passport, be sure to renew it before the expiration date. More so, you might as well learn how to look good in passport photos. In that case, here's a tips and guide how to have one.
How to Prepare for a Passport Photo (Do's and Don'ts)
Expressions and Postures
Posture and expressions can make or break a photograph. The same is true for passport photos. Hence, knowing the proper way of how to take a good passport photo also includes expressions and postures. To help you out, read the list below:
Maintain a neutral expression. Make sure you keep your eyes straight ahead, but don't look gloomy.
Smile. Contrary to what they say that you can't smile on passport photo, the fact is you can. However, just remember to keep your teeth hidden and smile with your eyes.
Show off your jawline instead of your double chin. The easiest way to do this is to move your chin forward an inch away from your neck. It will be easier for you to pronounce your jawline this way.
Correct your posture. Even though a passport photo is only a headshot, sitting up straight, forwarding your chest, and keeping your shoulders back can make a noticeable difference.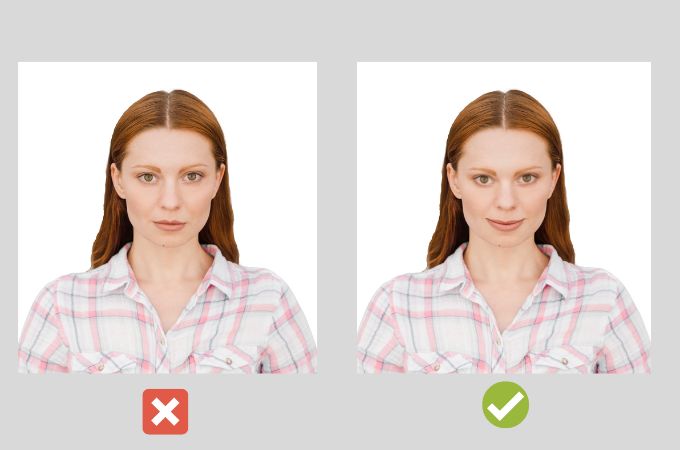 Make Yourself Presentable
Passport photos are headshots. In other words, this is primarily focused on our face. Just because we're talking about how to look good on passport photo doesn't mean you can do anything that makes you feel comfortable. You should also keep in mind the guidelines for passport photos when it comes to styling yourself. Here are some worth checking out.
Style your hair. In order to take a good passport photo, you must ensure that your face is clearly visible. If you have bangs, pin them up. Style your hair in such a way that it does not cover any parts of your face such as your ears, eyes, and eyebrows.
Wear light makeup. Light means that you should seem as natural as possible. Make sure you wear powder or concealer that looks natural. Brush your brows with gel. And to avoid looking pale, you can also use pink blush and lip gloss or tint.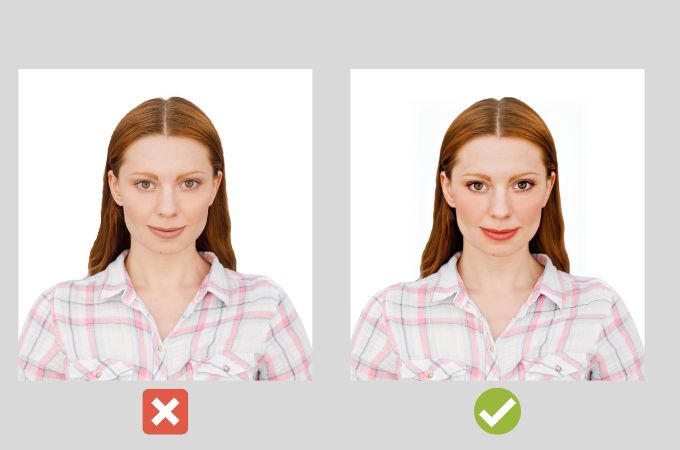 Appropriate Wardrobes and Accessories
Passport is a formal document. So, knowing what and what not to wear is also essential as you know how to prepare for a passport photo. That means you should also wear something that, if not a formal dress, at least a smart casual attire.
Dress appropriately. Tops with collars are most often acceptable. Avoid sleeveless, halter, and off-the-shoulder tops. Wearing uniforms will also result in a rejected passport photo. Remember not to wear white tops because passport photos usually have white backgrounds. On the other hand, pick a complementary color, but not a contrasting one.
Don't wear eyeglasses and headwear. If you want to take a passport photo, you should remove your hat and eyeglasses. For a passport photo, these two will certainly cover part of your face.
Avoid wearing jewelry. Take off any earrings, necklaces or piercings you have on your face as the reflection will cause glares in your photos.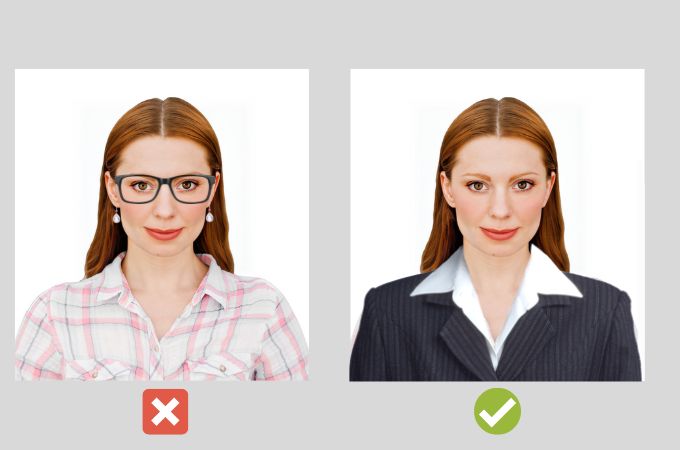 Know the Right Sizing and Background of Your Passport Photo
Another thing to remember on how to take a good passport photo is knowing the right dimensions of your photo. Generally, passport photo should be crop these ways:
Face height. The length of your face to appear on your passport photo should be between 1 and 1 3/8 inches.
Nose is centered horizontally. In this way, you'll get the right symmetry.
Proper spacing on the eyes. Eyes should be 1 ⅛ and 1 ⅜ inches from the bottom edge of the photo.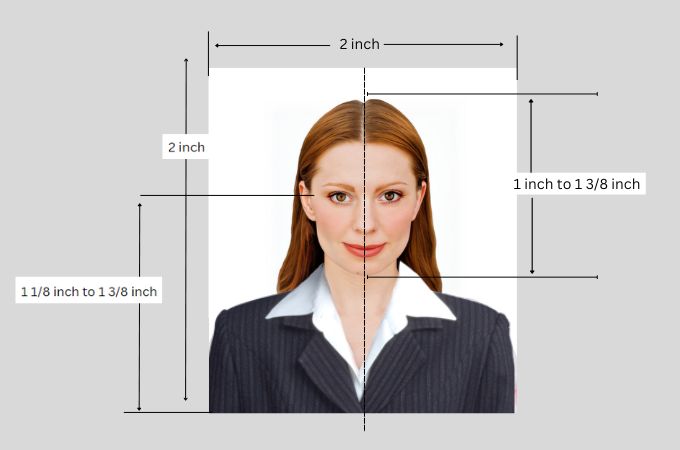 Perfect App How to Take a Good Passport Photo
PicWish – ID Photo Creator
As a DIYer, you can't avoid imperfections in your photo in terms of lights, background, and size. Thanks to PicWish ID Photo Creator, you can create passport photos online for FREE. This online solution helps you in cropping headshots according to the passport ID photo size you prefer (US, UK, HK, or Japan Passport). In addition, you can use this tool to replace the inappropriate background of your photo with a plain white background or any other solid color that is required by other countries for passport photos. You can also save it as a transparent file for future use. You can also resize photos here for US and Schengen VISA if you also have plans to visit other countries.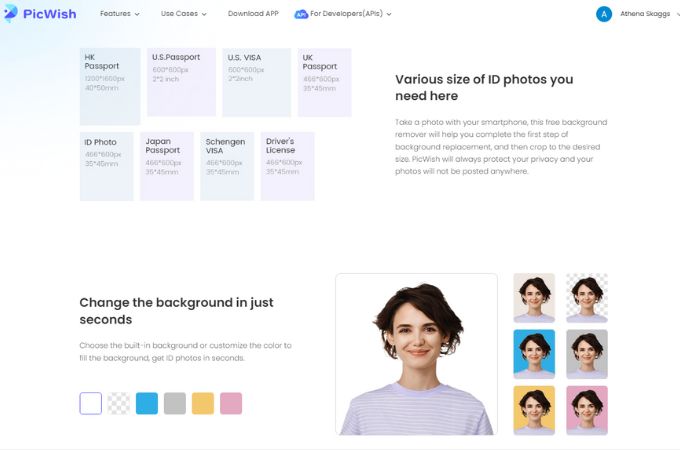 Tips:
If you wish to correct some imperfections in your portrait photo, you can also download PicWish on your smartphone. This app's beautifying tool help you how to look good in passport photo by removing blemishes.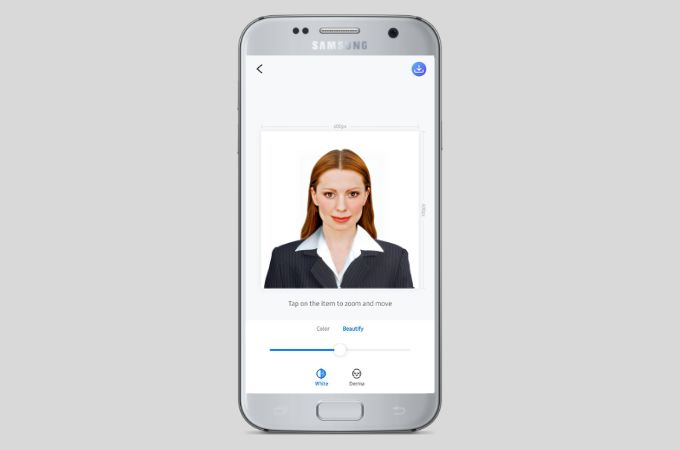 Conclusion
Now that you already know the tips on how to look good in passport photo, it's time to book an appointment and apply for a passport now. Travel and be proud of how nice your passport photo is.