How to Compress Images in Different Platforms
How to Compress Images Using Effective Online Sites
PicWish (100% Free)
Let's start with the newest and ad-free site, PicWish. This is the leading online site that will guide you with ease on how to compress images for free. PicWish gives you a choice of compression type and output format, including size, normal and quality, and JPG. Furthermore, you'll be able to enlarge, crop, and resize your image aside from compressing the image without impacting the quality.
The process is simple. Learn it by following the easy steps below.
Visit its image compressor page and click the "Upload Image" to upload a photo.

Once uploaded, choose a compression type and format.
Next, click the "Apply" button to process your image.

Finally, click the "Download" button to save it.
TinyPNG
Another way to learn how to compress image size is using TinyPNG. Both JPEG and PNG image formats are supported and enable you to upload up to 20 images and process them one time. Plus, the images can be downloaded to your computer or saved to Dropbox. However, you have to pay for a larger file size and only reach 5 MB each file size.
Here's how you can compress your image using TinyPNG
Dive to the site and click the upload icon.

Then wait for it to finish compressing.
When it is finished, click "Download".
FreeConvert
FreeConvert is the last but reliable online tool that will teach you the right way on how to compress picture size. The good news is that the site is absolutely free and downloading software is not required. Besides that, you'll be able to resize your photo and add effects such as captions, borders, and shadows using the EXIF data feature.
Follow the instructions listed to reduce the size of your picture
First, click the "Choose File" button to pick the photo you want to compress.
Then select the compression level bet. 0-99 that you wish to apply to your photo.

Lastly, click the "Optimize Photo" button to get your compressed image.
How to Compress Image with Desktop Compressors
ApowerCompress
If you are looking for a professional, practical, and convenient tool that works well on how to compress image size, then use ApowerCompress. Not only it has an intuitive interface but also covers interesting features that definitely help you compress quickly, achieve a high compression rate, and more.
To help you, here are the steps below:
Launch the tool, click the "Add image" or the "Add folder" button to import one or more images from your computer.

Then choose a compress type: size, normal, and quality.

The final step is click the "Compress" button to start.
JPEGmini
Let's learn the simple ways on how to compress picture size using JPEGmini. It can reduce the file size of your picture in just a few seconds. Moreover, you can use the free version that enables users to compress up to 20 images per day, which is perfect for basic users and beginners. Sadly, you have to spend money so you can use its other features.
Install it and click the plus sign icon to import a photo. Or drag photos/folder to the app.
Then wait for it to be processed.
Once session is completed, then save your picture.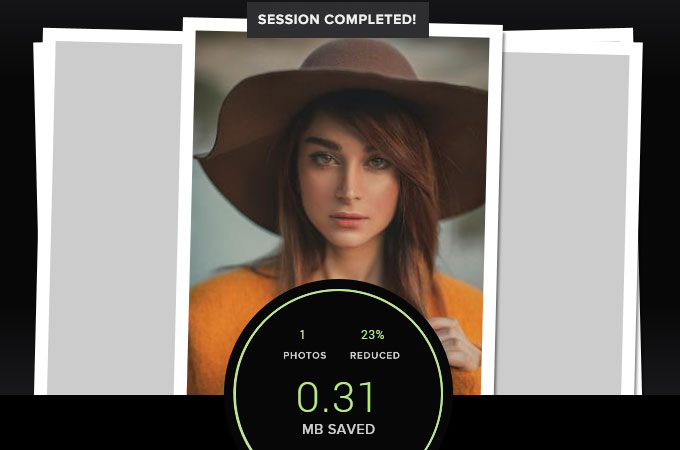 Recommended Apps for Android and iOS
Photo Compress & Resize (Android)
This app is user-friendly, intuitive, and smart. The process on how to how to compress image size is easy and there are no photo editing skills required. In addition, you can compress multiple photos or in batches easily and quickly. Follow the steps below in order to compress an image in just a few seconds.
Go to Play Store to search for the app and have it installed.
Tap the "Compress Photos" tab to import a photo/s.
Then adjust the compression mode depending on your needs.
Finally, tap the "START COMPRESSING" button to start.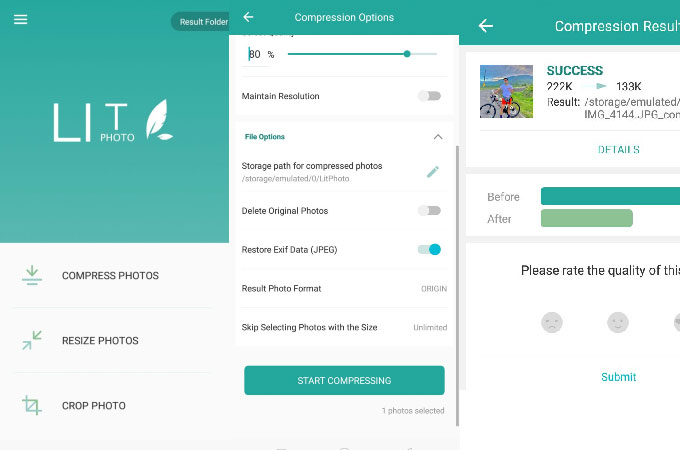 Photo Compress – Shrink Pics (iOS)
An alternative app that will guide you on how to compress picture size is Shrink Pics. This app can reduce the size of pictures quickly and bulk. Also, you can customize the image size. The only drawback is that it only supports or is compatible with JPEG format.
To help you, here are the steps that you must follow.
From your App Store, install the app and then open it.
Tap the plus sign to import photos.
Then select the pictures and continue compressing it.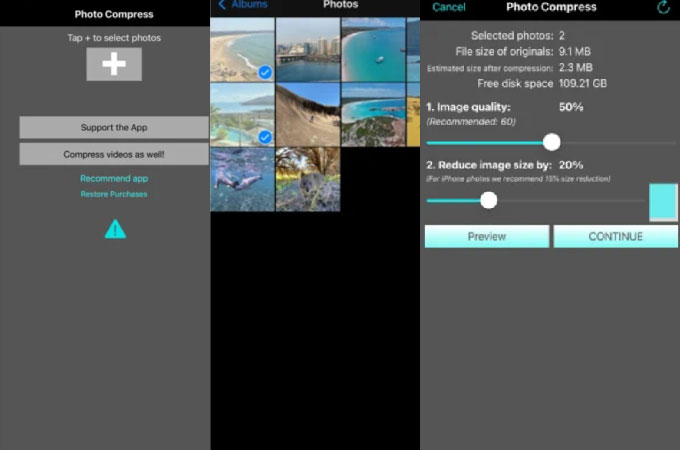 Conclusion
You don't have to worry anymore about low storage or file storage. Now you've learned the right way on how to compress picture size, share it with your friends so they can try also the tools mentioned in this post.