Enlarging Photos for Wall Art without Losing the Quality
Did you just move into your new home, and you've decided to add wall art at your plain painted wall to make it aesthetic? Make your living room a focal point by choosing a picture from your photo book or gallery. It can be your family portrait, wedding photos, or childhood photos.
But before going to the canvas maker, help them ease their job by giving them enhanced pictures already. Plus, with high quality photo enlargement you will be assured that the resolutions of your image once enlarged won't appear pixelated. Also, knowing the right size of canvas for the resolution of your image is a big help too. That way, you will both save time and energy. And in your case, it also saves you money from paying for additional photo editing fees!
Things to Remember When You Enlarged Photos on Canvas
Digitize Your Photo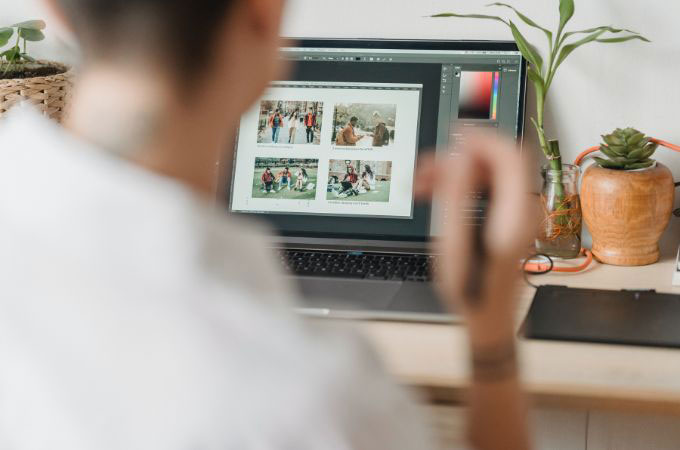 First things first, you must have a digital copy of the photo you want to use so it can be saved on your PC. You can use a good scanner that can give you a high quality result. After that, save your file as JPG or GIF to ensure HD photos upon saving. Note that this case is just for people who want their printed photos to have a version of enlarged photos on canvas for wall art. On the other hand, if you already have the digitized version, proceed to reading the article.
Moreover, if you are just about to shoot your photo– whether on a smartphone or digital camera, make sure that your camera settings are set– as much as possible– to the highest quality.
Get the Proper Size of the Wall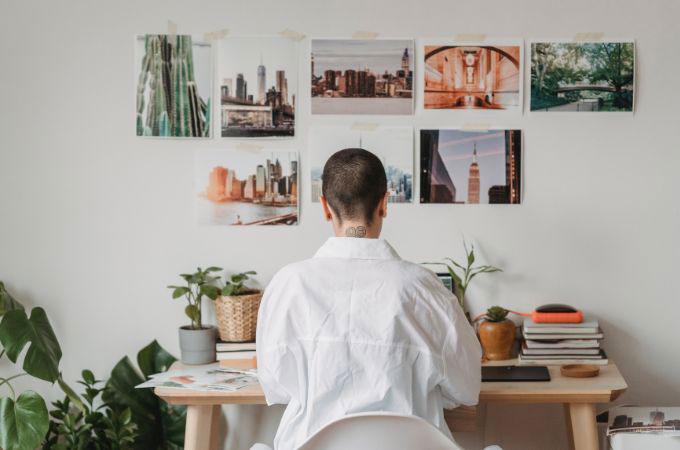 Keep in mind that size is everything when hanging framed art on your wall. It should maintain balance in your house. You are not just hanging a frame just because you like it. Here are 2 simple suggestions for decorating your walls:
Only take 60% to 75% of the wall space if there is no furniture placed in there. To compute it, just measure the width and height of your well and multiply them both by 0.60 and 0.75.
If you are going to place the enlarged photos on canvas over your headboard, couch, or any other furniture, then, your frame art should be ⅔ to ¾ size of your furniture. For example, if your bed is 5 feet wide, multiply it by 0.66 and 0.75 resulting in 3.3 feet and 3.75 feet wide.
Know the Complimenting Size of your Raw Photo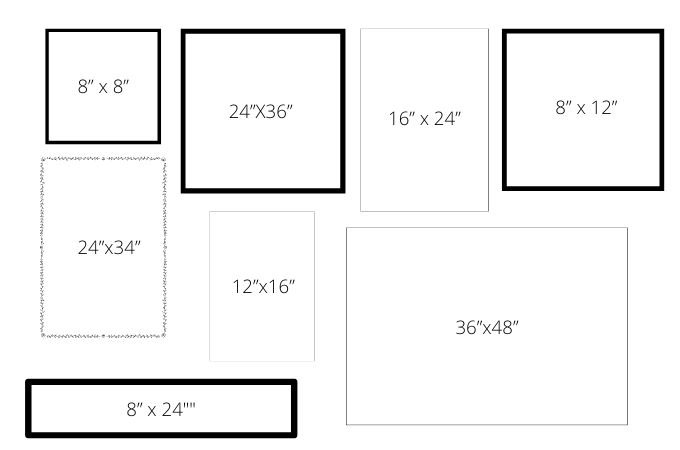 After learning the right size of the canvas for your wall, you should also know what the most appropriate canvas sizes are for your original photos because knowing what size would fit your wall is also a thing to consider for your home decor project.
Prior to enlarging photo for wall art, you should know the size and the DPI or dots per inch of your photo. This will avoid too much loss of quality. Generally, the recommended size that you can adjust for large printing is 150 to 300 DPI at maximum. The size of the photo taken using your smartphone which is at 72 DPI is also acceptable for high quality photo enlargement.
To make it simpler, in this chart, you will be able to see what are the best sizes for the resolution of the photo you have to prevent too much loss of your image.
| | |
| --- | --- |
| Raw Photo Resolutions | Best Canvas Printing Sizes |
| 460 x 310 or lower | 8" x 8" or 8" x 12" |
| 420 x 420 px | 8" x 8" |
| 760 x 610 px | 16"x20" |
| 1200 x 760 px | 20"x30" |
| 1400 x 920 px | 24"X36" |
| 1900 x 1400 px | 36"x48" |
| (A1) 9933 x 7016 px | 24"x34" |
| (A2) 1191 x 1684 px | 16" x 24" |
| (A3) 842 x 1191 px | 12"x16" |
Tools for High Quality Photo Enlargement
You can hire a professional to have your photo enlarged and printed on canvas. However, if you want to be practical, then learning tools to resize your image should be your resort instead. And before thinking of using Photoshop that is too technical for you, let us introduce to you the best tools for enlarging photos for wall art.
Best Free High-Quality Photo Enlargement App
PicWish 100% – Free
PicWish is a web-based app is an all-in-one tool to use for enlarging photos for wall art in one-click. It lets you enhance image quality and resolution using its advanced AI face enhancement technology. This app can turn your blurry images into clearer and crisper ones in just a snap. After enhancement, expect that your old photo will come back to life.
Here's how to enhance your enlarged photo:
Go to Face Enhancement product page and start deblurring.

Swipe the slider to the left side and set the Upscale factor.

Then, click Download once done.
Moreover, after deblurring and improving your image, you can also crop your photo to your desired canvas print sizes with PicWish. It lets your JPG and PNG images be resized to the exact sizes that you want without compromising the original quality.
To help you, here are the steps of enlarging photos for wall art using PicWish:
First, visit the PicWish Image Cropper and click the Upload Image button and wait shortly.

Next, customize the size on the Crop and Resize section.

Then, click Download after enlarging the photo.
If you think the original background seems off, why not change it instead? With PicWish Background Remover, remove background automatically by instantly extracting your subjects from its backdrop and change it into another image as your background. And the hype is, this background remover renders HD and precisely cut out images.
Follow the steps below to get started:
Head on PicWish official site and click Upload Image.

Wait for the transparent background and hover your mouse to the "Background" tab.

From here, choose your background– solid plain colors or upload a new image.

After that, hit Download to save your file.
Alternative High Quality Photo Enlargement Tool
For a higher resolution of the image, then you can use an alternative instead. In this part, we will introduce another tool that can also help you have enlarged photos on canvas.
Let's Enhance.io
Let's Enhance.io is another Smart AI enhancer that upscales photos up to 16x with quality of up to 4K or bigger. It also fixes pixelated blurry areas of your photo and corrects discoloration of your enlarged photos on canvas. This upscaler can process JPG. PNG and WEBP files provided that they don't go beyond 50 MB. However, take note that you are only entitled for 10 free credits in using the free version of this app upon signing up for an account. But if you wish to use it more you can avail its monthly subscriptions starting at $9 a month. . To start using this, follow these steps below:
On the Letsenhance site, click Try for Free to register for an account and start experiencing high quality photo enlargement.

Next, customize the quality you want by going to the OPERATIONS tab.

After that, click Start processing and wait for the result.
Then, click the Download button to export the file.
Conclusion
Now that you have the tools to use for enlarging photos for wall art, you can now accentuate and improve your interior with your portraits or old photos put on canvas. As with PicWish, you don't have to break your bank just to have a mini gallery at your home.