PicWish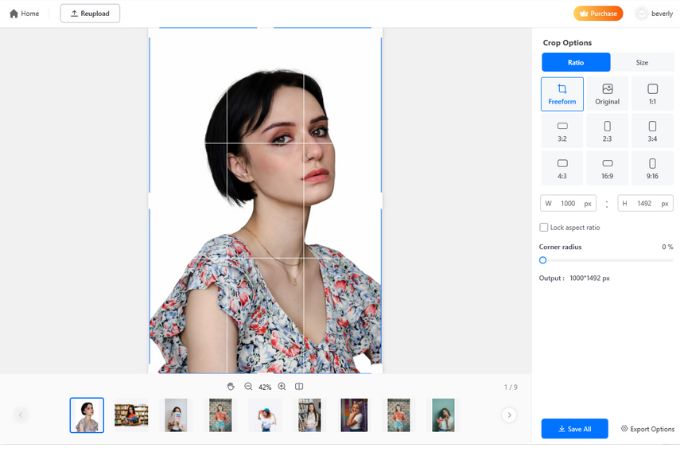 One of the best tools for processing multiple images at once is PicWish. It has several crop options – ratios and sizes that can be customized to meet your cropping needs. There are preset sizes for eBay, Depop, and Shopify product photography. Furthermore, it supports US, UK, Japan, and HK passport IDs. The tool can also be used to resize VISAs and driver's licenses. Additionally, you can manually input the width and height or use its pre-made ratios.
Download
Note:
Aside from cropping, PicWish can also be used as a bulk photo editor since it comes with tools such as Remove BG, Remove Watermark, IDPhoto, Unblur Faces, Blur to Clear, and Compress.
PhotoShop CC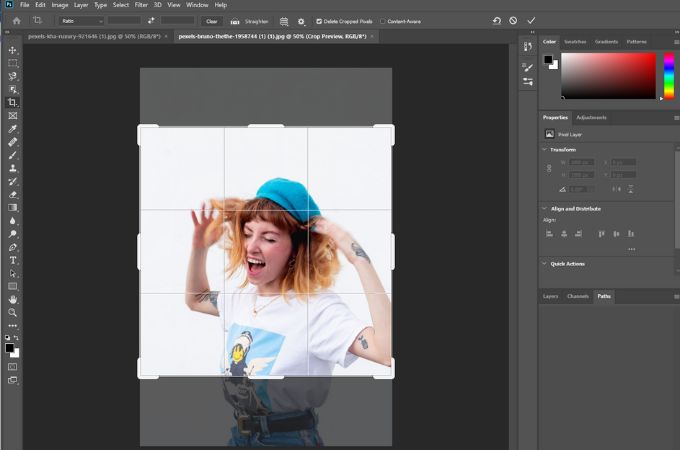 You can also bulk crop images with PhotoShop CC. It has advanced tools that let you resize your images without losing quality. In addition, this tool offers professional editing features which are perfect for enhancing your image. However, we all know that Adobe Photoshop requires users to have at least a background in editing a photo as this is not that recommended for beginners.
JPEGCrops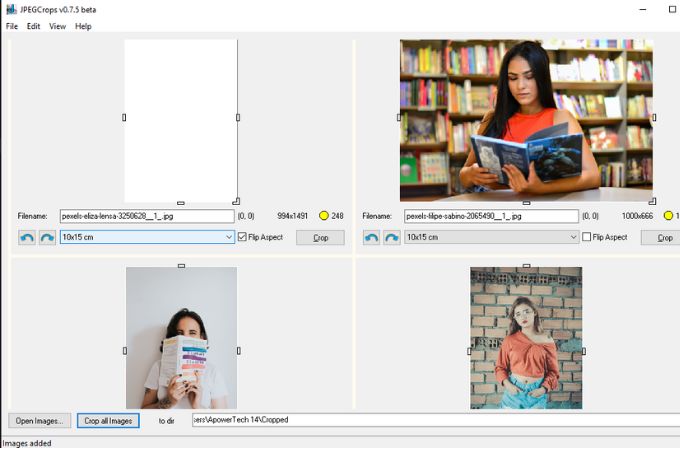 With JPEGCrops, you can crop multiple images at once, speeding up your workflow. The interface is straightforward, making it ideal for beginners. It guarantees lossless cropping to make your output print-ready. With its Preview mode, you can resize them one by one according to your preferred dimensions and process them all at once.
BatchCrop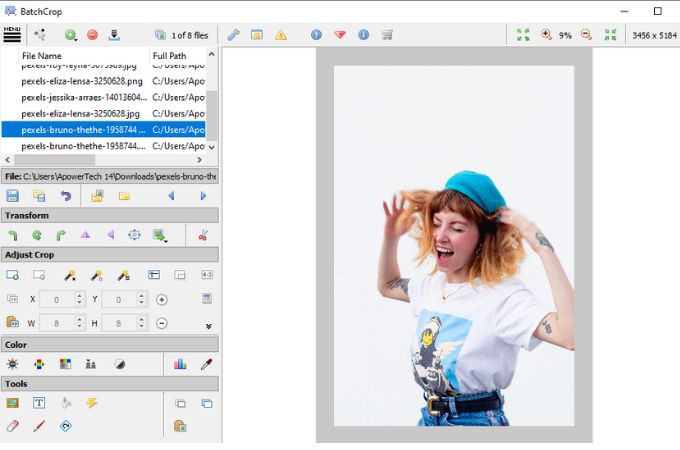 BatchCrop is another tool that uses automatic intelligent cropping. Using this software, you can batch crop images simultaneously, which can be edited as a whole. With this mass cropper, you can either manually or automatically crop your image. In addition, you can make some corrections by heading to the Color section. Meanwhile, to add texture to your image, you can add text, images, and sharpen your image under the Tools tab.
Pixillion Image Converter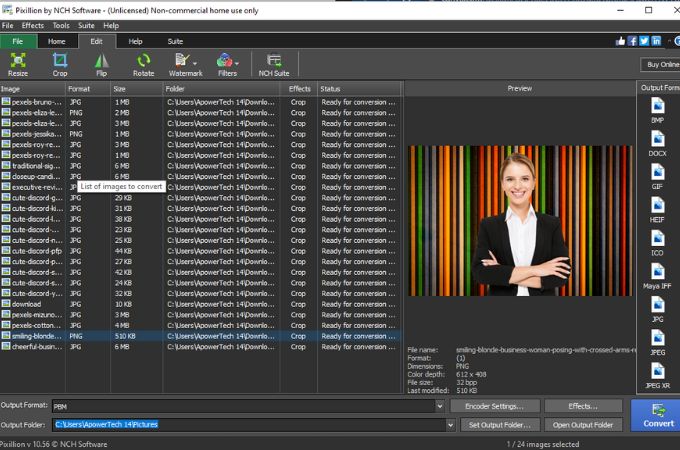 Installing Pixillion Image Converter on your PC will allow you to bulk crop images regardless of their format. You can crop an image by selecting its aspect ratio, orientation, units (pixels, inches, centimeters, millimeters) or manually inputting its height and width. There is also a Preview column for viewing the results immediately. In addition to its cropping tool, you can also resize, flip, and rotate them. Additionally, you can even add watermarks and filters to your image.
Birme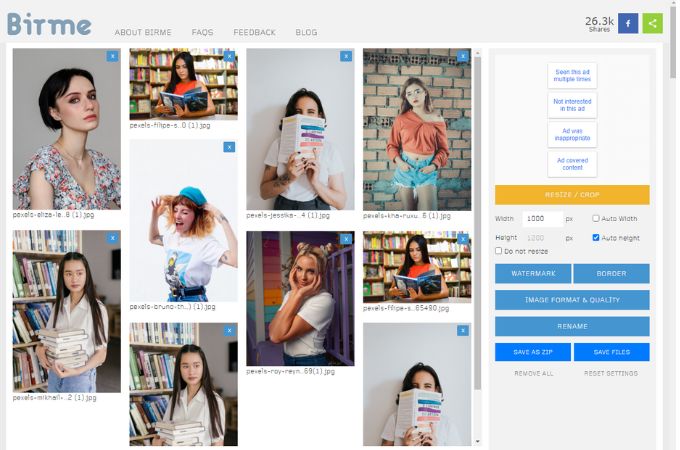 Birme is a web-based image cropping tool that can crop multiple images at once. The resize and crop options allow you to adjust the width and height of your image automatically or manually. You can also add borders and watermarks to your cropped images using this tool. Additionally, this image cropper allows you to save your image as a JPEG or WEBP file. You can also compress all your images as ZIP files or save them as JPEGs for download.
PicResize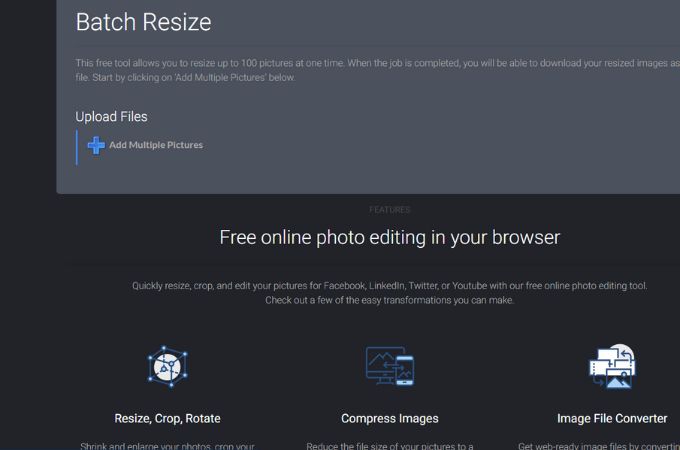 PicResize is another online app that lets you crop multiple images at once. Using this tool, you can crop 100 pictures at once and save them as zip files. Also, you can resize your pictures to your desired quality and disk size (KB or MB) and directly upload them to Facebook, LinkedIn, Twitter, or Youtube. Depending on your needs, you can also convert your image to BMP, GIF, or PNG.
Conclusion
Instead of wasting time with manual croppers, you can now save time and be more productive with these hassle-free bulk image crop tools. Your images will be processed in batches without compromising their quality with these mass croppers.