5 Incredible 2×2 Picture Maker Online Tools
PicWish – 100% FREE 2×2 Photo Maker
The first professional online tool that can easily prepare your 2×2 photo instantly is none other than PicWish. This FREE web service tool provides efficient ways for everyone who needs to make their own ID, from beginners to professionals and from the small to large photo studios. With just one click users can have the 2×2 size photo that they need. No need to set up or do manual adjustments to achieve the exact size.
Here are the simple steps in using this amazing 2×2 photo maker tool.
Visit PicWish's photo ID maker and click "Start now."

Set the size to "Common 1" to resize it into 2×2. Choose white for the background color, then upload your image.

Click "Download image" to save your edited 2×2 photo.
Note:
Using the same tool, you may also remove the background and change it to white. Start it by clicking this link.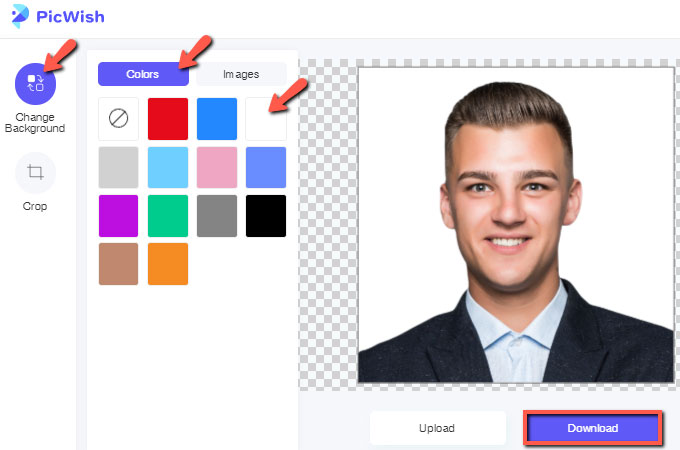 Visafoto
Another solution that you may have in making your own 2×2 photo is Visafoto. With this amazing online tool, you can fully achieve the precise cutout size that you need. This 2×2 picture maker online will guarantee you the result that you expected to have. Also, it offers other additional options such as fixing head tilt, background, and image contrast.
Make 2×2 photo using Visafoto
Go to the official page of visafoto on your browser.
From its interface, click the "Upload photo & Continue" to get picture from your computer library.

The tool will automatically process your picture and show you a 2×2 size picture afterwards.
Finally, hit the "Continue to Download" button.
Freepassphoto
If you want to create your own 2×2 photo, Freepassport is one of the best tools that you can rely on. This 2×2 picture maker uses an AI technology that automatically processed your file giving you the best output that you can have. You may also do manual work wherein you just need to crop the photo in the proper dimension and size. Indeed, this online service tool is easy to use in making any type of photo ID.
See steps below
Open your browser and go to the official page of "FreePassport".
From its interface, select the size that you need.
Then, hit "Choose File" to get your photo from your file library.

Another interface will come out showing a 2×2 photo, hit "Continue" after that.

Finally, click "Download".
Passport-photo
Create your own 2×2 photo size with Passport-photo. This online 2×2 photo maker can prepare a perfect biometric photo that you can have easily. Like any other photo ID maker, it also uses an AI technology that automatically sets your photo to the size that you want. Take your 2×2 photo conveniently without asking for professionals with this tool.
Rely to the guide below to perfectly have the 2×2 photo size.
Search the Passport-photo page on your favorite browser.
Import an image by clicking the "Upload a photo" button.

The online tool will process your image automatically.
Lastly, hit the check mark icon to save your 2×2 photo.
ImResizer
Set your requirements for a photo ID with ImResizer. With this 2×2 photo maker, you can create your own custom 2×2 photo by just setting the requirements needed. The tool will automatically convert your photo to a 2×2 size without experiencing any hassle. If the photo will be stretched or changed aspect ratio, you can still fix it manually.
Follow the steps below
Look for the web-service tool's main page.
Then, set the requirements that your photo need.
Next, click the import icon to get your photo.

It will be automatically converted to above requirements.
Save your work by hitting the "Download" button.
Conclusion
Here are the 2×2 picture maker online tools that you can use for free. You can try them all to see which one works best. Among the tools listed above, I highly recommend PicWish, because of its simple interface and good result. Share with us your experience by leaving a comment below.