5 Online Tools on How to Add Objects into Photos
PicWish – 100% FREE
PicWish is a powerful and completely free online photo editor that can be used easily. This site is a perfect tool not only it can remove the background free automatically but also it comes with straightforward editing features. You can play it with an interesting and custom backdrop you think is perfect for your image. In just a few steps, you'll know the simple steps to add objects into photos using PicWish.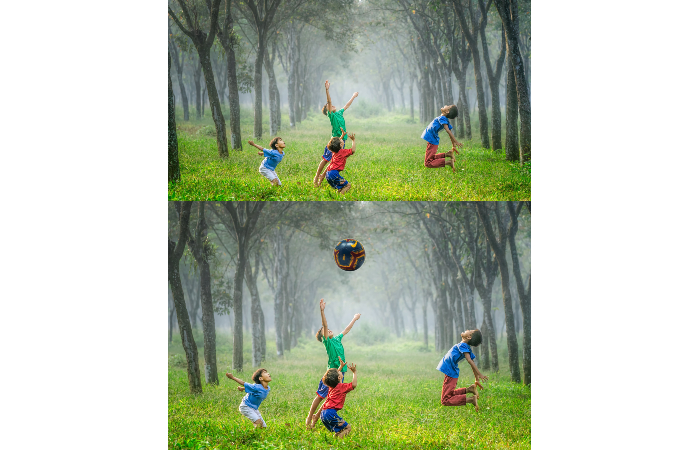 Go to background removal page and click the "Upload Image" button to upload a photo that you will add into your own image.

Next, wait for your background to be removed automatically.
Then, click "Edit" > "Change Background" > "Images" tabs.

After that, import the photo that you want to add an object.

Finally, click the "Download" button to save it on your file.
Canva
Next on the list is known as one of the most popular and powerful web-based online photo editors for creating fun and stunning images. So if you want to add objects into pictures that make them look fun, Canva is the best option for you. However, unlike the first tool, you have to use some of its other editing features carefully that does require a skill. To find out the simple steps, follow the guidelines below.
Go to the official page and click "Create a design" > "Edit photo" tabs to start editing.

After importing, click "Elements" and pick an object you want to add.

If you want the result, then click the "Download" buttons twice to save it.
Befunky
Befunky is another platform that enables users to add objects into pictures with ease. You can use the layer feature that lets you add multiple objects in one photo. However, you have to register and purchase before you can save your edited picture. Also, you have to familiarize yourself first with this site as it is built with countless editing tools. Refer to the simple steps below so you would know how to add objects in photos with Befunky.
Import your photo by clicking the "Open" tab.
Use the "Image Manager" option to import objects you want to add to your photo.

Save it by signing up for an account.
Fotor
If you want to learn how to add objects into photos, you can make use of Fotor. This is also an online tool that offers tons of editing features that enable users to get perfect results. When it comes to adding objects, the process is almost the same as the previous tool. But signing up is necessary as well. Good thing, this site has a free trial that allows you to save photos without any purchasing. Learn how to do it by relying on the steps below.
Visit Befunky's official page and upload the photo you need to edit.
Then upload the objects you want to add to your main image by clicking the elements option.

To save it, click the "Download" button.
Lunapic
Lunapic is the last online tool that can help you add objects into photos. This platform offers impressive editing tools that can produce good results. Also, this tool lets you blend your objects in your photo easily. The only drawback about it, you need to familiarize the functions of each tool. Check out the steps below.
Go to this site and upload your photo by clicking the upload button.
Once imported, add the objects you need in your image.
Blend it using the editing tools available above the image and hit apply.

Finally, click the "Save Image" option to save it on your file.
Conclusion
Nowadays it is easier to edit a photo, for instance when you need to add objects into pictures. Considering tons of helpful tools are available in the market. But you have to consider as well the tool that works well and does not require any amount before you can use it. Just like PicWish, creating an account or purchasing is unnecessary since it is 100% free. Let us know your thoughts in the comment section.