5 Solutions How to Change Photo Background on iPhone
PicWish
The first app in this list is PicWish, this app was recently launched on both App Store and Play Store. It has a lot of positive reviews and is one of the most recommended photo editing apps for iPhone users out there. With its smart AI technology, the app will work automatically in removing the old background from your photo and will let you replace it with a new solid background color or template of your choice. Even if it is for portrait, product photos, or graphics, this mobile app will manage it well.
How to change the background of a picture on iPhone with PicWish?
Open your app to get started and tap the "Photos" icon to upload the image that you need to replace the background. (You may also do the batch process by tapping "Batch Edit")

Next, the app will automatically process your file giving you a transparent result.

Under "Background" choose the background color or template that you want for your image.

Once done, hit the download button.
Pricing Plan: Free and subscription (7-day trial available)
Monthly:$6.99
Annual:$49.99
Auto Background Changer
Auto Background Changer is one of the leading photo background editors that you may have on your iOS phone. How to add a background to a photo on iPhone, is never been easy with this awesome app. Using its manual removal tools such as the Auto mode, Lasso tool, and Erase photo, you can delete the background and add a new one instantly from its ready-to-use plain background colors and templates.
See steps to replace the background on the photo.
Download and install the app from the App Store.
Select "Cut Photo" to load the picture that you need.
The app will automatically detect the background from your picture showing a lean cutout of it.
Tap "Next" > "Save" > "Add Background" and add the background.
Finally, save your work by hitting the download icon.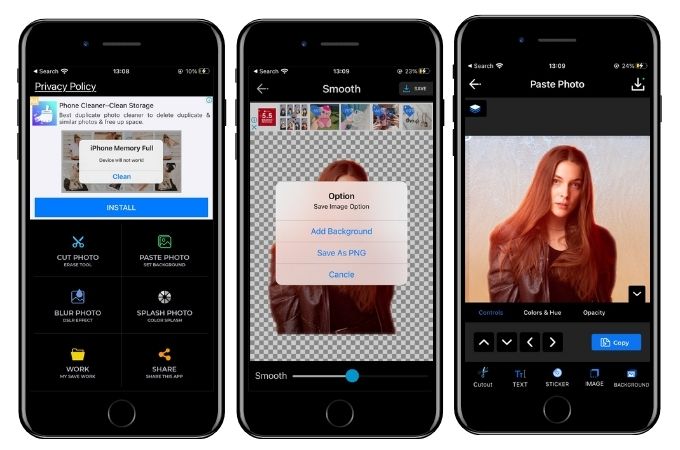 Pricing Plan:
Free
PhotoRoom
The process on how to change the background of a picture on iPhone with PhotoRoom is just easy as 1,2,3. With its artificial intelligence technology, it can directly detect the background from a photo presenting a precise cutout result. By adding new background templates and plain colors from its library, you will create studio-quality photography in seconds.
Remove and change the background with PhotoRoom.
Get the app on the App Store and download it on your phone.
Upload the image that you wish to edit by tapping the add sign icon.
The app will scan your image automatically, presenting your subject in different background.
Just choose the image that you like and save it on your phone.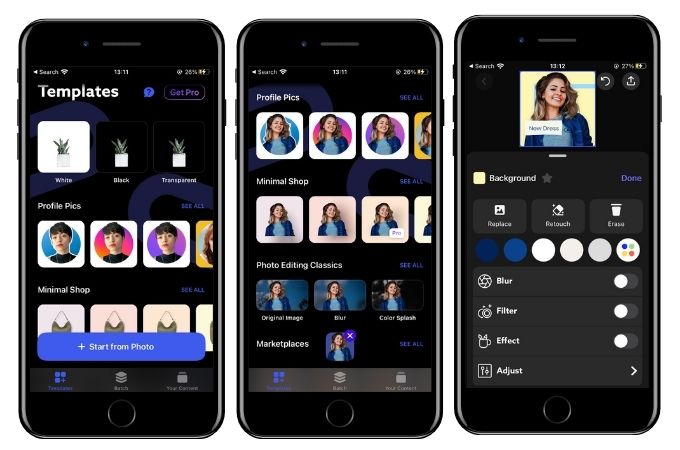 Pricing Plan:
Remove Background Pro$9.99
Remove Background Pro$69.99
PhotoRoom Business$39.99
Pixelcut
Pixelcut is known for its ability how to change the background of a picture on iPhone. Instantly erase the background from any images from your gallery or even directly on your camera. With its auto removing process, you just need to upload the image and it will solely do the magic. Then, choose from its 100-plus template design and from set a color palette for solid background colors.
Follow the steps below.
Go to the App Store and download the Pixelcut.
Run the app, and tap "Photos" to import the photo.
Slide the magic wand to remove the background and wait for the process. Hit the check button afterward.
Choose "Background" > "Replace" to have the right background.
Finally, tap "Share" to save or directly post it on your social media accounts.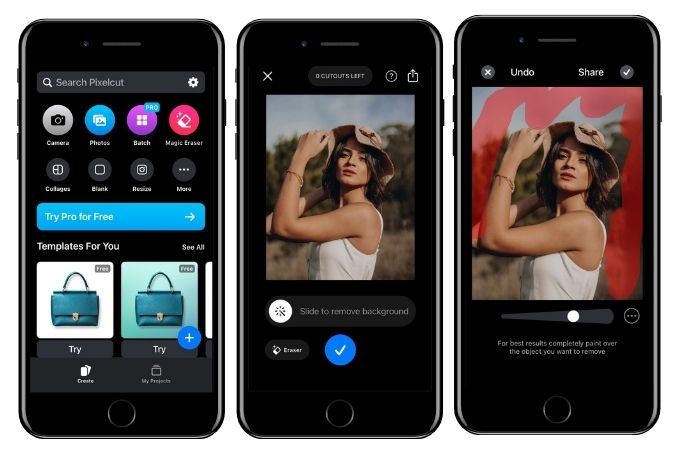 Pricing Plan:
Pixelcut Pro Membership$9.99
Teams Membership$49.99
Magic Eraser
Consider using Magic Eraser to learn how to change photo background on iPhone. Get rid of the background with the help of its Magic wand and change it with its wide array of preset templates. You may also have plain background colors which are built-in set on the tool.
Here is a guide to replace the background from a photo.
Begin with downloading the Magic Eraser app from the App Store.
Upload the picture from your phone library.
Use one of the manual removal tools to delete the background.
Tap the download icon, frem there tap "Edit Background" and replace the old background with a new one.
After that, hit "Save" to download your file.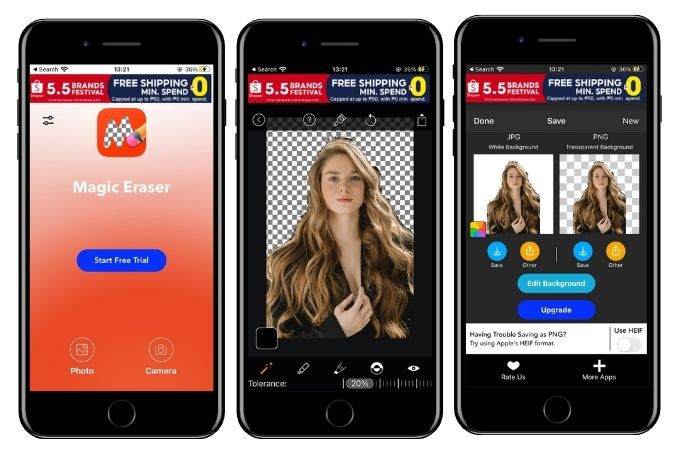 Pricing Plan:
Best Background Eraser$9.99
Remove Ads$9.99
Conclusion
This short yet informative list of apps that will help you out on how to change the background of a picture on iPhone, will surely make your photo editing life easier. All the apps can remove and add a new background to your photo. But if you like to focus on having a precise cutout result, PicWish will give you a 100% automatic process. If you want to edit your photo manually, you may choose Magic Eraser.