How to Make a Picture Less MB (Reasons and Resolutions)
Why and How to Make Photo Less MB to View it on PC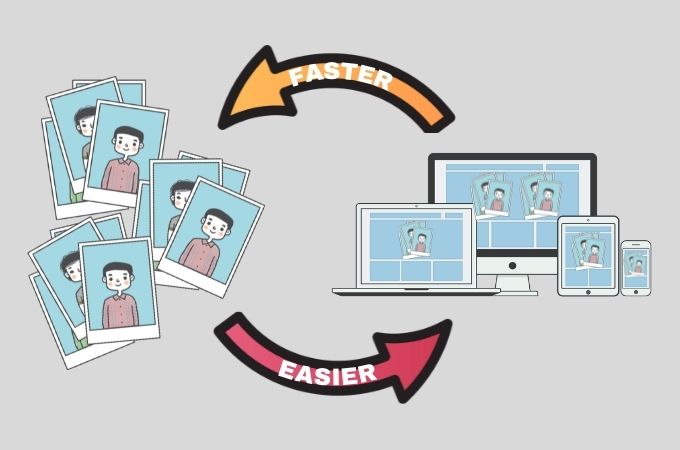 As everything becomes virtual, such as photos, it is also undeniable that what we store on our mobile devices is vulnerable to loss and damage. When we store and abuse our computer's storage, it can malfunction, or worse, delete data. That's why we should maximize the space on our computers. The first thing you can do is compress your images. With that in mind, let's share some tips on how to make a picture less MB so you can save more space. Below are some more reasons why you have to compress your images. Check them now!
Easier Data Transfer
If your files are extremely large or have a million pixels, you will have trouble transferring them. This is why we should learnhow to make photo less MB using image compression. Besides, when it comes to sending through email or sharing from one device to another, small images are quicker to transfer.
Quicker Image Loading (for Website Viewing)
When it comes to uploading images, sites have basic standards. Larger files will take longer to load when uploaded. As a result, a lot of data bandwidth will be consumed. To avoid this, you should reduce the size of your images before posting them.
Top 3 Tools How to Make a Picture Less MB
Now that we already know why images should be compressed, so let's look at which tools to use. Listed below are some tools you can use to reduce the MB size of a picture.
PicWish Online Image Compressor
How do you reduce the MB size of a photo? PicWish Online Image Compressor lets you do that online instead of installing software on your computer. With this web-based app, you can reduce your MB size for free. It can compress images by up to 84% without compromising their qualities. Interestingly, you can process unlimited images (one image at a time) without creating an account when using this app.
Here's how to make a picture less MB with PicWish:
Go to PicWish's official website and consequently go to Features and Compress tab.

Next, go to upload the image you want to reduce the size and wait shortly.

Once done, click the Download button to save the compressed image.
Optimizilla
Here's how to make a picture less MB with Optimizilla. Using this tool, you can resize JPEG, GIF, and PNG images using lossy compression algorithms (click here to learn about lossless and lossy compression). With this online tool, you can customize the size and quality. However, it has a particular maximum reduction size to ensure that the quality of your image is maintained.
How do you Reduce the MB size of a Photo with Optimizilla:
Visit the Optimizilla page.
Hit Upload Files to import the images you want to compress.

Wait until you can download the files.
TinyPNG
For files with a maximum size of 5MB, TinyPNG is the best image compressor. This online app allows you to reduce the size of large files to less than 5MB and manipulate the number of pixels, so they don't consume more storage space. Upon uploading all the photos, you wish to resize, you will be able to see the amount of MBs and KBs your images have been reduced by. In addition, your files can also be downloaded directly to Dropbox.
Below is the step-by-step guide to making photos less MB with TinyPNG:
Go to TinyPNG website.
Drag and drop the images you want to upload on its interface.

Wait as the app is processing your photos.
Once done, download them one-by-one or download them all.
How Do You Reduce the MB Size of a Photo in Batch
PicWish Online Image Compressor
When you want to process up to 100 images at the same time, PicWish can speed up your image processing. By manually controlling the compression level, you can achieve the desired result. Additionally, you can customize their resolutions and apply them all at once. To increase productivity, you can download all your output together as well.
Download
Here's the guide on how to make a picture less MB with PicWish software:
After downloading the tool, kindly navigate to the Compress tab.

Upload the images you wish to reduce in sizes and click Start.

Customize its compression level and resolutions at the right-side and hit Start.

Click Save All once done.
Conclusion
Learning how do you reduce the MB size of a photo is essential; space-wise, time-wise, and platform-wise. With all the advantages and limitations, we provided for each tool, it is now up to you to decide which one will be the most helpful to you. Try them now and share your thoughts below.