Top 6 Photo Retouch Apps
PicWish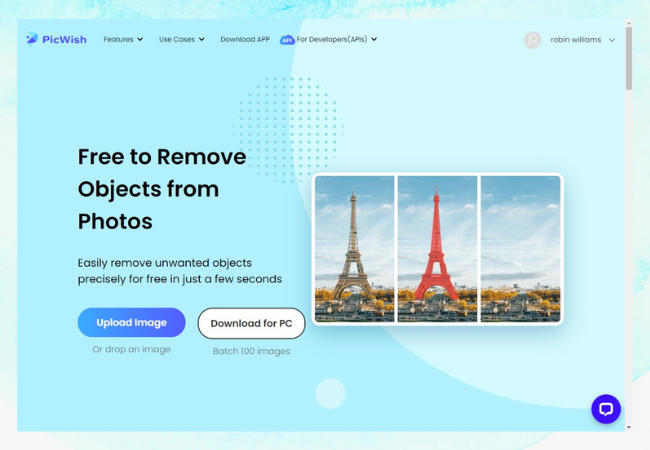 If you are looking for the best and free photo retouch app, PicWish is the best choice for you. This is a photo editing application that presents numerous features for refining and improving photos. A prominent aspect of PicWish is its capacity to eliminate undesired elements from photos. This feature enables users to smoothly and effortlessly get rid of undesirable objects like imperfections, individuals, or other unwanted components from their photos. In general, PicWish is an outstanding choice for individuals who wish to eliminate unwanted objects from their photos or improve them using diverse editing tools. You can get the app by downloading the button below.
Key Features:
Object removal
Editing tools
Face removal
Collage maker
Text and stickers
VSCO
Then we have VSCO. This is a well-known application used for editing and improving the appearance of your photos. It comes with various filters, editing tools, and presets to enhance the quality of your images. You can download it for free on both iOS and Android devices, but there are also in-app purchases available for more features and filters. Aside from the filters, it provides editing tools that allow you to make further adjustments to your pictures. Furthermore, it offers advanced features for more advanced-level photo retouching.
Key Features:
Filters
Editing tools
Presets
Advance editing features
Community
Snapseed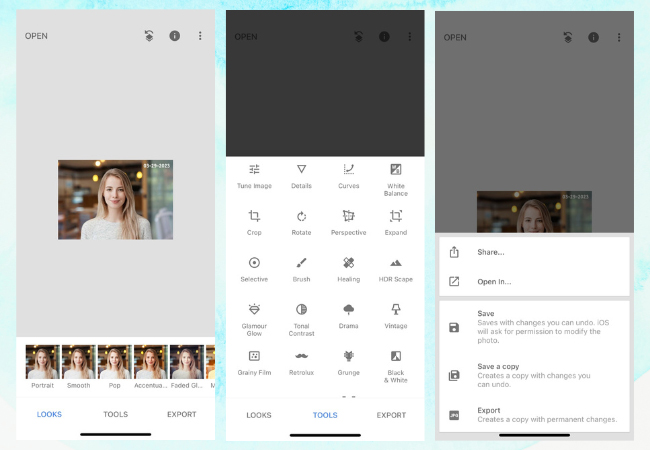 Snapseed provides an amazing solution for photo retouching, catering to both simple and complex editing requirements. Its user-friendly interface and extensive set of tools enable users to achieve professional-quality results without the need for complicated software. Snapseed is a perfect choice for photographers of all skill levels due to its simple interface and versatile editing features.
Key Features:
Automatic adjustments
Creative filters
Brush and healing tools
Crop and rotate
Curves and levels
PicsArt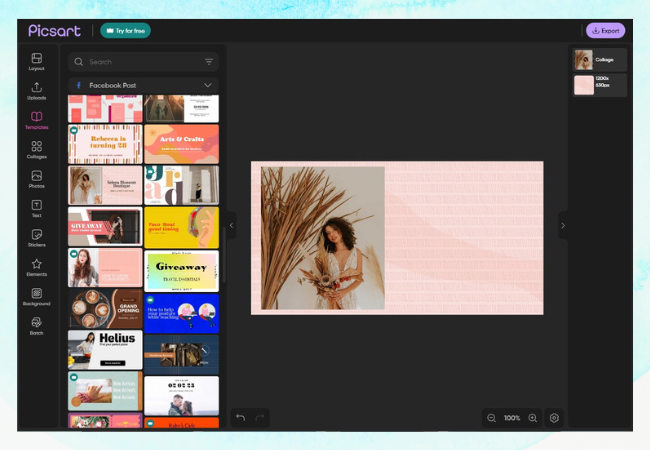 Another photo retouch app is PicsArt. This app is designed for editing photos that give a diverse range of features to enhance your pictures. This app allows you to modify your photos, apply filters, generate collages, and distribute your artwork on social media platforms. PicsArt provides an extensive collection of tools for refining your photos, including sophisticated features such as brushes, erasers, and layers. It also offers a variety of creative filters and effects that can be used to produce exclusive and personalized images.
Key Features:
Photo editing tools
Filters and effects
Drawing tools
Text and stickers
Collage maker
RetouchME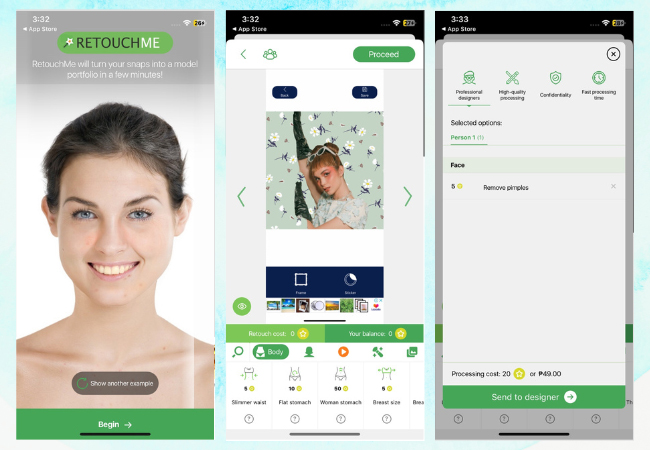 Another tools is RetouchMe. This is an app for retouching photos that provide various tools to edit and improve them. Its purpose is to assist users in achieving a polished and professional appearance in their photos without requiring advanced skills in photo editing. What sets RetouchMe apart is its capability to offer prompt and personalized photo editing services through a team of expert designers who are accessible round-the-clock to carry out the editing tasks requested by the users.
Key Features:
Selective editing
Filters and effects
Professional photo editing
User-friendly interface
Customization
Prisma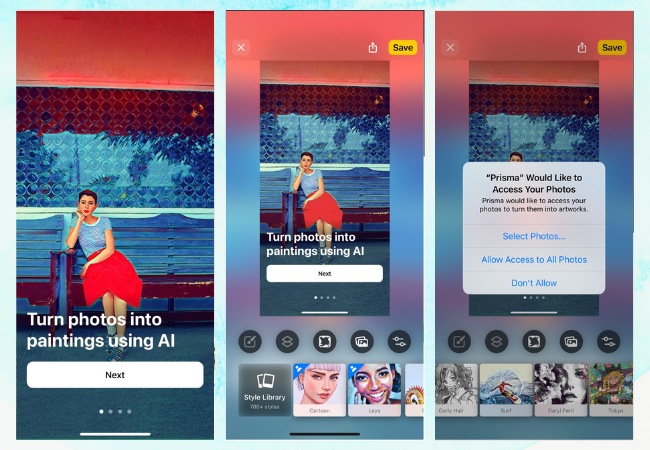 The last tool is Prisma. This is a mobile application that utilizes advanced technology such as artificial intelligence (AI) to convert ordinary pictures into stunning and distinctive artworks. Its deep learning algorithm examines the picture's content and employs various filters to produce an original and visually appealing outcome. Prisma presents a vast collection of artistic filters to apply to the pictures. The app offers over 300 filters inspired by famous artists, art styles, and pop culture, making it easy for users to transform their pictures into unique and creative pieces.
Key Features:
Artistic filters
AI-based technology
Social sharing
No watermark
customization
Conclusion
There are many different photo editing apps available for download, each with their own unique set of tools and functions. When choosing the best app for your needs, it's important to consider your specific preferences and requirements. If you're searching for a comprehensive and robust photo editing app with advanced features, PicWish may be the right choice for you. This app is designed to meet your specific needs and can help you achieve the perfect look for your photos.