How to Make a Blurry Picture Clear with Online and Mobile Apps
Recommended Online Solutions to Learn How to Make a Blurry Picture Clear (Free & Paid)
PicWish – 100% FREE
This powerful and completely free online photo editor is the best option if you want to know how to clear a blurry picture without difficulties. Also, it offers a built-in auto-enhance feature and artificial intelligence that will detect the blur parts in your image that will remove instantly and make it clear. With this, you will save your time and money providing the fact that this site is free of use and user-friendly.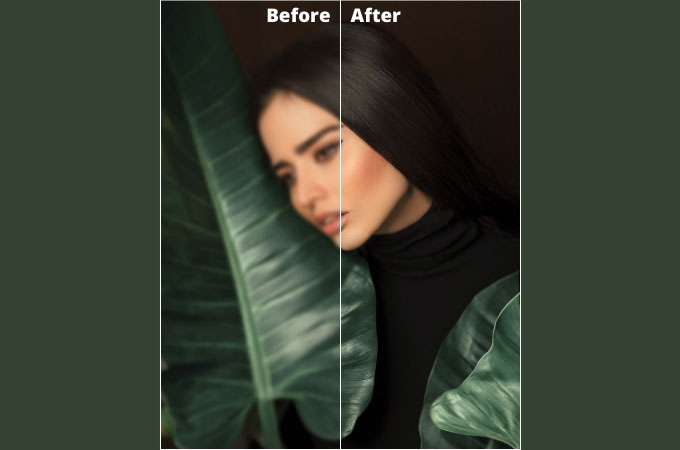 Learn how to make a blurry picture clear with PicWish
Visit PicWish unblurring image page and click the "Upload Image" button.

After you upload a photo, this site will automatically enhance it and remove blur effects.
If you are satisfied with the result, click the "Download" button to save it on your PC.
Fotor
Know how to make the blurry pictures clear using this impressive and full-packed editing tool known as Fotor. It reduces blur, enhances colors, increases sharpness, highlights focus, and more. As mentioned, it comes with different powerful editing tools that make you picture-perfect. However, you have to subscribe first in order to use all of its features. Still, Fotor is one of the recommended websites that you can trust for photo editing or simply enhancing pictures, which offers advanced editing tools. For you to learn how to clear a blurry picture with Fotor, then you have to follow the steps below.
Click the "Edit a photo" button to get started.

Then hit the "Open Image" button to upload a blurry picture.
Tap the "1-Tap Enhance" button to automatically detect and correct the image's color, focus, and more.

Finally, click the "Download" > "Start Free Trial to Download" buttons to save your image.
Befunky
If your photos are unfocused or blurred, the solution is to use Befunky. Befunky is a great platform that will teach you how to make blurry pictures clear. It comes with sharpen tool that makes your pictures crystal clear. The problem is that you need to sign up to create an account that enables you to use it, as well as purchase to navigate its other editing tools.
First, click the "Edit a photo" button to get started.
Second, upload a photo by clicking the "Open" > "Computer" tabs.
After this, choose the Sharpen tool from the Edit menu.

Next, adjust the Amount using the sliding scale and click "Apply".
Then save it by hitting the "Save" button.
Use Mobile Apps to Make Blur Pictures Clear
Apowersoft Background Eraser (Android & iOS)
The first useful app that will teach you how to clear a blurred picture is Apowersoft Background Eraser. In just a mere instant, you will get clear photography since it comes with an auto-detect blur picture that makes it clear instantly. Furthermore, this app has an intuitive interface and easy-to-use editing features perfect for beginners.
To learn how to make your unblur picture, here are the steps you can follow.
Open the app once installed and tap the "Blurry Portraits Clearer" to import a photo.
Then use your fingertip to see the before and after results.

If you are satisfied with the result, then save it by clicking the "Save HD" button.
Snapseed (iOS)
If you are an iPhone user and want to know how to clear a blurry picture, then Snapseed is suited for you. This app offers advanced editing tools to level up your pictures, especially it is Details option that enables users to enhance your blur pictures the easiest way possible. The following steps are as follow:
First, open the app and tap your screen to pick a photo you need to edit.
Then hit "Tools" > "Details" and start to adjust the sharpen and structure.

Hit the checkmark icon and export then save option.
Remini (Android)
Remini is included as one of the best options if you are searching for a powerful and useful Android app in learning how to clear a blur picture. It uses Artificial Intelligence to unblur, restore, and enhance pictures in just a few steps. Without a doubt, this app is designed specifically for enhancing and repairing blur images. But you have to subscribe to have unlimited access to all the premium features. To know how to use it, refer to the step-by-step guide below.
Open the app once installed and tap the "Get Started" button.
Next, hit the "Enhance" option to import a photo then hit the check icon.

Then wait for this app to do its job to make your image clear.
Once done, it the save icon.
Conclusion
Now you have all the tools needed to learn how to clear a blurred picture, it is the right time to choose one that suits you best. Make sure to use a tool that will save you time and money. Share it with us in the comment section if you have suggestions or ideas in the process of enhancing or restoring blur pictures.