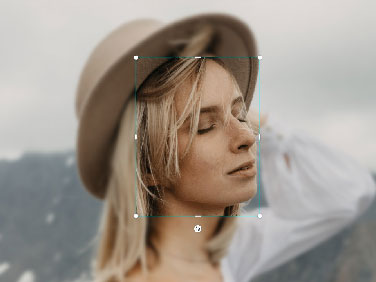 5-Recommended and Free Image Enlarger that You Must Have
PicWish – 100% Free Image Enlarger
Forget about a low-resolution, blur detail, and file size in your image. With the help of PicWish, the process of enlarging a picture is easy and quick. It uses Al advanced feature that adjusts the lines, colors, and tones for better results. Furthermore, this online image enlarger enables you to enlarge images up to four times instantly and for free that fix distorted details. So, if you want to enhance your picture at no cost better visit its official page now.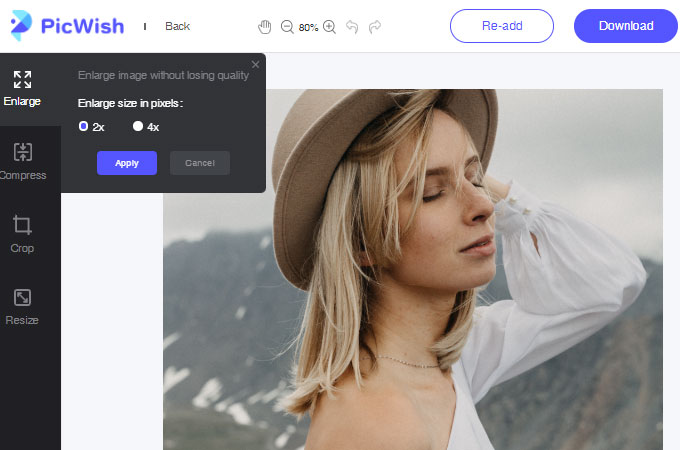 Pros:
Both JPG and PNG file formats are supported.
This includes compress, crop, and resize functions.
It allow users to upload small or big output dimension pixels.
No photo editing skills required.
Cons:
Batch process is not yet supported.
Al Image Enlarger
Al Image Enlarger is a web-based tool that helps any type of user (pro or novice) fix blur details in your picture. This is known as the best image enlarger because it is completely free. However, you have to purchase either for the pro version or premium so you can use it without any limitations. The entire process of enlarging the picture only takes a few seconds and expect a professional result even after the process.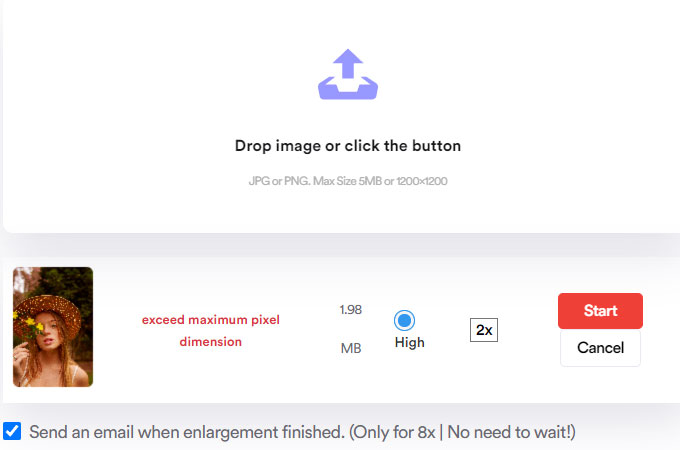 Pros:
It supports JPG and PNG formats.
It will not lose the quality of the image.
Support enlarges by 200%, 400%, and 800%.
Cons:
It has a maximum size of 5MB or 1200×1200 pixels.
Vance Al Image Enlarger
Another Al image enlarger that you can use is Vance Al Image Enlarger. With this platform, you'll be able to increase image resolution by 2x, 4x, and up to 8x with professional-level results and factual detail. Aside from this, this enables users to make small and low-resolution images. You can also rely on its front page by which comes with an instructional guide that you would follow. Though it comes with an intuitive interface that makes enlarging process simple and quick, this tool is not free. So purchasing is still an option.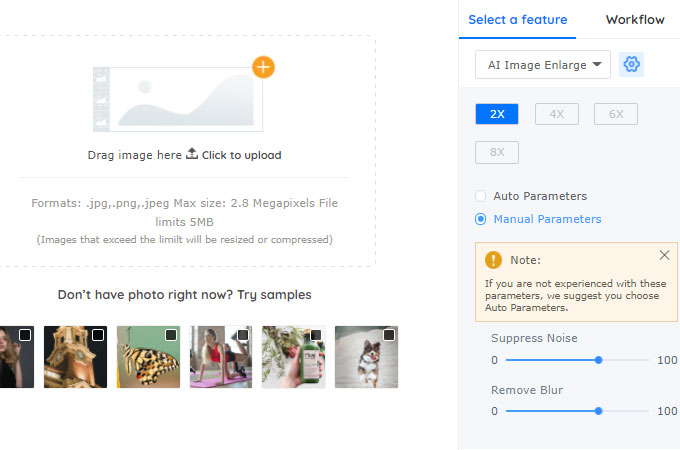 Pros:
It enlarge the picture in one click.
It will not lose the quality of the image up to 4x using Al.
Cons:
The purchasing amount to use this unlimited free image enlarger is a bit expensive.
IMGonline.com
IMGonline is a free image enlarger that ensures high-quality results after the enlarging process. It is different from other tools in terms of image formats as it supports not only jpg and png but also BMP, gif, tiff formats. Add to that, this tool provides an easy-to-understand interface perfect for novice users.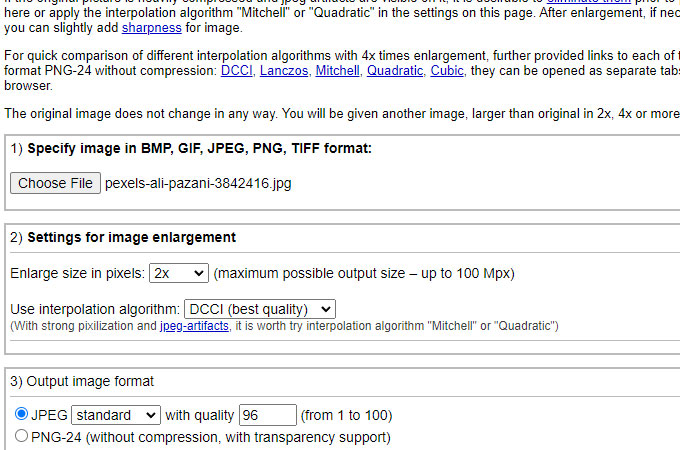 Pros:
It increase image resolution in 2x, 4x, 8x, and 16x times online.
Allows you to upload an image up to 10 megapixels.
The enlarging process takes 5-60 secs
Cons:
The interface must be updated to make it neat and clear.
ImageResizer
If you want a simple but powerful online image enlarger, then ImageResizer is the recommended tool for you. In just a few seconds, you'll be able to enlarge photos to make them bigger without losing the significant quality of the entire image. In addition, it is 100% secure and claims to delete the picture within 24 hrs.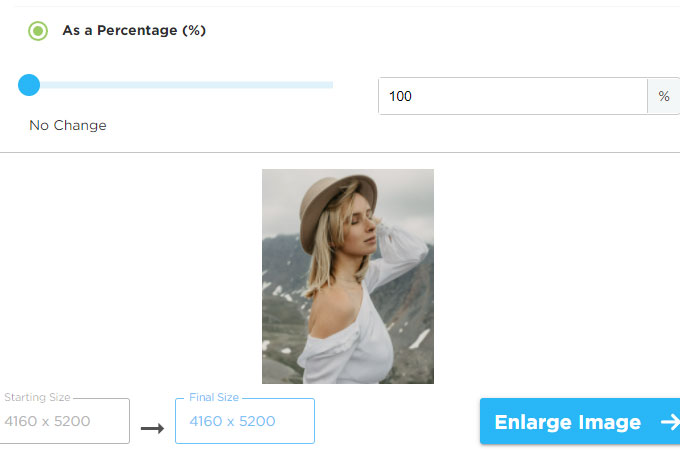 Pros:
It has intuitive interface.
Focused functionality.
Cons:
Conclusion
Everything is perfect, so better try any of the tools listed in this post to get high-quality results. They are free to use and easy to navigate suitable for pro and novice users. If you want to save money and don't want to purchase the premium version, then an online image enlarger known as PicWish suits you. Make sure to try all of them and let us know which is effective.