Various Ways on How to Save WebP as JPG
What and How to Change WebP to JPG?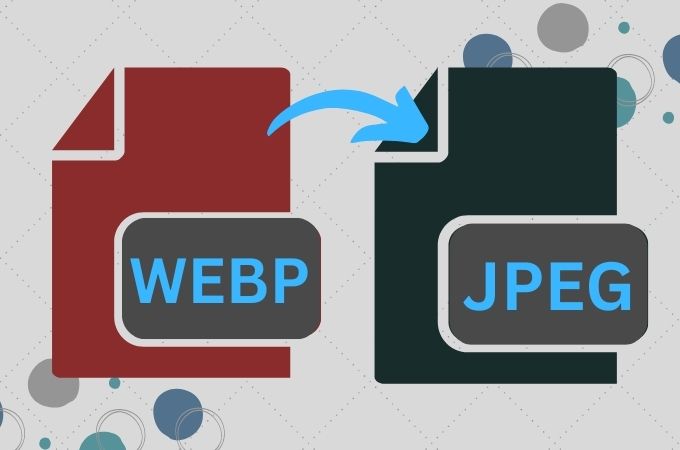 WebP is a type of image format that offers advancement when it comes to image compression developed by Google. This image file format supports both lossy and lossless compression, meaning, this app converts a file image without sacrificing its quality and occupying too much space unlike when you save those images in PNG or JPEG. How practical, isn't it? Other than that, there are several reasons why website owners are using WebP now. And some of them are as read below:
It is lightweight. This type of format is mostly used due to its ability to render smaller-size images without reducing their quality. And as a result, it has been seen to have a potential in increasing a site's performance.
Free up bandwidth space. Smaller-size images are faster to load than to regular size. As a result, the website which uses WebP can load images within a shorter time.
Best for a website that contains a lot of photos. If your blog is mainly about food, travel, and photography, then WebP is the excellent photo format for you.
Promote ranking in Google. If your website loads faster and the image is high quality, don't you think people will visit it more often? Of course, having these two elements will certainly increase search engine optimization on your site.
It supports transparency and animation. If you have to save your animated (GIF) and transparent (PNG) image, then this format is the best for you in saving them compared to JPG which doesn't support transparent images and animated files.
It works in different browsers. Here are WebP supported browsers as of this writing: Google Chrome, Mozilla Firefox, Opera, and Microsoft Edge.
To sum up this part, we all know now why WebP has become the great alternative for popular image formats such as PNG and JPG. However, as much as this type of image file has multiple advantages, also keep in mind that this too comes with drawbacks (unsupported browsers, limited software incompatibility such as with Adobe Photoshop) which lead to finding ways on how to change WebP to JPG.
Excellent Apps to Change Webp to JPGF (Online and Offline)
In line with the last part, we have listed different ways on how to convert WebP to JPG using these free online tool. Scroll down to learn how.
PicWish Image Converter
You can also try PicWish offered web-based image converter. Quickly convert your WebP, PNG, JPEG, and HEIC photos to JPG online. This app requires no complex steps to convert WebP files to JPG. And for security, the data you enter into PicWish is automatically deleted every 30 minutes. Therefore, you don't have to worry about losing it. On top of that, this tool is absolutely free.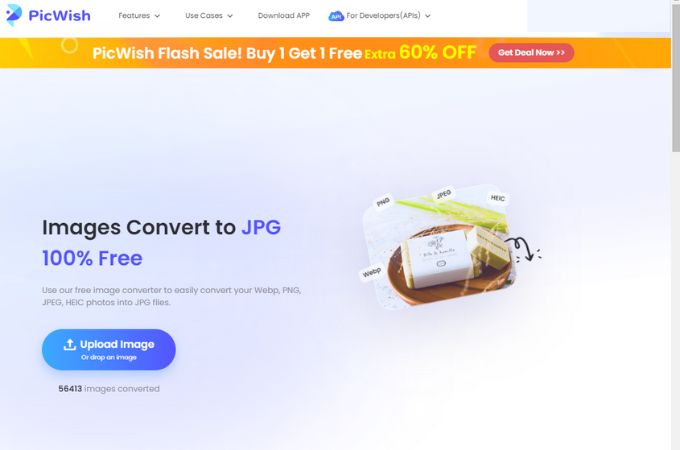 Advanced Batch Image Converter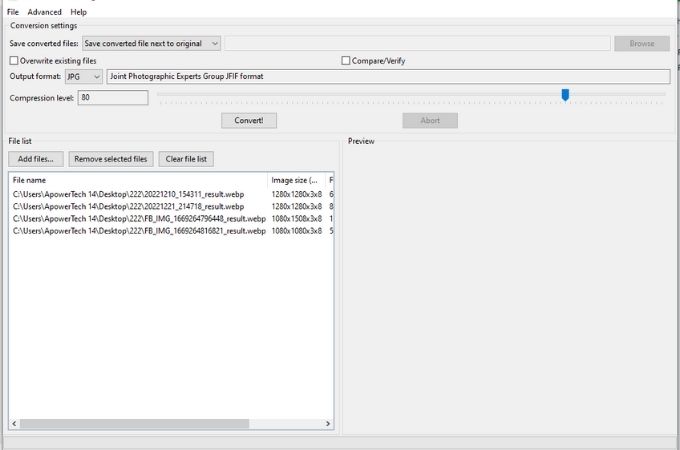 If you are looking for an image converter that can save WebP as JPG, then Advanced Batch Image Converter or ABIC should be in your list. This converter supports all image file formats and changes it into JPG. This software is free, open source, and certainly easy to use. You don't have to worry about its compatibility as this converter runs both on Windows and macOS.
XnConvert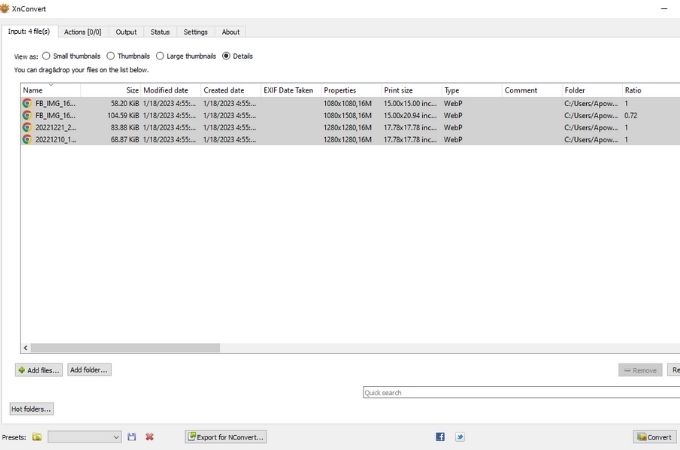 XnConvert is a freeware tool yet it offers powerful features in changing WebP to JPG format. It also supports almost 500 image formats so you are assured that this software can convert any image file you have into JPG. Interestingly, this tool can do batch image processing whereas you can save multiple WebP images to JPG or vice versa at once.
webptojpg.com (Online Image Converter)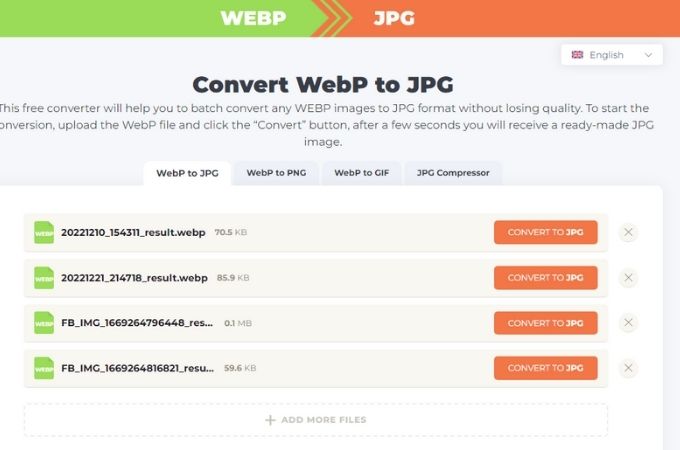 As straightforward as its name, webptojpg.com is an image converter can actually give you a converted WebP image to JPG the quickest way. And if you want to know how to change WebP to JPG conveniently, then let this tool brag about its ease of use and intuitive interface. This tool can also do batch conversion of one image format to another. You can also use it to change WebP to PNG, WebP to GIF, or as a JPEG compressor. To use this, all you have to do is to paste a link, import the file, or drag the images or folder accordingly.
Cloud Converter (Online WEBP Converter)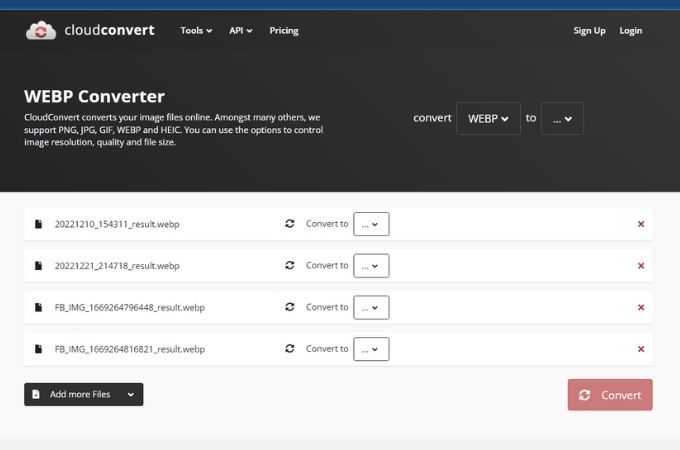 Wondering how to convert WebP to JPG with high-quality image conversions online? Cloud's image converter is the perfect app for you. It has several options for converting your WebP to other formats including JPG. It's easy to use and also supports WebP to other format conversion. Additionally, you don't have to worry in using this tool as it ensures t its user's files are protected from unauthorized usage by deleting them after saving and downloading your desired output.
Microsoft Paint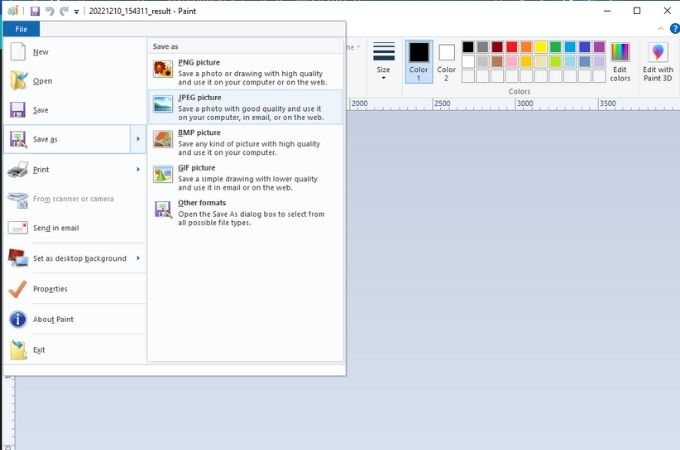 If you are a Windows user, then you can take advantage of your Microsoft Paint instead. Here, you no longer have to install any tool just to change WebP to JPG. All you have to do is to open the file using this app and save it as JPG or to other formats you prefer.
Conclusion
Although WebP is practical in terms of quality and storage, there are still limitations this image file format has. And to avoid any hassle, it's best to learn how to convert WebP to JPG and prevent future problems. That's because, generally, JPG is still the standard image format and is compatible in all types of sites, apps, and browsers.