Ultimate Guide How to Change JPG to PNG Transparent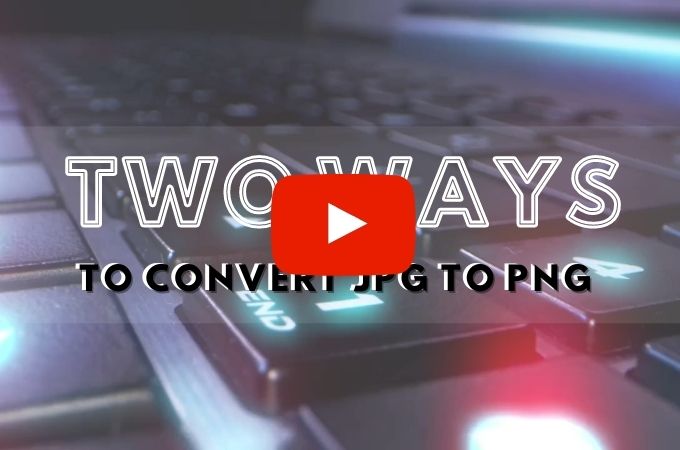 Why You Need to Change JPG to PNG
JPG is the most commonly used image format since it is compatible with all types of platforms and browsers. Additionally, it is small in file size, so it takes up less hard disk space on your computer and lessens the time it takes for your website to load. Unfortunately, when compressing JPG photos, results are no longer promising as the resolution will degrade. Thus, this is where changing JPG to PNG takes place.
PNG images are typically in large file size since it has a HD-resolution which is also retains even after editing them. Moreover, the popularity of PNG over JPG is not limited to its high-definition and "untouchable" resolution. PNG can also be saved as a transparent image unlike with JPG whereas you can just adjust its opacity. Transparent image, can be used for multiple purposes. In fact, you can use this transparent image as a sticker or as an additional element to your other images. Moreover, transparent background can be changed easily as well. In order to accomplish this, you should also have a set of reliable apps and solutions. Find out which apps work best for this task by scrolling down.
How to Convert JPG to PNG Online
In this part, you'll get to learn how to convert JPG to PNG for a lossless conversion. Below are tools that allows you to convert your image. Check them now.
CloudConvert
As our first tool, we'd like to introduce you to CloudConvert – a free online image converter that enables you to convert JPG to PNG quickly. Founded in 2021, this online converter can convert almost any image into another type of file, including BMP, WEBP, PSD, XPS, TIFF, etc. Moreover, it is capable of converting videos and audio files as well. An awesome feature of this app is the ability to customize your image's pixels, metadata, and quality before processing it. If you wish, you can also change its orientation for a perfectly transformed image.
Here's how to JPG to PNG transparent with Cloud Convert:
Go to its official website and upload your file.

After that, configure your image composition.

Next, hit Convert to get started.

Then, click Download to save your output.
JPG2PNG
JPG2PNG is another online tool you can use. As its name suggests, this image converter is straightforward. Using it ensures high quality image conversion. All you need to do is upload your JPG file and let the app handle the rest. With this tool, you can queue up to 20 JPG images for conversion as long as their size is no more than 50 MB each.
Steps on how to make JPG to PNG transparent:
On its main interface, hit the UPLOAD FILES button.

Wait for a few seconds and let the tool convert them.
Once satisfied, click DOWNLOAD ALL to save the output.
JPG to PNG Converter
Convertio's JPG to PNG Converter also works amazingly. The converter works with JPG files as long as their size does not exceed 100MB. With this tool, you can upload images not just from your device, but also from Dropbox or Google Drive. While this app is free, you are only allowed to upload two files at a time (although you can do this more than twice). Meanwhile, you should upgrade your account if you want to do massive conversions.
Easy steps to change JPG to PNG:
Visit Convertio's webpage and import JPG files you wish to transform as PNG.

Wait as the tool is processing the uploaded image.
If done, just click Download.
ILoveIMG
Online image editors such as ILoveIMG are becoming more and more popular. This software allows you to batch edit photos, which is its best feature. You can use it as an image compressor, resizer, cropper, or even as a converter. You can use this online tool to convert JPG to PNG files in batches (output files are initially zip files, so you can download them faster), thus saving you a good deal of time when converting numerous images. Uploading images is also easier with its Drag and Drop function.
Here's how to use ILoveIMG:
Go to Convert from the JPG tab and import the JPG images from your computer.

After that, hit Convert IMAGE to start processing it and wait shortly.

Download the Zipped files and extract it to see the final output.
How to Change JPG to PNG Transparent Online
Some of the reasons why people convert JPG to PNG transparent images are mentioned above. This includes the desire to make it transparent. And if your sole purpose for conversion is to have a transparent background for your image. Let PicWish assist you with that.
PicWish
PicWish is a web-based app, you can instantly transform your JPG files into translucent ones by removing background. This app's AI technology can give you incredibly precise results. Besides saving it transparently, you can also change the background of your image with this app. In fact, you have two options for doing so. You can either alter it with a solid color from its default palette or upload your own image for a total makeover.
Here is guide on how to convert JPG to PNG with PicWish:
Open PicWish's main webpage on your browser.

Navigate to the Remove Background tab and upload the JPG you wish to convert.

Wait for a few seconds until it renders the transparent image.
Download the image right after for a transparent output.
Conclusion
With all these apps, learning how to convert JPG to PNG is easier than ever. Creating a transparent background no longer requires us to remove pixels by pixels which is truly tedious. And interestingly, these apps will also speed up conversions making you more productive, thanks to these apps!