Tools to Remove Background Batch
PicWish
Process all your photos in one go using this newly launched background eraser app called PicWish. Powered with advanced AI technology, PicWish will help you automatically delete any complex background and change it into a new one. PicWish supports bulk background removal from up to 30 images at a time. Besides, you are allowed to resize mutipile images.
Learn to do the batch image background remover process with PicWish.
Run the app, from its interface choose the "Batch Edit" button to get all the photos that you need.

Then, the app will show you the processed results. (You can batch edit the background if you want).

Once done, just hit the download icon to save your work.
Multi-Photo Background Remover
Make your photo editing life easier with this amazing app called Multi-Photo Background Remover. One of the best apps that you can easily access on your Android phone and can also give you a free service in photo background editing. With this app, you can remove background multiple images together with its artificial intelligence for automatic and manual background removing processes. More than that, you can also replace the background in a bulk process then your work will be saved after the video ad.
Here are the steps that you need to follow.
Download and install the app from the Play Store.
Then, tap the add sign icon to upload all the images that need to edit.
Hit the "Auto Remove" button to process your images.
Next, the app will show you all the processed results.
Lastly, hit the "Save All" button to download your transparent images.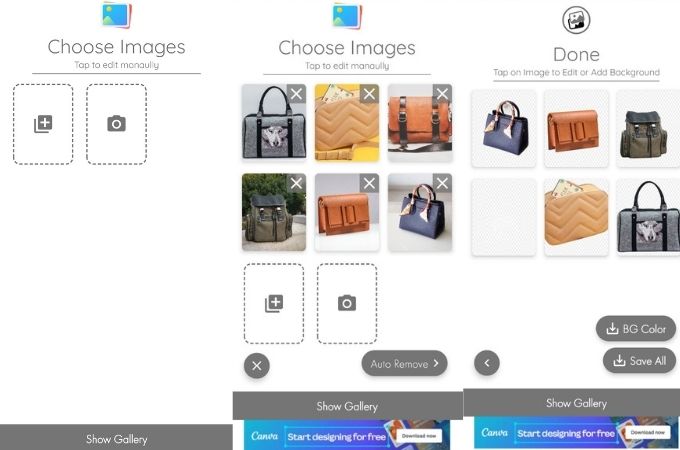 Slazzer
Do the bulk image background remover process with the help of Slazzer. This web service tool will give you a hand in making your photos versatile in any background design by batch clipping the background in just one go. And just like the other tools given in this list, Slazzer will also allow you to add a new background from its preset background colors and templates. However, you need to edit the new background one by one.
Follow this guide to successfully process your photos in bulk.
Go to the official page of the background removal tool.
Then, go to the "Bulk Remover" option to choose "Bulk Background Remover".

Click "Remove Background" > "Upload Image" to remove background batch.

Once ok with the result, download your images one by one.
Foco Clipping
Foco Clipping is another online tool that you may rely on in deleting background from your photos in one click. Supports JPG and PNG image formats and uploads photos at once with a maximum number of 30 images at one time. Moreover, you can do bulk editing by adding a new background and cropping the pictures. In addition, this online tool provides preset cropping sizes for multiple e-commerce platforms including Amazon, Shopee, Lazada, and more.
Follow these simple steps for you to do the batch image background remover process.
Visit the official website of Foco Clipping on your browser.
To start, click "Upload Images" to load all the photos that you need to edit.

Once uploaded, hit the "Start" button.

The tool will show you transparent results. Hit the "Download" button afterward.
AI Image Enlarger
AI Image Enlarger is also a web service tool that can get rid of the background from any photo with just one shot. With the help of its AI-powered image background remover, you can have an instant transparent result in one click. Remove background multiple images with no hassle, however, you need to pay as low as $0.03 to do batch processing.
Rely on these steps to do the bulk process with AI Image Enlarger
From your browser, look for the official site of the tool.
Drop all the images that you need in the box.

Once uploaded, click the "Start" button to process your photos.

After that, hit the "Download" button.
Conclusion
With just one click, you can process all your photos hassle-free. You may rely on the mobile apps and online tools that we listed above to make your photo editing life easy and fast. Among these tools, you can do a bulk removal directly with PicWish background remover. This newly launched app will definitely meet your preference for a photo background editor. Leave a comment below to share your experiences using these tools.