Remove Background Like A Pro with 5 Best Background Remover Apps for iPhone Users
PicWish
For beginners, PicWish is their first love. This background remover helps users easily remove the photo background and paste it into another one. Also, it provides you with a bulk feature that can cut out any object up to 30 images at one time. And you are allowed to pick your desired background that is available within the app. It has a wide array of colors and templates that make sure you can get a perfect photo. That's why PicWish is considered one of the best background remover apps for iPhone.
Main Features of PicWish
It can remove complicated backgrounds from photos with ease
It is user-friendly and intuitive
Maintain the original quality
Highly accurate
Batch editing available
Offer a 7-day free trial
Follow the simple steps below to learn how to use PicWish:
Start your design from your Photos or you can tap Cutout.
Get a precise cut-out in seconds automatically.
Finally, hit the download icon to save it on your device.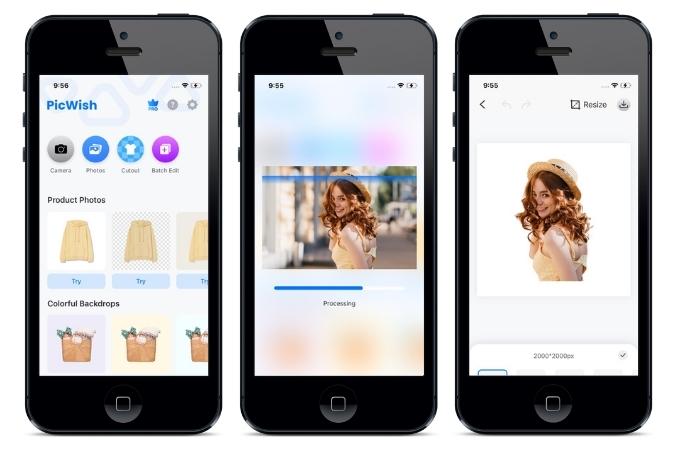 BG Remove: Background Editor
Another best background eraser app for iPhone users is BG Remove. The process to eliminate the background from the photo is simple. Just import any image from the gallery and this app will automatically recognize the main subject or object in it, cut around the foreground, and allow you to save a PNG file with a transparent background. However, annoying ads are shown when using this app which leads users to avoid this app.
Main Features of BG Remove:
It has Auto Erase – Automatic background eraser.
One-Touch Background Removal.
It replaces photo backgrounds with HD backgrounds.
To know how to use this best iPhone app to remove background, the steps are as follows.
To get started, open the app and tap the "Import" tab to select an image you want to edit.
Crop the image and use either "Auto" or "Manual" tools to remove the background.
For the last step, click the "Next" and "Save" options to process and save it on your phone.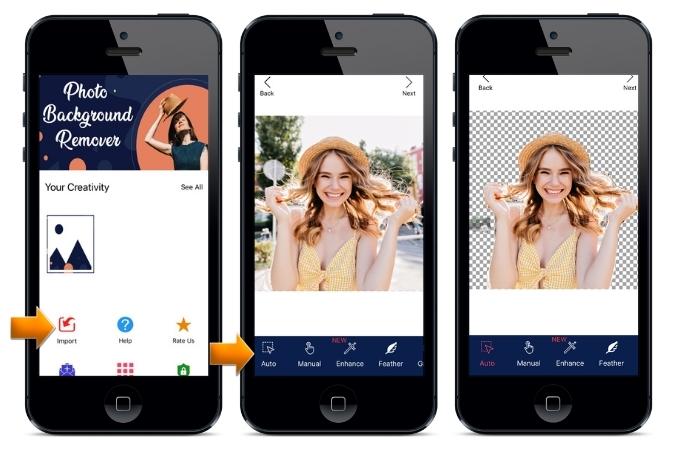 Magic Eraser Background Editor
If you are still searching for a simple yet effective background remover for iPhone devices, then Magic Eraser Background Editor. You can remove the background of any picture in seconds and save it as PN or JPG. In addition, you can use it within 3 days for free. Purchase a VIP account after you consume the free trial.
Main Features of Magic Eraser Background Editor:
It has advanced erasing tools such as Magic Wand and Brush Tool.
It offers an impressive range of Soft to Hard Brushes.
Get to know how to use this app to remove background
Get the app and tap the "Smart Erase" option and highlight the areas you need to remove.
Next, crop it and tap "Next". Then manually remove the background by using your fingertip.
Finally, wait to see the magic.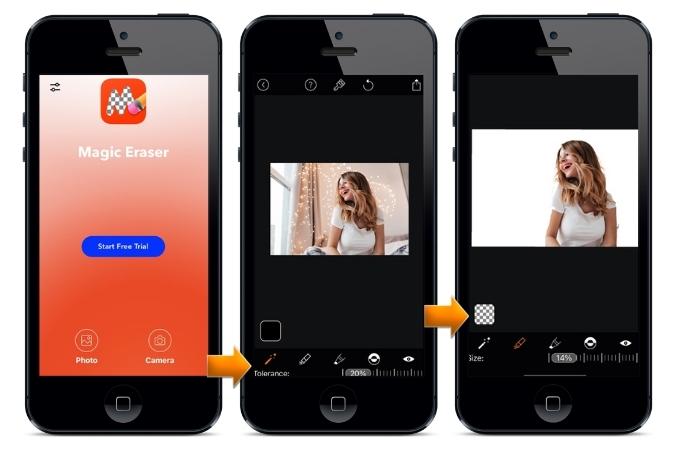 Canva
Canva is the best iPhone app to remove the background from photos. It has a wide range of tools that can be used to achieve quality pictures. Although its background remover feature is not free, you will ensure that the cutout result is precise. Therefore, if you're not on a tight budget, then it's worth upgrading your account to a Premium account. With this, you can enjoy using its features without any limitations.
Main Features of Canva:
It covers helpful photo editing tools.
The background remover feature is perfect that presents a precise cutout.
It is designed for photo and video files.
Below are the listed steps to guide you on how to remove background with Canva:
Import your own image or choose one from your image library.
Next, select "Effects" > "BG Remover" to remove the background.

After you see the magic, simply hit the save icon to download it.
Pixelcut
It shouldn't be completed without this professional and one of the best background remover apps for iPhone users popularly known as Pixelcut. If you want to make your products look professional, then might as well give this app a try. It is composed of different templates and editing tools like background removal that instantly remove background from any photo in your camera library. Furthermore, you can use the batch feature that enables users to remove the background on 50 images at once.
Main Features of Pixelcut:
It uses Al tools for removing the background.
Offers white and color backgrounds.
For you to remove background with Pixelcut, the steps are as follows:
Open the app and tap either the "Photos" or "Batch" tabs to import a photo/s.
Next, tap the "Slide to remove background" option to see the magic.

Then save it by hitting the export icon from the upper right interface.
Conclusion
Now you know the list of best background remover apps for iPhone devices, give us a comment for us to determine which app works well for you. With the aforementioned apps, you'll get a precise cutout without difficulties. This means you can never go wrong trying all these apps.