How to Put Text on a Picture to Make Aesthetic Image
How to Add Words on Photos using Online Solutions
As the saying goes, "A picture is worth a thousand words," but what if these photos also contain text? This offers more context to the image shown, making it more communicative. We add text to our photos for a variety of reasons. Many simply want to add labels, while others want to use it as a watermark or banner. Or as part of product photo editing process where sellers are adding text over their products to add its specifications.
Canva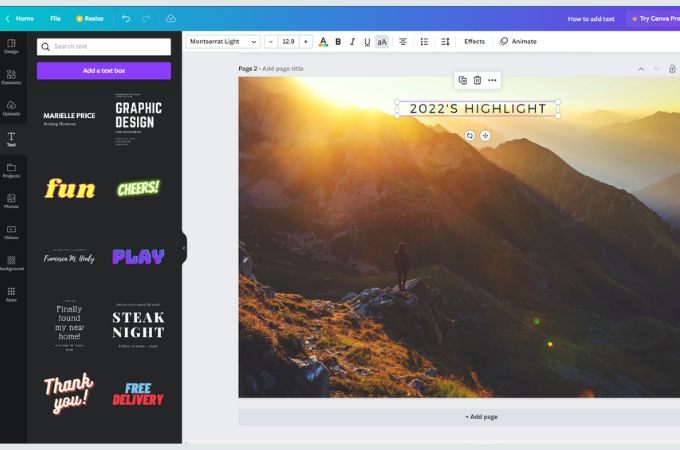 Canva is one of the best tools we can use when designing photos. An app like this can help you unleash your creativity by giving you access to elements, shapes, overlay images, and even texts, which makes this a handy tool for editing photos. How to put text on a picture with this tool? Moreover, yu can choose to design your image using its wide array of fonts – whether classic, chic, fancy, comical, or formal fonts. With this app, making banners, labeled photos, or online journals will be full of fun. Interestingly, Canva is available on phone and online.
Picsart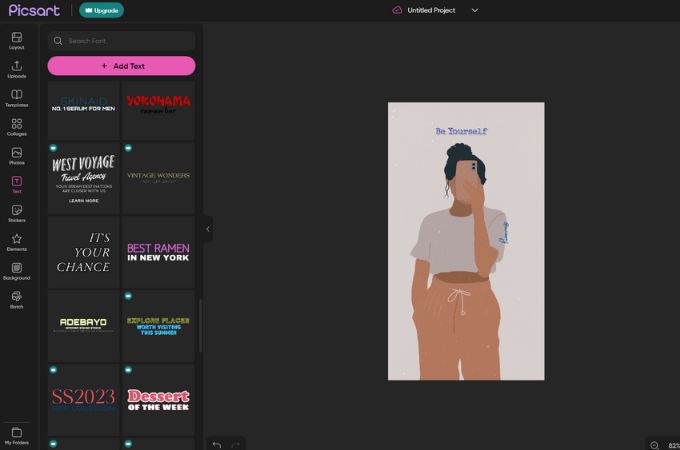 There is one more tool that can teach you how to add words to photos in Picsart. It has plenty of collections of fonts which you can use to overlay on your image for your artworks. It allows you to adjust the thickness, add shadows, highlights, borders, and even change the color of the text on the image with this photo app. For a non-destructive design, you can also adjust its opacity. In addition, Picsart offers templates for making inspirational quotes with their images. 
Kapwing Add Text to Image Tool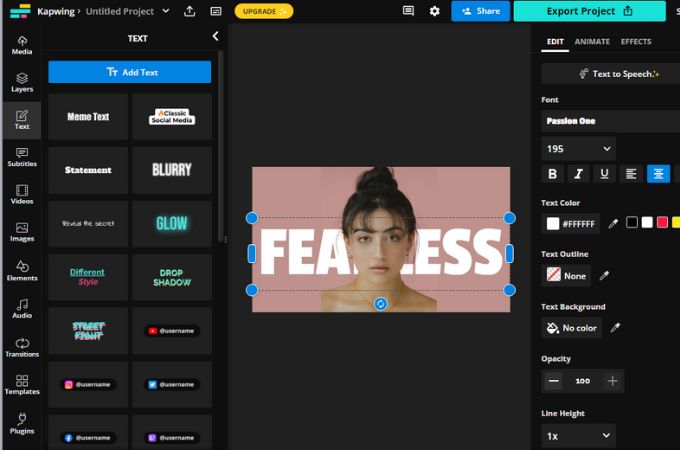 Kapwing's Add Text to Image tool is suitable for anyone who prefers a simple interface. With this tool, you can add words, emojis, and even WordArt images. The text that you add can also be manipulated in terms of size, font, and color. If you are unsure which font to use, you can check its text library for sample designs that match your style.
How to Put Text on a Picture Using Mobile Devices
PicWish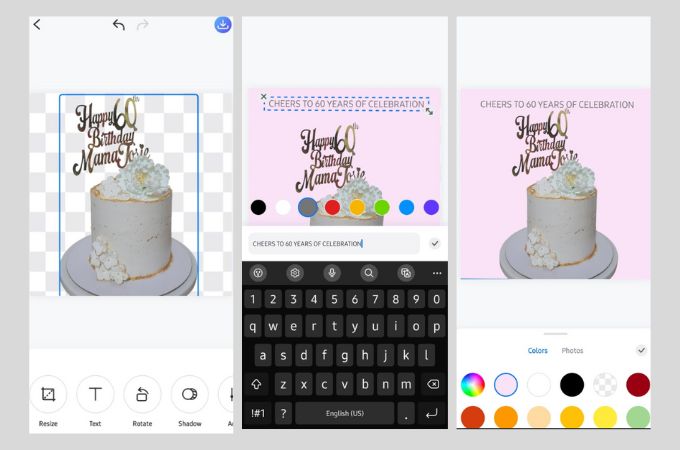 If you think PicWish tool is just limited in erasing image's background, well, you're wrong. It's amazing mobile version can also let you add caption over your processed image. With this, you no longer have to wonder how to add words on photos, since you can easily and directly do it on the app after you edit your photo (after you deleted the background, enhance your photo, and crop it). The add text function of this tool is indeed helpful especially in creating product photos. And to make it more aesthetic, you can change the text's color and size that will perfectly fit on your image. Therefore, with PicWish, you no longer have a plain and dull photos anymore.
Textart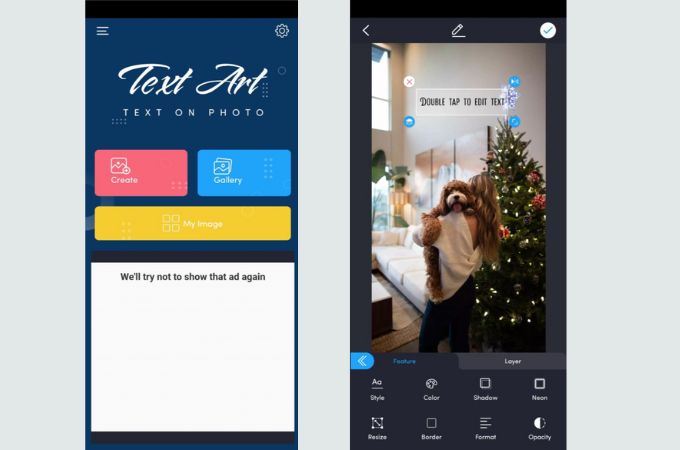 Textart allows you to add captions to your photos with your fingertip. A meticulously designed mobile app provides easy-to-do yet professional artwork design. You can use the sample quotes as your captions or get a reference of the style for your future works. This tool offers over 800-plus font options, so you will certainly enjoy being creative with it. It is also possible to add gradients or solid colors to them. Also, you can add effects, filters, and elements like stickers, frames, and borders to your image using its other editing tools.
Poster Maker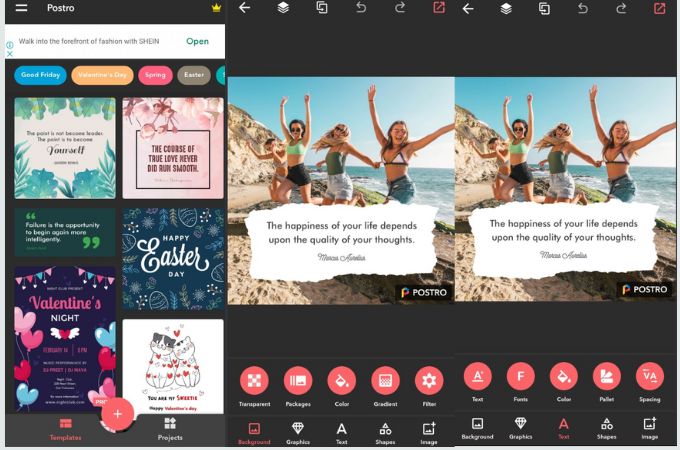 Poster Maker is the right app if you enjoy making greeting cards and quotable images. As stated above, we have different reasons why we add text to an image. Therefore, Poster Maker will show you how to add words on photos for banners, logos, flyers, and even page covers. With numerous poster templates, 5000+ graphics, and 200+ typographics, no wonder this mobile tool will render stunning artworks that you can absolutely share with your friends online.
Instagram Story Maker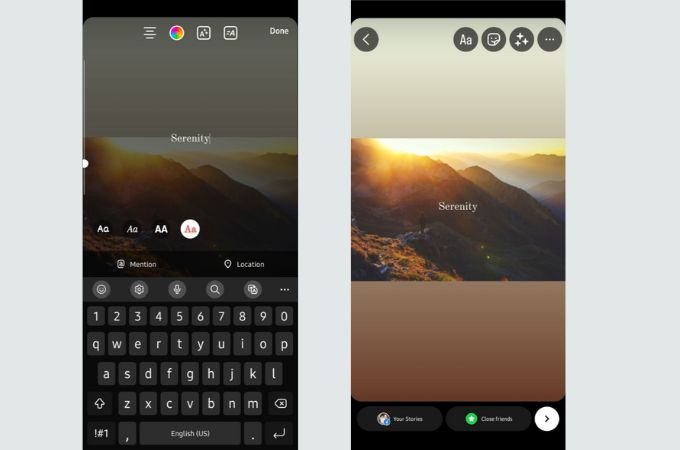 You can add text to an image using Instagram Story Maker without having to install additional tools on your mobile phone. Simply add a story and click the text icon to add captions to your photo. It has several font choices. You can also highlight them or make them colored if you want to style it. With this application, you can share images with captions instantly or save them for later use.
3 Tips How to Add Text on Photos Perfectly
It is simple to design a photo with text, but to turn it into an artwork is another story. Everyone can do it, but not everyone can make it catchy, stunning, and tell a new story. So, after teaching you how to put text on a picture using the tools above, this section will tackle more of the do's and don'ts in making artwork photos. Scroll down for more information.
Readability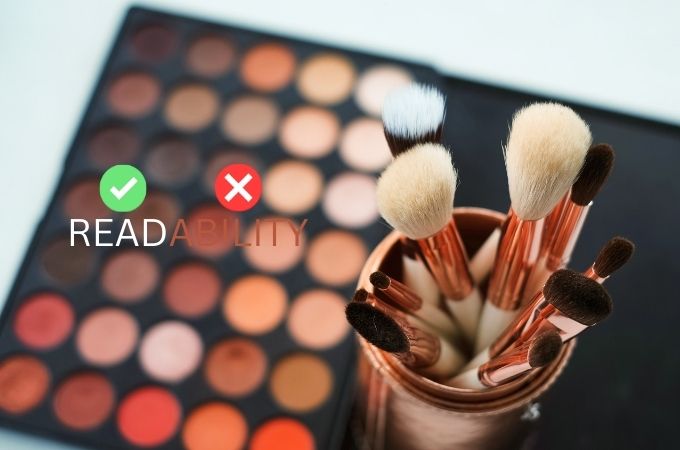 Adding text to the photo explains the story behind it, and it allows you to convey more information than the photo alone can convey. It is therefore essential to make it readable. In order to do so, you need to adjust its appearance (opacity level) and ensure that the image contrasts with the text. Also, be mindful of the colors you are using. Use lighter text if your image is darker and vice versa. Be sure that whatever you apply to your artwork compliments each other.
Proper Position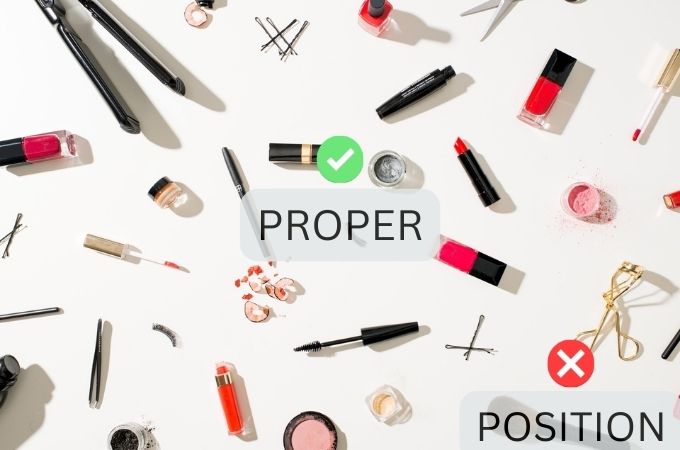 There's no specific rules as to where you are going to add the text on your image. Some put it in the center, side, or overlay it. But for easier tasks, you can use the rule of third on this. You must also avoid adding it on edges or over the part that can destroy the quality of your image.
Font Style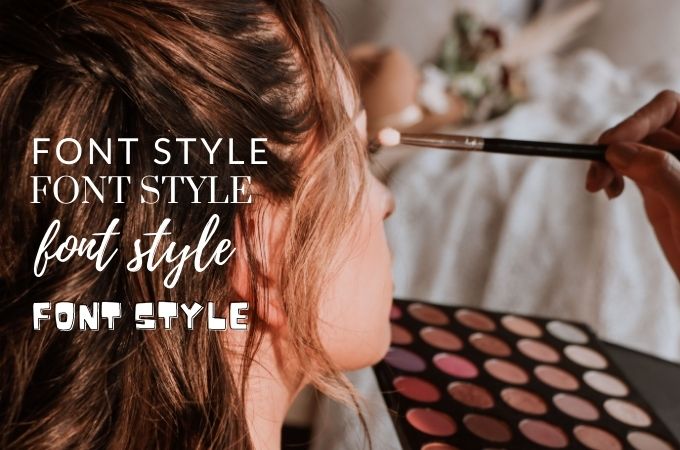 Font Styles differ depending on your subject and context. It also gives an impact to your photo because fonts usually have their own characteristics which evoke feelings to the readers. Serif fonts usually denote elegance, sophistication, and formality. Meanwhile, Sans Serif implies straightforwardness and simplicity. There are also Script Fonts which generally emphasize creativity, liberty, and femininity. Additionally, if you want to show that you are unique and fun, Decorative Fonts are the best typeface for your image.
Conclusion
Now that you already have the tools and tips on how to add text on photos, you will find no excuses on how to make beautiful artwork images. On top of this, always remember that you are adding the text to make it a part of  the photo.