Top 5 Tools to Add a Person to a Photo
PicWish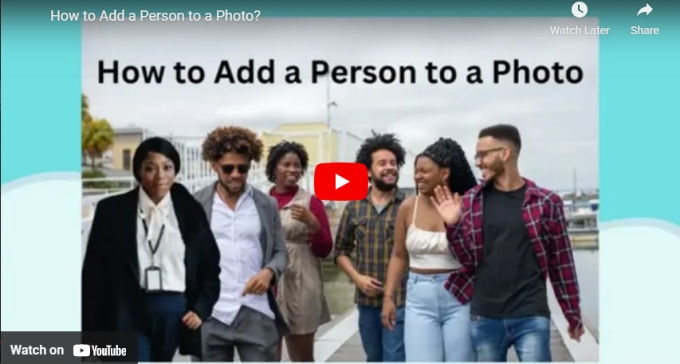 One of the best photo editor apps you can rely on if you want to add a person to a picture is PicWish. This amazing tool is jam-packed with different features to help you do the editing process efficiently easy. With its AI-powered editing features, you can easily remove the background, add color to a black-and-white photo, remove objects, and many more. Allow yourself to boost your productivity and unleash your creativity using PicWish with the help of the following steps provided below.
Get the app by clicking the download button below.
Open PicWish and choose Remove BG.

Upload the photo that you want to make transparent and click Start.

Once done, click the Plus icon to add the group photo as your background.

Adjust the picture to find the perfect angle then hit Save All to export it on your PC.
Photoworks
Another powerful photo editor for PC that can help you add someone to a photo is Photoworks. It offers a lot of features such as instant enhancement, convenient crop, captions, and watermarks, as well as background remover so that you can easily add one person to a group photo. If you find this tool interesting, you can try it by just simply following the procedures listed below as your guide.
Download the app from its website.

Upload your image by clicking the Open Photo button.

Then hit Tools and choose Change Background.

Mark your object with a green blush and your background with a pink brush. Then click Next.

Once the picture is ready, click the Select Background Image button.

Upload your group photo and put the picture to your desired part and click Apply.

Once finished, hit the Save icon to get your edited group photo.
PhotoScissors
PhotoScissors is a cutout software that helps you remove and change the background to your photo in an instant. This is one good app to choose when you want instant results if you're looking for a tool to help you add someone to a group photo. It also offers a shadow feature to make your photo more creative to match the shadow's position of the original group photo. Below are the steps that you must follow to start usingPhotoScissors.
Go to its official site and click Upload Image.

After the process, go to Mode and choose Image.

Upload your group photo and go to Foreground again to adjust the picture. Then click Download to save the photo.
AirBrush
We also listed a photo editing service that is specialized in product photo editing, this is AirBrush. It offers a clean photo editing feature that is also existing in image editing software like Adobe Photoshop available on your iOS and Android phone. Other services it offers are shadow creation, product photo services, background removal services, and more! Check its other features on its actual app by following the steps listed below.
Download and install AirBrush, then open once done.
Get the Picture that you want to work with > Creative Tab on the main menu then choose Background.

Adjust your picture to fit the background and just tap the check icon to save your photo.
Movavi Photo Editor
For the last tool, we have Movavi Photo Editor. This photo editing tool is designed to help you edit your images in seconds. You can remove the background and add someone to a photo quickly via AI selection editing feature. It also offers basic editing tools with text insertion, RAW image support, light and color correction, and many more. Try this tool by following the easy steps listed below.
Get the app and have it installed on your computer.

Click browse for images or just drag and drop the photo to edit.

Select the person on the photo by using the Selection tool. Right-click on the photo and select Copy.

Click the Next arrow button to display the group photo then paste the copied photo. Click Save once the photo is located in your desired position.
Conclusion
The above tools are 5 of the best photo editing tools that you can choose to help you add a person to a group photo easily. You can try each tool with the help of the provided steps listed in each tool in this article. But if you are looking for the best and easiest way to help you edit your photo, PicWish is the best for you.