Practical Ways to Shoot and Create Student ID Picture
University ID Card Photo – Requirements and Benefits
Different Perks of Wearing Student ID Photo
Students' university ID card is intended to be used for identification purposes. This makes it easier for their teachers, classmates, and classmates to recognize them. The following list also contains some ways you can use student card photos that you will find useful. Take a look at them!
A student with a university ID card photo will feel a sense of belonging to the campus where they are enrolled. Furthermore, it ensures student safety since schools can differentiate between students and outsiders. As a result, some schools make it a strict requirement that students wear it whenever they are in school.
Some regions, but not all, offer special discounts to students on leisure and services. In fact, they can get a 20% discount on museum, concert, and tour tickets. Public transportation tickets can even be discounted significantly for students, even on some airlines.
When a student encounters an accident and wears ID, the emergency response team is able to quickly contact the emergency contact person declared on the ID. Also, its stated address can be used to contact them.
What are the Guidelines on Taking Student ID Picture?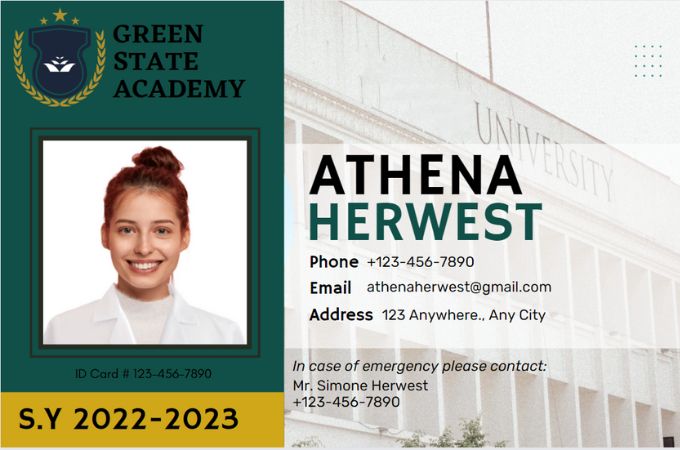 Student ID photos are not just about a photo of yourself in one frame. In creating one, especially if you are doing it yourself, there should be standards you have to follow. Here's a quick-check list below:
Required Size and Resolutions
The resolution must be at least 640x 480 and 1:1 in ratio (1 x 1 or 2 x 2 inches in size). And the format should be .PNG, .JPEG or .JPG.
Background should be n white plain background (you can also use lighter-colored background). The student should also sit up straight and look straight to the camera.
Wear Appropriate Clothings
Eyeglasses and unnecessary accessories are not allowed. Light makeup is allowed. As much as possible, wear formal or semi-formal tops and avoid wearing sleeveless clothes. Cap is prohibited.
Student's Face must be Clear and Recognizable
Ears must be visible and hair should not be covering the face. Make sure shoulders look straight in the photo. Definitely no filter is allowed.
Photos should be taken not 6 months older to keep it updated.
For a neatly DIY-ed student ID card photo, you'll need a good camera and backdrop. You will also need a tripod to ensure stability and capture the image at eye level. However, since this article is about practicality, you can learn below how to make one that won't cost a fortune and won't take too long. Just continue reading below.
Must-Have Student Card Photo Creators Online
After we listed the do's and the don'ts in creating a student id photo, this section will help you how to make a university ID card photo practically at home. Here are the tools that will make it easier for you.
PicWish – 100% Free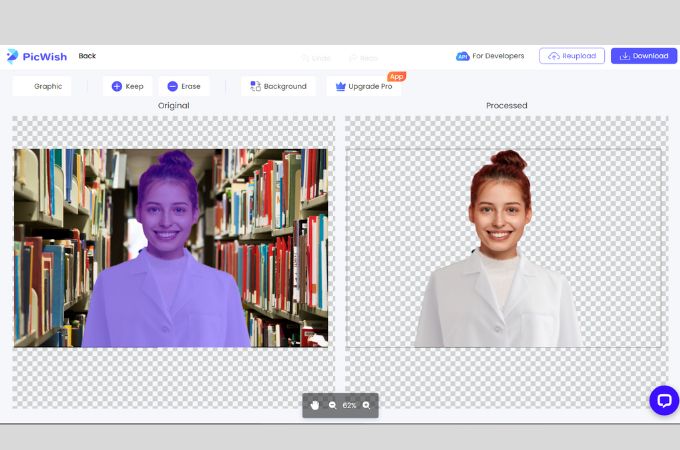 If you want to take a quality student card photo with a white background at no cost, then visit the official site of PicWish. This app allows you to remove the background of your photo that is inappropriate for a school ID instantly. Once that is done, you can change it to a white background. Using AI technology, it can separate the subject neatly from its background without destroying the quality of the photograph. However, in case it does, you can utilize its Photo Enhance function to fix any blurry or pixelated areas in a matter of seconds. Moreover, you can also crop it exactly in the size it requires using its Cropping tool without losing your ID photo's quality. In fact, this tool is greatly used for cropping headshots as well as for a perfect shot close-up photo.
Tips:
If you wish to use it to over 100 images, you might as well consider downloading its Windows version. Click the button below to download it on your PC.
Download
Remove.bg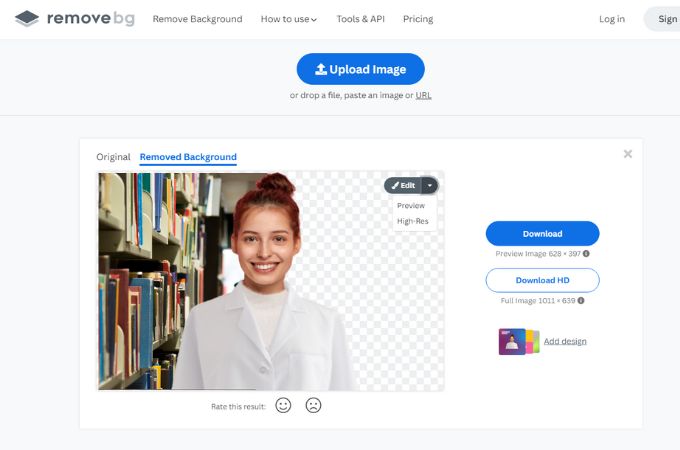 If you already trust the cropping feature of your handset, and your problem is the background alone, then Remove.bg is specifically made to help you with such a dilemma. With this background remover, you can easily isolate a subject from its background by dragging the image on its interface or pasting the link. In addition to removing the background, this tool also lets you replace it with a white or plain background from its preset color palettes. Alternatively, you can save your output as transparent so you can still use it for different IDs.
Removal.ai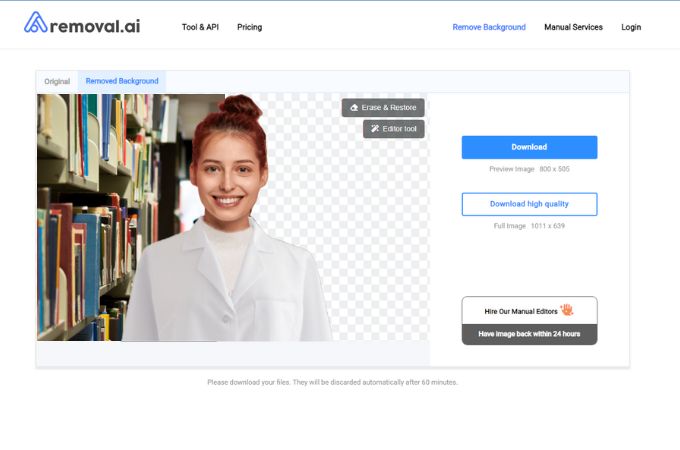 Take out the complicated background from your student card photo in a few minutes with removal.ai. This online tool detects subjects in any type of photo and cuts out the edges clearly – it even handles hair strands and spaces between them, so the photo still looks original even after the background is changed. In contrast to the aforementioned tools, this app only lets you remove the background of your photo for free since background replacement starts at $0.13.
Conclusion
A perfect student ID picture is easy to achieve if you follow this guide. Among these apps, PicWish obviously has it all. Using this online app, you can now easily take one ID picture without setting up or spending a penny. How practical isn't it?