Capturing moments is a joy, but sometimes those moments come out looking a bit grainy. If you've ever wondered how to remove noise from image, you're in the right place. In this quick guide for 2023, we'll walk you through the simple steps to effortlessly remove noise from photos. With just a few clicks, you can transform your grainy images into polished visuals that shine. Let's dive into the easy methods that will help your images reclaim their lost brilliance.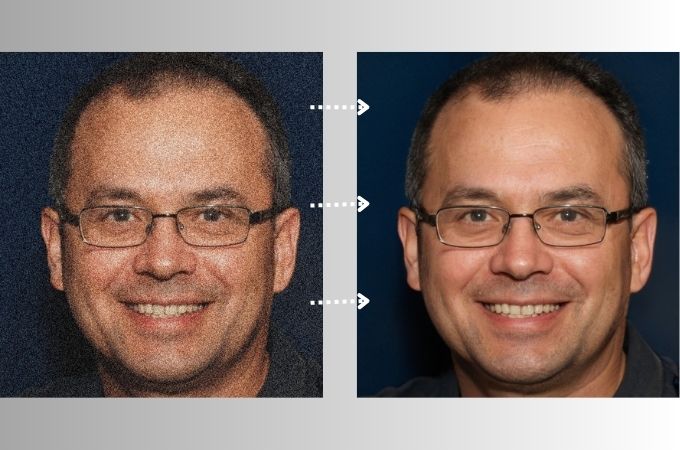 Best Ways to Remove Grain from Photo
What is Image Noise?
"Noise" in a photo means random changes in brightness or color that weren't in the original scene. It looks like unwanted graininess or speckles, especially in smooth areas.
There are two main noise types in photos:
Graininess (Luminance Noise): This noise changes brightness levels. It looks like tiny grains, similar to old film photos. It can make pictures less clear, especially where there's not much difference in light.
Color Noise (Chrominance Noise): This noise affects colors. It shows as random colored specks, often where colors are simple or change smoothly. This noise messes up colors and makes them less accurate.
You can use a AI photo denoiser to fix this. It uses filters to lessen noise while keeping details. But too much can make photos lose detail and look too smooth. It's a tricky balance to get right.
PicWish
The best option to make any blurry picture clear is to use PicWish Photo Enhancer. Boosted by its pro-level AI tech, it ensures to improve the quality of you image in super crisp results. What's more is that it can boost the pixel count for up to four times. Additionally, its intuitive interface lets you enhance the image in just a few clicks and within seconds. Luckily, you can enjoy all of these features for free.
How to Reduce Noise from Photo using PicWish
Access PicWish Photo Enhancer using your web browser.
Click Upload Image to start and wait for it to process the image.

Once done, click Download image to saved the enhanced photo.
Fotor
Fotor is another one of your all-in-one photo editing tools that features lots of functions. One of them is an AI photo denoiser that uses a state of the art AI technology. It can identify and remove any noise or grain in the picture in seconds. Furthermore, you can adjust the slider to control the filter applied. With this, you can see a real-time preview of the image even before saving it.
Learn how to improve images using Fotor
Click the link provided to open the image enhancer feature of Fotor then hit Remove Noise Now.
From here, select Open Image to upload the picture.

Wait for a while and let it improve the image automatically. Select the Download button once it is finished.
VanceAI
Another remarkable tool to reduce noise from photo is Vance AI. Equipped with a cutting-edge AI denoise algorithms, it also automatically lessen background noise from images. These algorithms detect grains or noise on the pictures and make them clearer within seconds. Plus, it showcases a user-friendly interface that require no pro skills to edit the pictures. Lastly, all uploaded pictures are deleted within 24 hours to protect your privacy.
How to use Vance AI
Go to the denoise function of Vance AI to begin.
Hit Upload Image then wait for the tool to edit the picture.

Once done, download it to save the image.
AI Image Enlarger
Next on the list of sites that can also enhance image quality is AI Image Enlarger. It lets you upload images in PNG or JPG with a maximum file size of 10MB. Additionally, it presents a high-efficient editing tools to smoothen complicated grains from the pictures. The tool even enhances image taken from low light conditions without affecting the subject and details. As an icing in the cake, you can also resize, optimize, and adjust the image after the process.
Remove grainy of pixelated noise with AI Image Enlarger
Visit the AI denoiser page of the site and click Upload Image to begin.

From here, hit the Start button and wait for a while.
Finally, select the Download button to save the image.
ImageChef
The last tool to remove grain from photo is ImageChef. It supports multiple file formats including JPEG, PNG, GIF, and HEIC extensions. Also, it has an AI technology to reduce the noise of pictures taken from dark lenses. In fact, its simple interface assures you to process the images faster. Additionally, its services are 100% completely free of charge.
Use ImageChef to enhance your images
From the image noise remover of ImageChef, click the browse button to upload the picture.

Use the slider shown to control the intensity of the filter. Click the Convert button afterward.
After that, hit the Download button once it successfully edited the photo.
Conclusion
Capturing beautiful moments through photography is a source of joy, yet sometimes, image noise is inevitable. This guide has let us understand concept of "noise" in images and how to deal with them. By embracing these tools, you can transform your images from grainy to clear. Nevertheless, it is still safe to say that PicWish is the best way to remove noise from image due to its remarkable AI tech.