Recommended Apps for iPhone Transparent Image
PicWish
First on the list is a powerful photo editing app that can be used by iPhone users who want to remove background without having difficulties. The good thing about this app is that the interface is easy to understand which means photo editing skills are no longer necessary. Also, it has the Al feature that eliminates background in just a few seconds. Plus, it comes with a batch feature that lets you process up to 30 photos at once. So if you want a transparent image iPhone, refer to the simple steps below.
On your device, go to your App Store and search PicWish to install it.
After you install the app, tap the "Photos" tab to pick a photo you want to make transparent.
If you are satisfied with the result, hit the save icon to put it on your file.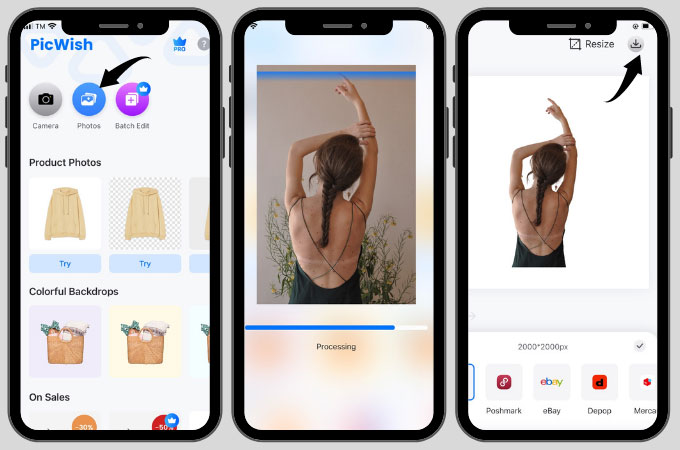 PhotoRoom
If getting a transparent image is difficult for you until now, might as well give this app called PhotoRoom a try. Just like the first app, PhotoRoom will automatically crop the main object in the image and eliminates unnecessary background. What's more, this app lets you set any color for your background, apply a blur, as well as insert text, logo, and more. To use this app on an iPhone image transparent, the guide is as follows:
Once you install the app, open it to get started.
Import a photo and wait for this app to process.
When you get the result, this app will ask you to pick a template.
Then hit the export icon to save it on your device.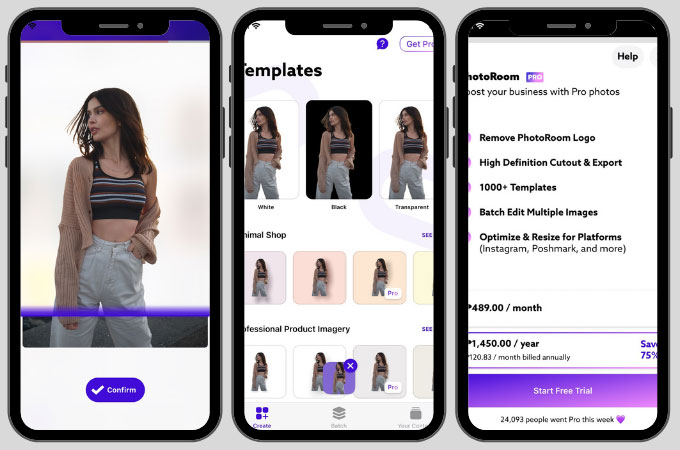 BG Remove: Background Eraser
If you're not on a tight budget, purchasing a premium version of this app known as BG Remove: Background Eraser is worth every penny. With the amount of $5.70, you will be able to get a precise image cutout and you can use all its features without any issues. For the background removal process, you can use either auto or manual tools. Though this app has too many annoying ads, still this is one of the recommended apps for iPhone image transparent background.
Open the app, and hit the "Import" icon to select a photo you want to edit.
Next, crop your image, and use the removal tools to separate the object or subject from your background.
When you are satisfied with the result, you may tap the "Next" and "Save" options to save it on your device.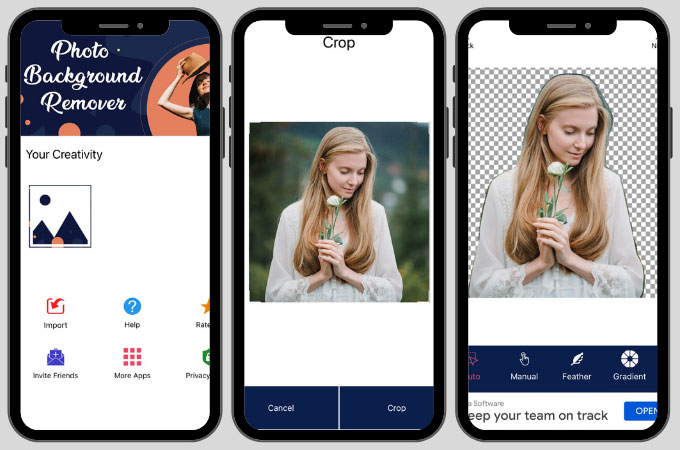 Canva
Canva is a powerful app that provides helpful editing tools that can help users enhance any photo. One of the tools that make other users interested in using this app is the background remover. With just one tap, you can get an image transparent. For iPhone transparent image, you need to pay for the app before you can use the background remover tool. Here's how you can use it.
Search the app on your App Store and install it.
After installing it, open the app and tap the plus-sign icon.
Tap the "Edit photo" > "Photo Library" to import a photo.
Then open the "Effects" options and tap the "BG Remover" tab to eliminate the background instantly.
Finally, hit the save icon to process and restore it on your device.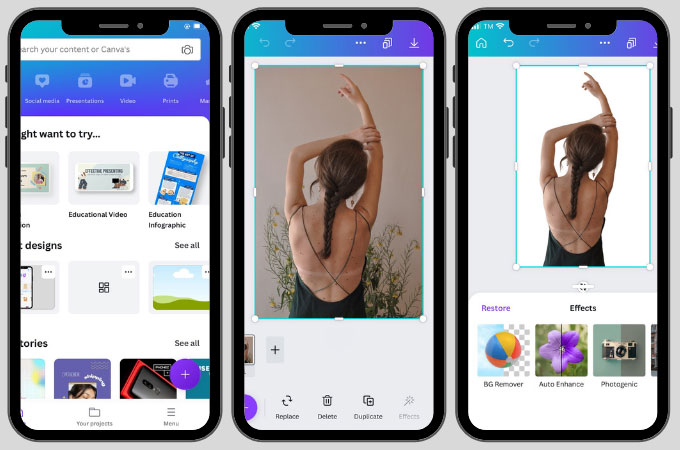 Conclusion
In a nutshell, searching for the right app for iPhone transparent image is not difficult to find. Especially we have listed all the apps you need. Although all the apps are good in their own ways, we would want to recommend you PicWish. With the help of this app, the process is less complicated and is cheaper as compared to other related app.