Tips to Make Transparent PFP
Powerful and Efficient Online Tools that You Can Use Online
PicWish – 100% FREE
Get a transparent profile photo for your TikTok account with PicWish. This 100% FREE web service tool is a good place to start. With advanced AI technology, the online tool will automatically detect the subject from its background. Supporting almost all the photo formats and saving your work with its original quality. You can have the best clear photo profile to display on your TikTok to gain a lot of likes and followers.
Get transparent PFP TikTok with PicWish
Open the official page of the background remover tool on your browser.
From there, click "Upload Image" to get the profile picture that you have.

The tool will automatically process your photo giving you a transparent result.
Once satisfied with the result, hit the "Download" button.
Remove.ai
The next online tool that we have in this list can also give you a clear cut out of your photo to make your display picture on your TikTok account. Just like the first tool, Remove.ai can also automatically remove the background in less than 3 seconds. You can have a transparent TikTok PFP in an instant with smooth cutout edges.
Here are the simple steps that you need to follow to have a good PFP.
Visit the Remove.ai page on your browser.
Upload a photo from your computer gallery by hitting the "Choose a Photo" button.

Then, the tool will present a clear cut out of your photo.
Just hit the "Download" button afterwards, to save your work.
Erase.bg by PixelBin.io
If you need another web app to help you make your profile picture transparent, Erase.bg by PixelBin.io is one of the best tools for you. It supports HD resolutions up to 5000 x 5000 px. If you need to learn how to get a clear PFP on TikTok just upload your photo here (via manual upload or pasting the image or its URL) and it will do the rest for you. This tool is good in removing the background in portrait or product photos. Or if you wish, you can also use its background templates to give your image a complete new look. Interestingly, your image is saved for further editing if you like.
How to make your picture transparent with Image Resizer.
Go to the official page of Erase.bg.
Click the "Upload Image" to import your photo.

The online tool will automatically get rid of the background, showing you a transparent result.
Lastly, hit the "Download Original Size" to save your transparent PFP.
Easy to Use Mobile Apps Solutions
Apowersoft Background Eraser
If you are looking for an app to help you out in making your transparent PFP, you may have Apowersoft Background Eraser. Apowersoft AI can handles complex backgrounds from your photo giving you a precise cut out of your picture that you may display on your TikTok account. Moreover, this app can easily be downloaded from the Play Store and from the App Store.
Remove background from your picture to have a beautiful profile photo with Apowersoft Background Eraser.
Open the app, and choose the "One-Click Cutout" to upload the photo that you need.

Once uploaded the app will give you a transparent result.

Tap the "Save" button to save your work.
Background Eraser
Background Eraser is another app that you may rely on how to get invisible PFP on TikTok. This Android app will let you have a clean cut out of the photo that you will use on your profile picture. You may also use its manual eraser tool wherein you can carefully remove the unwanted background.
Follow the simple guide below with Background Eraser
Download and install the app from the Google Play Store.
Tap "Load a Photo" to import the photo that you will use as your profile picture.
Then, choose the removal tool that you need to manually get rid of the background.
Finally, hit the diskette-like icon to save your transparent profile picture.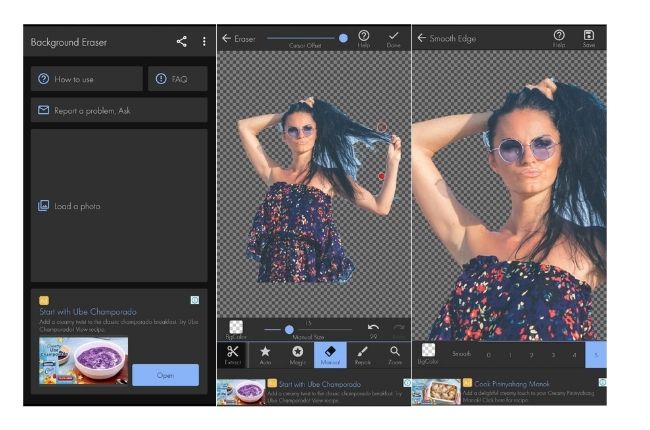 PhotoRoom
The last mobile app that we have is Photo Room. This app can transform your photo into a transparent PFP that you can have on your TikTok. This app works automatically in removing and changing the background of your photos. You just need to upload your photo and the app will process it right away, giving you multiple results.
Create a transparent profile picture with Photo Room.
Go to the Play Store to download and install the app on your mobile phone.
From its interface, tap the add sign icon to upload the profile picture that needed to be in transparent format.
Then, wait for the results. Choose the one with transparent background.
Finally, tap the download icon to save it directly on your phone gallery.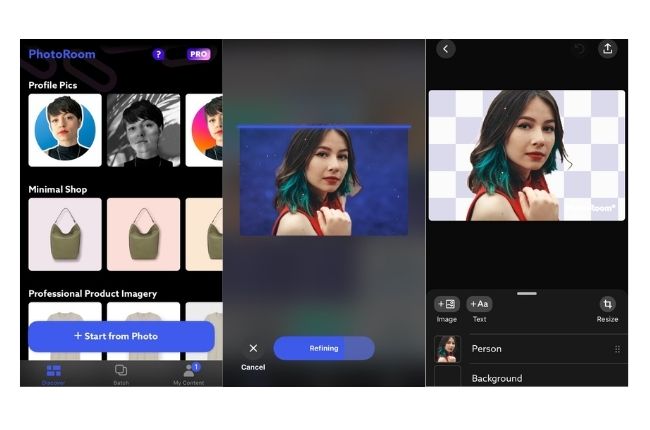 Useful Tips to Have a TikTok Transparent PFP
Show your Beautiful Face
The most important part of a profile photo is to show your face. Having your beautiful face on your display photo is the best option for social media engagement. And be sure to use your most attractive photo to attract the attention of more likers and followers. Another one, be sure to have a solo picture, not a group picture.
Use Plain Photo Background
Having a distracting photo background can be difficult to edit. If you want to have a versatile photo that you can easily modify, try to use a background with plain and simple colors. In that way, you can instantly have a transparent PFP TikTok.
Use a Photo Background Editing Tool
To successfully create a clear profile photo on your TikTok account, you need a third-party tool. Choose the one that will meet your preferences in making your profile picture transparent. The tools above will help you decide on that.
Conclusion
Using a transparent TikTok PFP is a way to attract more followers to your account. In this way, you just need to strip away the background from your photo using some of the background removal tools that we present above. Among the tools above, Apowersoft Background Eraser is the most recommended one on a mobile phone, while PicWish is for the online tools.