Green Card Lottery Photo Requirements
What are the DV Lottery Photo Requirements?
The U.S. government has set specific photo guidelines for the annual DV Lottery. These cover the photo format, size, and age, as well as rules regarding glasses and headgear. These are applicable to all the photos you're submitting. For the number of copies needed, need to provide one photograph for each person who would gain the right to a Green Card if you win the DV Lottery. This means you should submit photos of yourself, your spouse, and your children (if applicable).
Specific Green Card Lottery Photo Requirements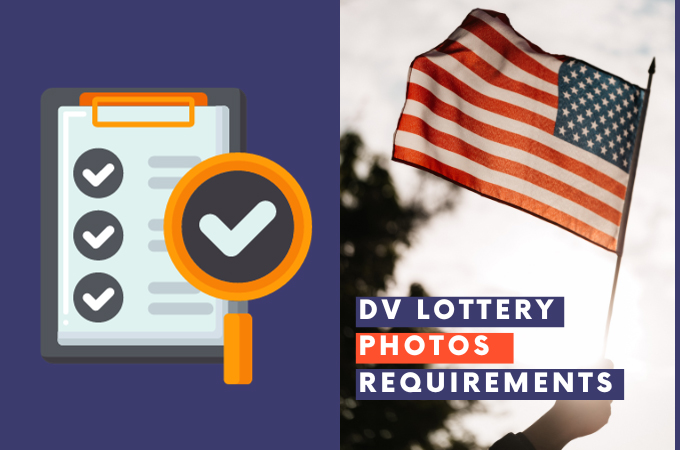 Photo Age
The picture should not be older than six months and must match your current appearance. Submitting of an old photo will automatically cause you a disqualification.
Photo Background
Light and neutral background are acceptable. Make sure that it has no visible patterns or shadows. The best option is to use a white background.
Head Position
Your head should be centered and must be completely shown in the picture. This will take half of the whole photo. Additionally, you should be facing the camera and pull your hair back to avoid covering your eyes.
Dress Code
Nothing is specifically mentioned what should be worn while taking the photo. As long as you don't wear a uniform or sport camouflage look, you're all good.
Photo Size and Format
The resolution is ranging from 600×600 pixels up to 1200×1200 pixels. The maximum file size allowed is 240 KB saved in high-quality JPEG format. Make sure the image is clear free from sharp or blurry areas.
Children and Baby Photos
For the picture of your kids or babies, ensure that there are not other people taken in the photo. Face should still be fully visible and must not wear any pacifier. Moreover, their eyes should be open. This usually takes a lot of time so patience must always be a virtue.
How to Create DV Lottery Photo
If you don't want to spend or go to a professional photo studio, you can use a free DV Lottery photo size editor online free. Here's PicWish, an all-in-one AI photo editing tool that can easily resize and change image background for different document pictures. Additionally, it has several preset sizes perfect for required sizes of several documents. Another advantage is that it lets you select the color white as background of the image.
Follow the steps below to make your own DV Lottery photo.
Visit the ID photo maker tool of PicWish and click Start Now to begin.

Set the size to Common 1 or 600x600px and pick the color white for your background. Upload the photo afterward.

Wait for a seconds and let the tool process the photo. Once done, click the Download button to save your DV Lottery photo.<
FAQs
Is smiling allowed?
You can take a picture wearing a smile. But don't overdo it. Sporting a big smile can lead to a disqualification. To play it safe, express a neutral face and avoid showing your teeth.
Are you allowed to wear headgears?
In general headgears or coverings are not allowed as your face should be visible from forehead to chin. But there is an exemption for religious reasons. For example, a Kippah is allowed as long your face is completely shown.
Can we wear glasses in a DV Lottery photo?
Unfortunately, glasses are not available at all. Even sunglasses are not allowed. There is a little exemption wherein you need to wear glasses due to medical reasons. However, you must present a valid medical certificate signed by a doctor.
Conclusion
Following the DV Lottery photo requirements is crucial for ensuring your eligibility in application. Remember to follow these guidelines closely, as failing to do so will result in disqualification. If you're looking for a convenient and cost-effective way to create your DV Lottery photo, use PicWish. It offers an all-in-one solution for resizing your image and adjusting the background. By following these photo guidelines, you'll be one step closer on your dream of obtaining a Green Card.