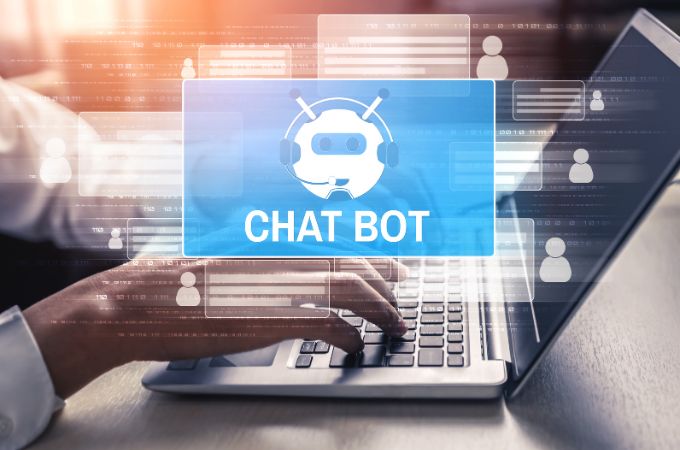 Automate Your Tasks with These 6 Best Free Chatbots
From automatic photo editing, AI has expand its power to generate videos, presentations, audios, images, and even conversations or chatbots too. Chatbots are computer programs that are AI-generated apps and use natural language processing (NLP) to simulate human-like conversations. These, too, can provide instant responses from the questions or commands asked to them. No wonder, there are uncontrolled emergence of this app on the internet now. And if you don't know which one to try, let this article help you, as we are providing you the list of best AI chatbot apps we personally picked for you.
ChatGPT
ChatGPT is the best free chatbot that can answer anything like Google. This is a website where users can chat with OpenAI's language models. Correspondingly, this type of AI models mimic human conversation and provide responses to user input questions and command with accurateness. All you have to do is to just type in the text and let ChatGPT give you a response.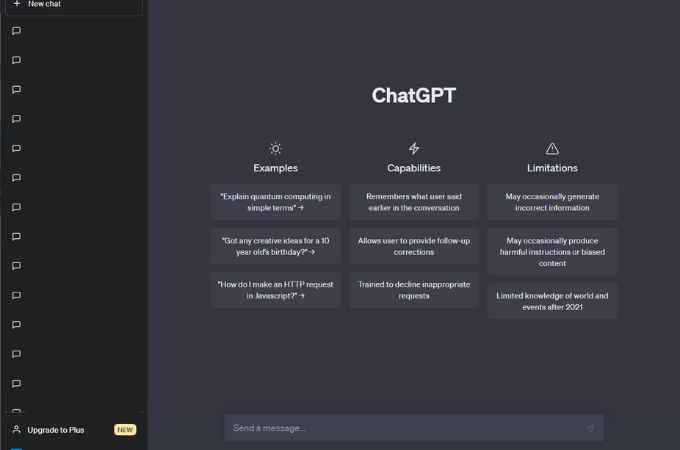 PROs:
Provides access to advanced AI language models that generate natural-sounding text.
User-friendly interface that requires no technical knowledge or programming experience.
CONs:
Only limited to text-based communication.
Dependence on internet connection, which may limit accessibility for some users.
LetsView Chat
The next free chatbot tool that you can utilize is LetsView Chat. It is an AI-based chatbot platform that interacts with users through conversations. It is created to mimic human-like conversations and provide useful answers to users' questions 24/7. Furthermore, it has the ability to learn from past conversations, which helps to enhance its accuracy and efficiency over time.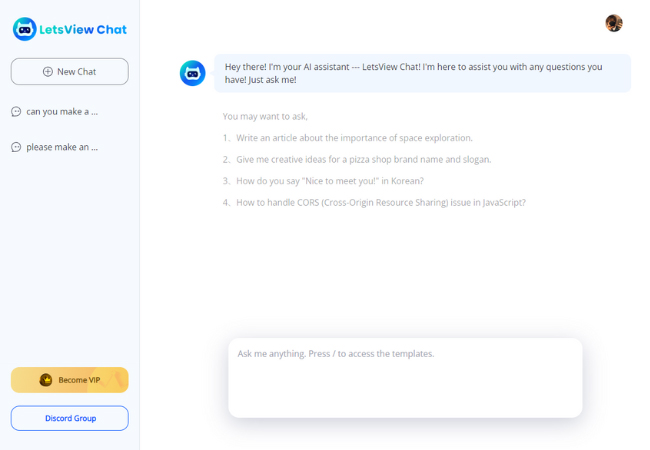 PROs:
It can handle multiple conversations at the same time, which can save time.
It supports communication and learning in up to 22 languages.
CONs:
It may not be able to handle complex queries that require human intervention.
Copy AI
Copy AI is a best chat GPT app that offers AI-powered tools for generating high-quality copy efficiently. It also provides a chatbot feature that can provide support and guidance to users. Additionally, it allows you to easily create new projects by inputting relevant topics or keywords which are certainly useful for marketers, content creators, and writers. More than that, the platform excels at generating headlines and article outlines too.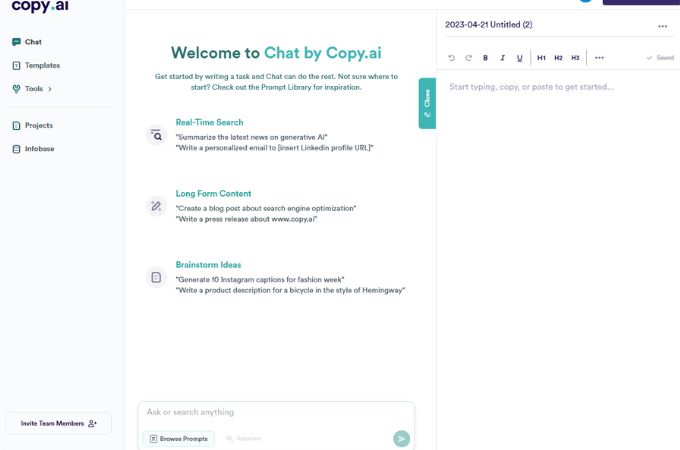 PROs:
Potentially saves time and effort for content creators.
Offers a range of content types, including blog posts, social media ads, and product descriptions.
CONs:
Subscription-based pricing may not be affordable for all users or businesses.
Chatsonic
Another best AI chatbot you must try is the ChatSonic – an online feature of the WriteSonic. Also, users can choose pre-built conversation flows or customize their own. It lets user to set the chatbot's persona and language style as well. And it offers options to track and analyze chatbot performance metrics for continuous improvements.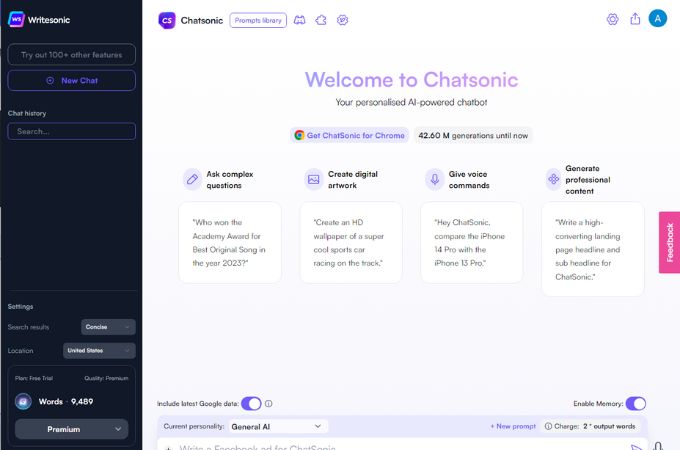 PROs:
It gives you the reference links of its answers.
Integration with popular chatbot platforms such as Facebook Messenger and Slack.
CONs:
The pre-built conversation flows may not cover all potential chatbot interactions.
Shako.AI
Created by Panda Chat, Shako.AI is the best free chatbot that is comparable to ChatGPT in terms of its language model and information delivery. The app has an straightforward interface that is engaging to use by novice and non-tech users. Moreover, the knowledge reference of this tool is derived from vast collections of books, articles, websites, and more.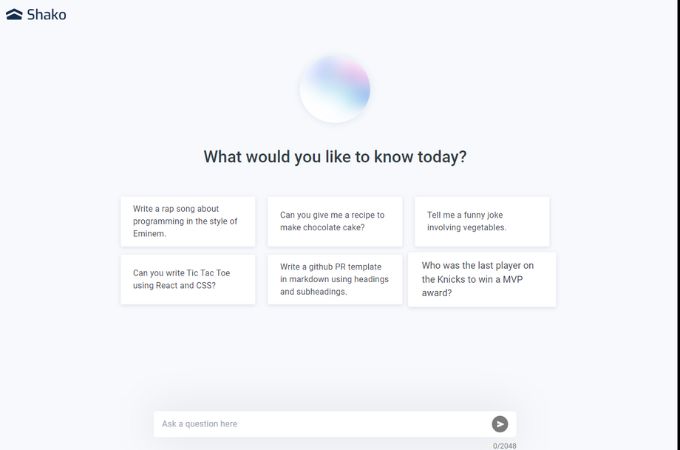 PROs:
It can understand English and other languages.
It provides high-quality results.
CONs:
The tool cannot recognize sites and links.
ColossalChat
ColossalChat is a website where users can chat with advanced AI language models like GPT-3. Additionally, you can asks this platform or command it to do any tasks, such as suggesting a hit movie to watch or giving you the best cake recipe. Also, users can input text and receive responses generated by the AI models, that are designed to mimic human conversation.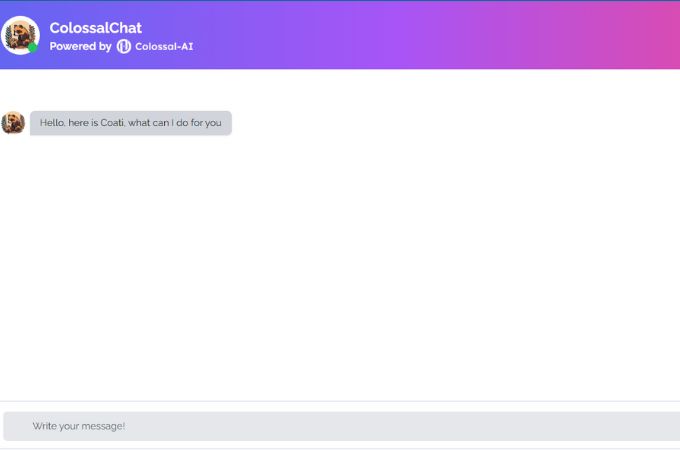 PROs:
The platform is free to use and does not require any sign-up
CONs:
The platform does not have a dedicated customer support team.
Conclusion
Ultimately, the best AI chatbot is one that effectively meets the needs and goals of the user, whether it's for customer service, marketing, or other applications. It's important to consider the pros and cons of each platform before making a decision to use the. Hopefully, this article helps you alot.