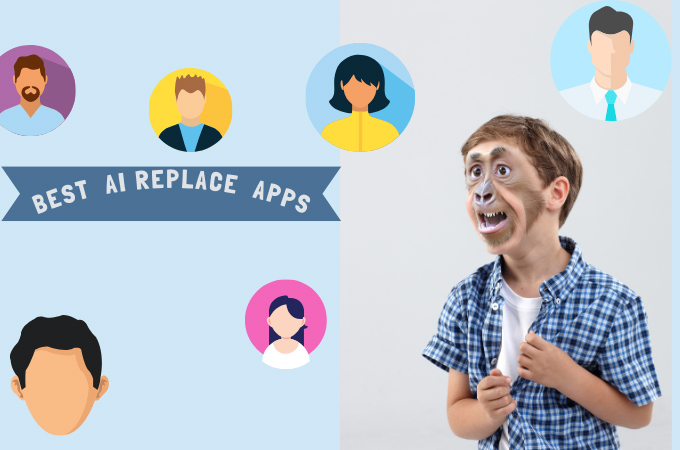 The emergence of AI has become a game-changer across industries. One area where it is making waves is in the realm of AI Replace apps. These tools are designed to automate face swaps and also do make ups. In this review, let's explore the top contenders that transform the way to give a twist to our selfies.
Best AI Replace Apps
What is AI Replace?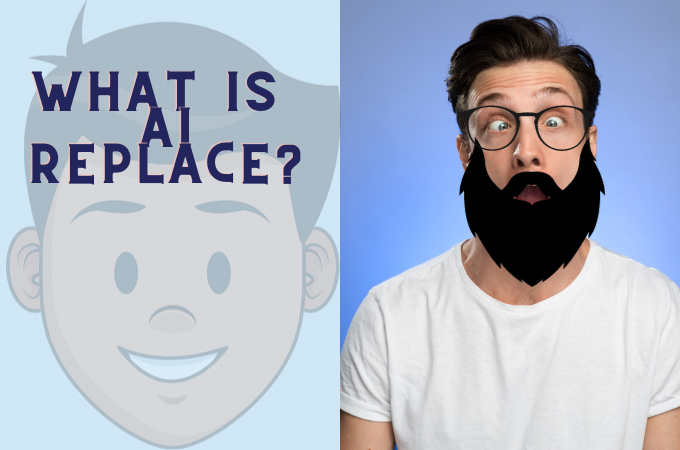 The AI Replace tool makes it simple to switch things in your pictures. It uses a trick called "inpainting" to replace parts of a picture. You can change any object in your picture into something new. To do it, just upload your picture, draw over the area you want to change, and the AI tool will make a new object for you. It uses smart technology to turn your ideas into pictures. You can create new rooms or change faces using AI.
Picsart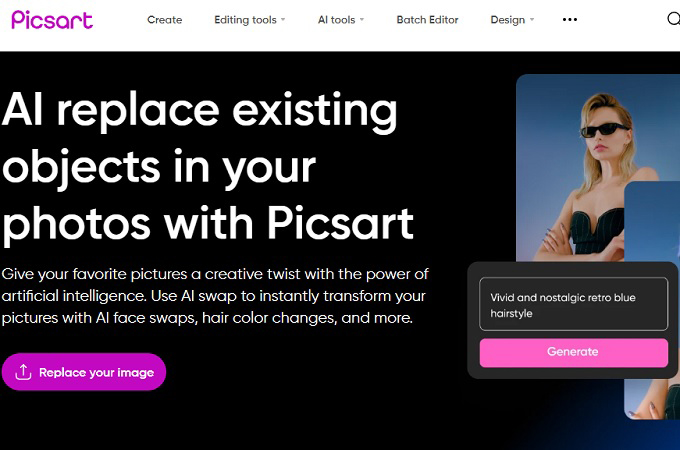 One of the best AI replace apps, Picsart revolutionizes photo editing. With this, you can do seamless face swaps, hair color change, and more. It uses an AI precision technology that automatically replace objects with accurate results. Additionally, it can also insert or add new objects to the picture. Luckily, this tool is also available for mobile phones so you can edit photos anywhere.
Pros
Offers other editing tools
Its AI replace tool is free to use
Cons
Will ask for credit card details when you're trying to subscribe to its trial version
Fotor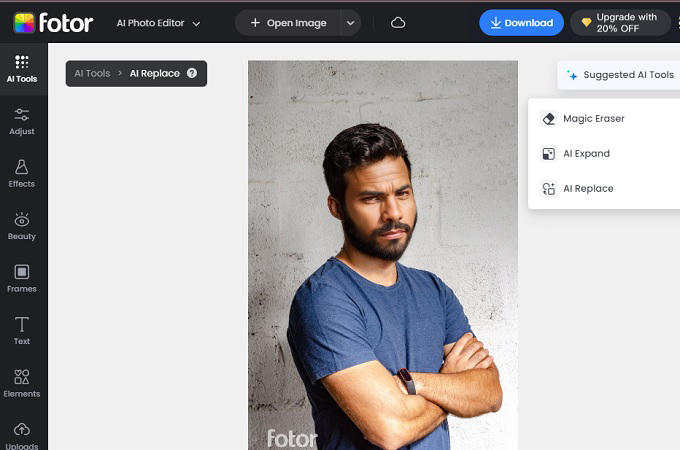 Another AI replace free app that you can rely is Fotor. With this, you can use text prompts to replace the face or object in your image. Furthermore, users can even try to use its face swap tool to replace the faces with anime or cartoons. Aside from that, the app can even replace the background of the picture. With this, you can apply some unique template like the Sky Replace. It has a brush tool to help you cutout the parts that you want to replace.
Pros
Provides several results to choose from
Easy to use process
Cons
Takes a lot of time to generate the image
Deepswap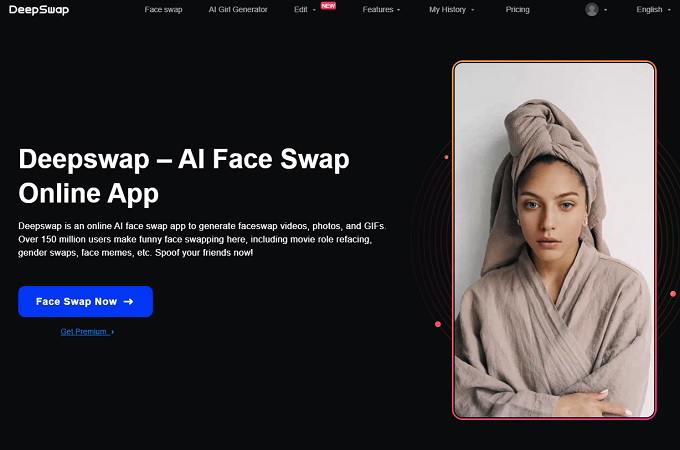 An online face swap app that you can rely to automatically generate faceswap photos, try Deepswap. In fact, it can even work on videos and GIF which is unique compared to other tools reviewed here. With this, you can perfectly perform gender swaps, movie role facing, and other funny moments that you can think of. It has an AI inpainting editor that draws the result you want within a few seconds.
Pros
Lets you merge photos
Can fill backgrounds
Cons
Offers free trial, but needs subscription once it is expired
Phot.AI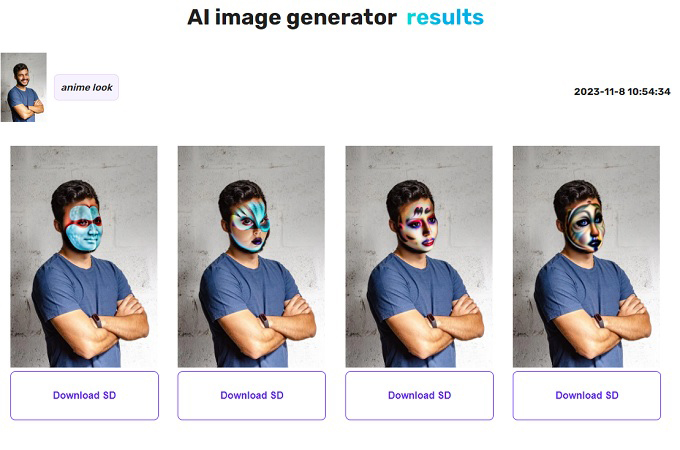 If you're looking for an AI replace free app, use Phot.AI. It has 2 modes, first is the Edit Object. Here, you can edit the highlighted area by entering a prompt for the image/object that you want to generate. The other mode is Remove Object. With this, it will automatically remove the area that you brushed. This is perfect for removing photobombers or any unwanted objects in your pictures.
Pros
Uses advanced inpainting technology
Intuitive interface
Cons
Only lets you download the image in standard quality
Visme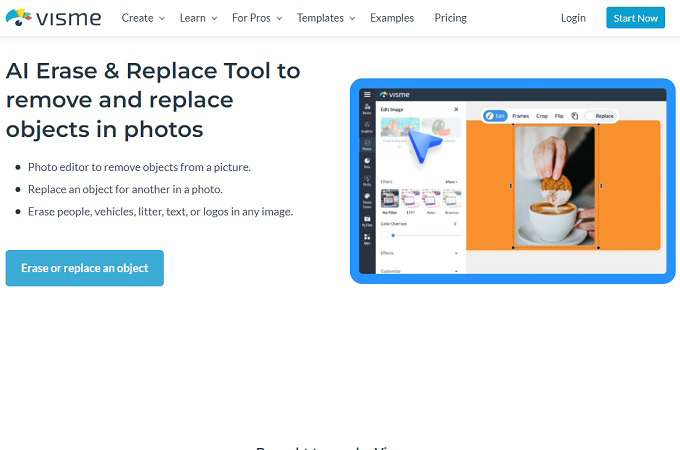 The last AI replace tool that we will introduce is Visme. Just like other apps here, it can erase and replace any objects from an image automatically. Plus, it ensures that the downloaded photo is in the highest quality as possible. Furthermore, it provides a link that you can share to your friends and it is accessible in any device. The app is also perfect for removing and generating image backgrounds.
Pros
Upscale photos for up to 4x its pixel count
Offers other photo editing tools
Cons
Not cost effective compared to other tools
Conclusion
These innovative tools use the power of AI to perform seamless face swap, change background, or give photos a complete makeover. In this review, we've explored some of the best AI Replace apps, discussing their features, advantages, and limitations. Each of these apps has its unique strengths, and the choice of the best one depends on your preferences. Embrace the power of AI to transform your images.