Perfect Ways to Add Logo to Picture
Why Must I Add Logo to Picture?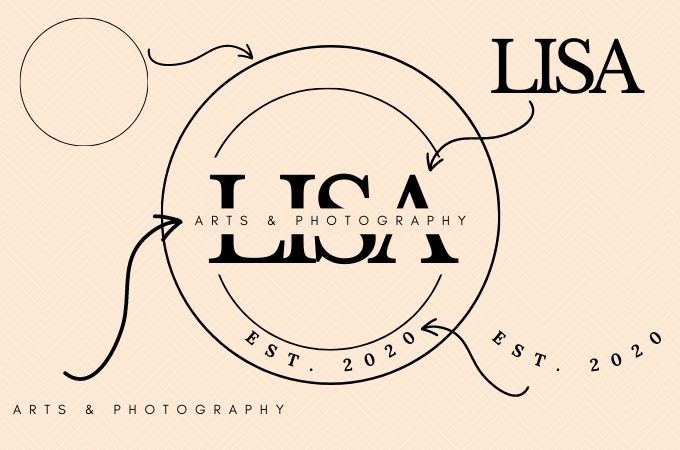 When we think of a logo, of course, we already see this image- a shape, typically round, accompanied by text and graphics. And we all know how logos are very significant in terms of business and arts.
In business, a logo does more than create a company's identity; it also connects entrepreneurs and consumers. Additionally, you should carefully consider how to make one in order to distinguish your business from your competitors.
Meanwhile, Meanwhile, artists and photographers, besides identity, usually add logos to pictures as credits on their masterpieces. In this way, their artworks will be safe from online theft and credit takers. In short, the logo serves as a watermark that gives copyright to you as an owner.
Even though it may seem easy to add a logo to a photo as a watermark, there are a few things to keep in mind. These are as follows:
Components of Logo
As mentioned above, logos are usually composed of graphics, text, and shapes. Choosing the right color is important for its aesthetic appeal as well. And when making a logo, you don't just combine these three, you also have to think of the right image or icon that represents you or your brand. Meanwhile, for the text, a font that is easily recognized and readable is a must-have. And for the shapes, you can always use circle ones or opt not to.
Goals to Remember in Putting a Logo
In creating a logo and achieving the recognition and branding you want, you must also consider that your logo should speak to your target consumers or clients. In short, it must be relevant. And it should be timeless since it will represent you through the years. Moreover, your logo must have a distinctive look from your competitors. And lastly, the logo should be readable.
Different Uses of Logo
To sum up, logos are essential. It can be used on your website to increase your brand engagement. Or use it on your business cards to subtly introduce your company. You can also use this for your marketing tools such as ads, brochures, product packaging, and even newsletters.
Meanwhile, you can absolutely use this as a watermark and copyright to your photos too. In case you think it'll be more work load for you, we can make you change your mind with our logo watermark creator. Read further to learn more.
How to Add Logo to Photo with PicWish
PicWish is the best tool for you to add logo to picture. This tool lets you put a watermark on your photo quickly and easily. With it, you can either add text by adding text to the photo or upload a logo instead. It has opaque settings to make your logo slightly transparent and unobtrusive when put over the image. And what makes this tool special is that it can process up to 100 images simultaneously. Say, you already have a logo converted to transparent background, here's a step-by-step guide on how to use this amazing tool:
Download
Install PicWish on your PC first.
Next, launch it and select Add Watermark from the Toolkit tab to upload your photo.

After that, click Image to import the transparent logo.

Then, locate the logo in your desired area and control its opacity as you like.

Once done, click the Save All button to download your output.
Tips:
You can also remove background from signature if you wish to use your own signature as your watermark.
PicWish Alternative Logo Watermark Creator
Watermarkly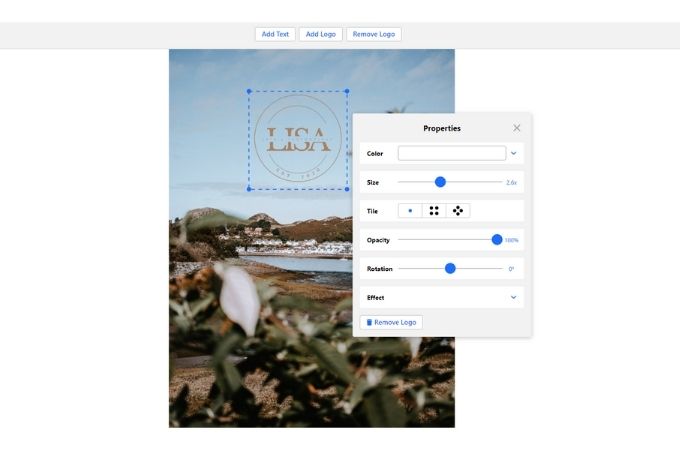 Watermarkly is another tool that lets you add logo to picture easily. It has a straightforward interface that is very easy to master. Besides adding a logo, you can also use text as your watermarks with this tool as well. It also enables you to put shadows and effects on your customized watermarks. Although this web-based app can process batch images, this is best for you only if you have limited images as it can process 10 pictures at once.
Watermarkphotos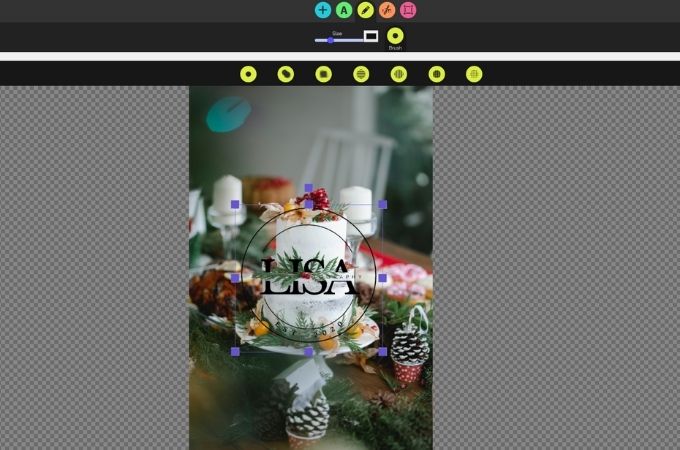 A tool that can help you how to add logo to photo is Watermarkphotos. Its editing features cater to your need for putting a watermark over your photo. Moreover, instead of a logo, you can add text or even a signature as a watermark. But the thing is this tool doesn't have an option to adjust the opacity of the logo, thus, you should first adjust its transparency before using it.
Photoshop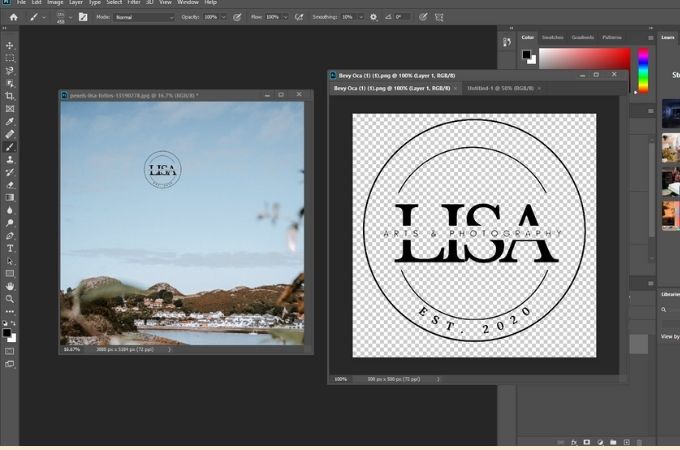 Talking about photos, Photoshop cannot be left out of this list. We all know how this software works as a photo editor. And yes, it can also add logo to picture you want. By converting the logo as your brush, it can be easier for you to put the logo over your image. However, the downside is that this software is not "too friendly" for beginners as it has too many editing tools and is not specifically made for adding watermarks.
Conclusion
Taking ownership of your image has never been simpler. With this article, you learned how to add logo to photo efficiently. And when you have to process more than 50 images, PicWish is the perfect tool that can do that.