Announcement
Nov 7 2022
Big news! We are excited to announce that as of Nov 7, 2022, we are refreshing with a new homepage and slogan scheme as part of the ongoing evolution of PicWish.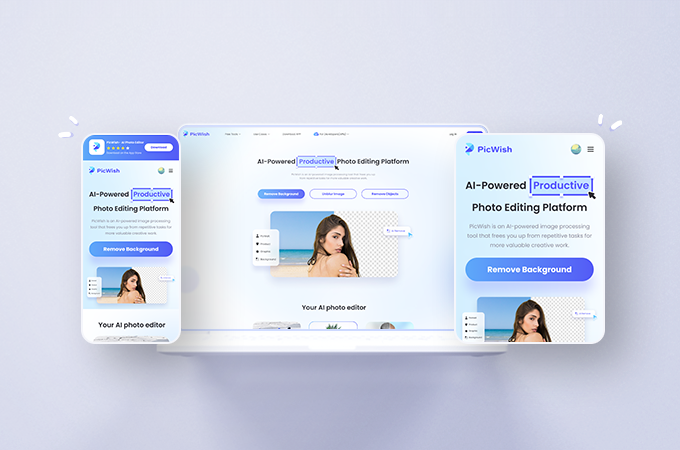 PicWish official site is growing and evolving since we launched last year, and we felt it is time for a change. We have redesigned our homepage to reflect who we are today and to symbolize our future. We analyzed our values as an AI-powered image editing platform and created a brand identity that reflects those values. Easy, Productive, and Creative photo editing using PicWish.
Over the last few months, PicWish online website exceeded 100,000 daily visitors and processed over 300,000 images per day for users worldwide. We started PicWish to free you up from repetitive tasks for more valuable creative work. Now, we're pleased to see more and more people editing photos in an easier and faster way than ever before.
The majority of users probably only see PicWish as a background remover or a tool to improve image quality. Unquestionably, this is one of PicWish's distinguishing features. But for the time being, allow us to take you into the bigger world of AI image processing. We have poured our hearts and souls into creating a new image that would accurately showcase a collection of all our best features.
Remove Background

Automatic image background removal in 3 seconds

Unblur Image

Image quality improvement and face enhancement

Remove Object

Magic retouching and image inpainting

Photo Colorize

Turn black and white photos to color with AI

Compress Image

Reduce image size without losing quality
All those updates have no effect on your normal use. We're still PicWish, the best choice for eCommerce, designers, and marketing. But more versatility and, we hope, more widely spread.
If you have any thoughts, requests, or suggestions, feel free to reach us.
Media Contact
Candice Jin
[email protected]