Make Picture Background Black
Online Solutions
PicWish – 100% Free
PicWish is a newly released online tool that can create a black background on your photography. This 100% free web-service tool can automatically detect subjects from its background with the help of its clever AI tech. You will be astounded at how clear the result is even the complex part of the subject such as hair and complicated color scheme. You may also display your creativity by adding a new background to your photos such as plain colors, black color, and background templates.
Here are the simple steps to make photo background black with the help of PicWish.
Visit this online background removal tool.
Click the "Upload Image" button to upload the image that you need.

Wait for the result, and click the "Edit" button afterwards.

Select "Change Background" > "Colors" and tap the color black.
Once done, hit the "Download" button to save your work.
Removal.ai
Removal.ai is another online tool that can transform your photo background to black in an instant. This fully automated background remover tool also uses AI technologies that will give you a transparent result in seconds. Then, make background of photo black by adjusting the color palette into the shade that you need. Removal.ai will give you the freedom to set the plain background color that you need.
Follow this simple guide to create your photo background to black with Removal.ai
Go to the official home page of the tool.
From there, upload image by hitting the "Choose a Photo" button.

The tool will present the transparent result, click the editor tool and look for the color palette icon.
Set the color to black and hit the "Download Imag" when done.
Remove.bg
One of the best online background editors that you may have is Remove.bg. This photo editor to make background black will be covered what you need with its useful features. This tool uses an automated process that will delete the background from the photo. It will present an accurate cut-out of the subject, which you can change its background to black. Remove.bg consists of almost all the solid plain colors that many people use such as black and white.
To achieve the black background on your photo, follow the steps below.
Visit the Remove.bg official page on your browser.
Click "Upload Image" button to import a photo.

Click "Edit" > "Color" and select the color black.

Once satisfied, hit the "Download" button.
Mobile Solutions
Apowersoft Background Eraser
Know how to make the background of a picture black with this awesome mobile app called Apowersoft Background Eraser. You can get rid of the unwanted background and add a new background color like black or backdrop templates with its large pre-set collections. What is more amazing with this app is that you can process photos in bulk so you can save not only time but also effort.
Have this simple guide to have a black background on photo.
Open the app, choose the recognition that you need to upload the image.

The app will present an accurate cut out of the subject, tap "Background" > "Color".

Choose the black background color and hit "Save HD".
Photo Background Changer
Make picture background black with Photo Background Changer. With this photo background changer and eraser, you can directly do the work. This cool and fun app offers unique and beautiful backgrounds. However, you need to download a separate solid color to apply to your photo.
Create a black background with Photo Background Changer
Download and install the app from the Play Store.
Tap "Background" to get the photo .
The app will show a transparent result, tap "Gallery" to get the black background.
Apply it on your subject and hit the "Save".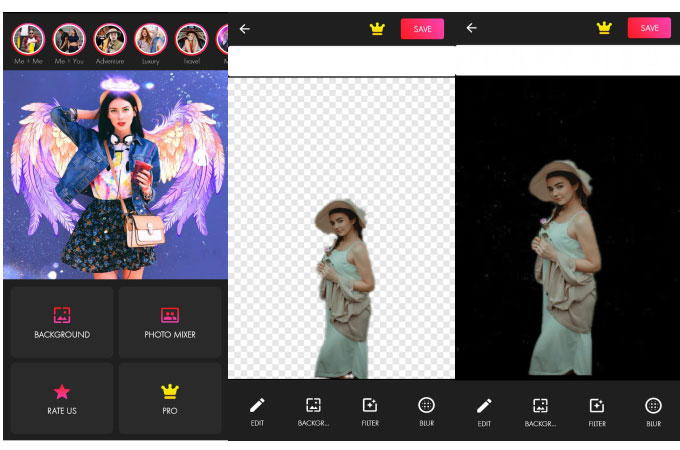 Background Editor Change Color
Background Editor Change Color make photo background black with its powerful image editing features. It has a magic remover tool to delete any unwanted background from photos. And change the photo background easily with its pre-set solid plain color that really matches any subject that you will have. More than that, this app is also a seamless photo editor that you need to beautify photos.
How to make black photo background with Background Editor Change Color
Go to the App Store to downlload and install the app.
Tap "Change Background" to upload the picture that you will use.
Use one of the removal tools to re,ove the background.
Choose "Solid Color", then select black and download it.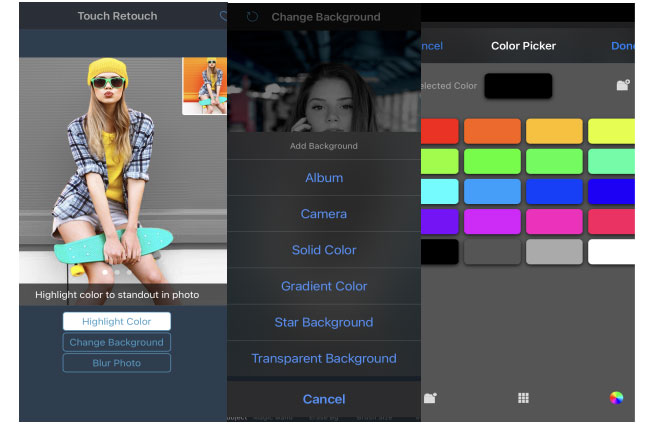 Conclusion
Make background of photo black can create your subject stand out compared to others. With these online and mobile solutions, you can quickly have your background in black. PicWish is the most recommended because of their interface's simple and easy-to-understand features. Share your experience in using it by writing n the comment section below.