Our web browsers have become an integral part of our daily lives. One of the most popular web browsers, Google Chrome, not only provides a seamless internet surfing experience but also allows you to personalize your browsing environment. If you're wondering how to change Google background? Well, you're in luck! We will provide you with a comprehensive step-by-step guide to do it. Whether you want to add a touch of personal flair or freshen up your browsing experience, we got your back. Get ready to transform your Chrome browser with a new look that suits your style!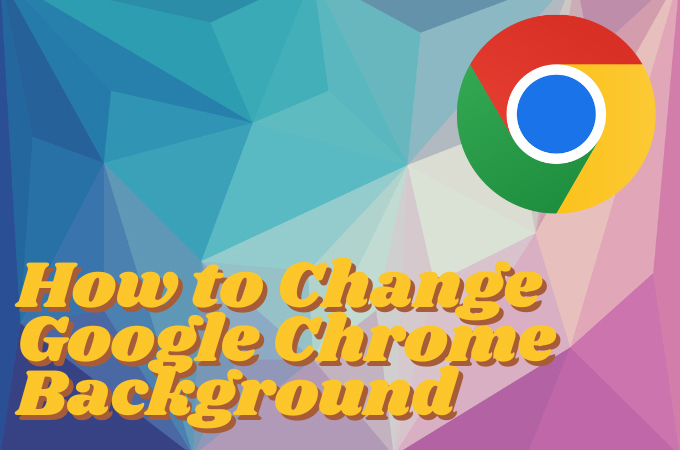 How to Change Chrome Background
Use Google Themes
By default, Google Chrome's background is always white. Luckily, you can customize it with the help of themes. Google Themes are a feature that allows users to customize the appearance of the browser. Themes are collections of colors, images, and design elements. They can be applied to the browser's interface, including the background of the new tab page, the toolbar, tabs, and more.
Follow the steps to learn how to change wallpaper using Themes:
From Chrome, click the 3 dots located at the top-right corner and select Settings.
Find Appearance and access the Themes.

Choose any theme you want and click Add to Chrome.

Wait for a few seconds and the background will change automatically.
How to Change Google Background with a Personalized Image
What if you're browsing the Theme store but nothing fits your taste? Fortunately, Chrome now allows you to upload an image and set it as a background. Keep in mind that this will not affect the style or settings of the browser.
How to personalize Chrome background with an image
First, make sure that your Google Chrome is updated to its latest version.
Next, open a new Chrome tab and find Customize Chrome at the bottom-right corner of the page.

Click Change Theme and hit Upload an Image and choose the photo you want. Then, the background will set as the photo you uploaded.
How to Change Chrome Background using AI Wallpaper Generator
If you want to show your creativity and set it as your browser wallpaper, PicWish got your back. Here, you can choose different style that suits your taste. This includes illustration, cartoon, anime, cyberpunk, and more. The best thing about it is that it has a preset size perfect for a wallpaper. Lastly, all images produced are ensured to have the highest quality possible.
Generate background with PicWish
First, visit the official website of PicWish AI Art Generator.
Then, enter your prompt using the text box.
Choose the style and for the size, select Wallpaper. Click Generate once everything is set-up.

Wait for a few seconds and let the tool process it. Once done, download the generated background.

Lastly, you can now upload the generated wallpaper using the steps above.
How to Change Google Chrome Color
Lastly, if you prefer simplicity and you're not into patterned backgrounds, Google Chrome still got your back. Aside from the default white color, you can also choose other preset colors you prefer. This method is straightforward and intuitive as you don't need to add anything to do it.
Follow the steps to change the color of the browser
Open a new tab and let's access Customize Chrome at the bottom-right part of the browser.
From here, choose the color you want and it will automatically change to the color you picked.
How to Go back to the Default Theme
In case you changed your mind and you now want to go back to the white background of Google Chrome, it is still possible. Follow the steps below to learn how to reset the background back to default.
Click the 3 dotted menu at the top-right corner to select Settings.
From the left, find appearance and click on it.
Here, hit Reset to Default to undo all changes made on the Chrome background.
Conclusion
Google Chrome, as one of the most used browsers, offers a range of options to help you on how to change Chrome background. Throughout this comprehensive guide, we've shown you how to change your Chrome background. From utilizing Google Themes to infusing your browser with a personalized image. Even venturing into creative territory with an AI wallpaper generator like PicWish, we've covered it all. And if simplicity is your preference, we've even shown you how to change the browser's color. You can choose among these methods and let you creativity arise.