Get to Know the Best AI Headshot Generators
Brief overview of AI headshot generators
AI headshot generator tools are cutting-edge tools that use artificial intelligence to enhance and transform portraits. They offer various features to improve image quality, retouch imperfections, and create stunning, professional-looking headshots with minimal effort. These online photo editor tools have gained popularity for their ability to automate and simplify the portrait editing process, making them accessible to individuals, photographers, and businesses seeking high-quality headshots. In this article, we'll explore the best AI headshot generators and discuss their features, benefits, and future trends in the field.
Understanding AI Headshot Generators
A. What are AI headshot generators?
AI headshot generators are innovative software applications powered by artificial intelligence (AI) and machine learning algorithms. Their primary purpose is to enhance and improve portrait photographs to make them appear more professional and visually appealing. These tools offer various features, including skin smoothing to eliminate imperfections, eye enhancement, teeth whitening, and even the option to apply virtual makeup. They can also handle background removal and replacement, as well as adjust lighting and color balance for optimal results. Additionally, users can customize the level of enhancement to achieve the desired look, from subtle improvements to more dramatic transformations.
B. Benefits of using AI headshot generators
Using AI headshot generators offers a range of benefits that make them a valuable tool for individuals, photographers, businesses, and more. Here are some of the key advantages:
AI headshot generators can significantly reduce the time needed for portrait editing. They automate many time-consuming tasks, such as retouching and enhancing, enabling users to process multiple photos quickly.
These tools ensure consistency in editing across a set of headshots, maintaining a uniform and professional look, which is crucial for portfolios, marketing materials, or social media profiles.
AI algorithms can identify and correct imperfections in portraits, resulting in higher quality and more visually appealing headshots. This can be particularly important for businesses or professionals seeking polished images.
AI headshot generators are designed to be user-friendly, making them accessible to people with various levels of technical expertise. They often offer a simple interface with easy-to-use controls.
Users have the flexibility to customize the level of enhancement to suit their preferences. Whether they want a subtle touch-up or a more dramatic transformation, AI headshot generators can accommodate different needs.
For individuals or small businesses, using an AI headshot generator can be a cost-effective alternative to hiring a professional retoucher or photographer. It eliminates the need for expensive software and services.
The Top AI Headshot Generators
Fotor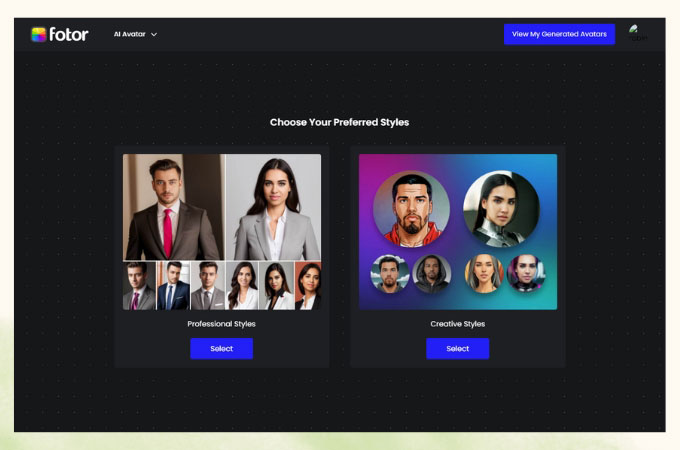 Considering a headshot photo? Try Fotor's AI Headshot Generator. It produces professional team member profile images to enhance your online brand presence. This advanced tool employs intelligent algorithms to ensure consistently refined headshots. Whether you prefer a formal, casual, or artistic style, this tool has you covered for platforms like LinkedIn and social media. It swiftly creates eye-catching avatars in various styles. What's unique is that, besides working with existing images, Fotor's AI generator can craft distinctive avatars based on textual descriptions using cutting-edge AI technology. The impressive aspect is that all the features of this avatar-making tool shine when you provide a detailed description of your ideal headshot. Fotor seamlessly transforms your vision into a lifelike headshot, delivering impressive results in seconds.
PicWish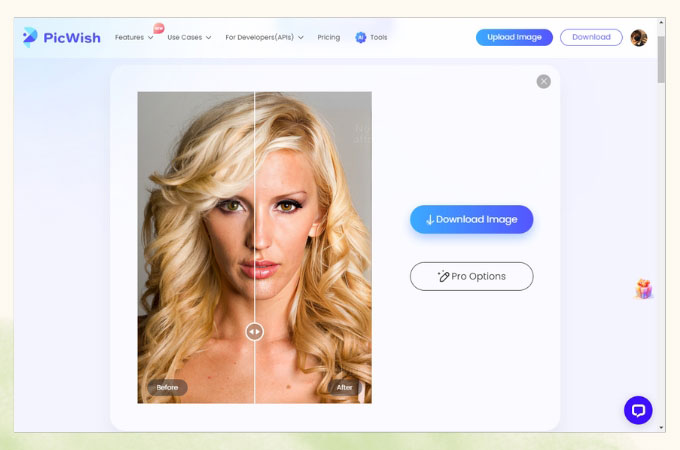 You can also try PicWish as a free AI headshot generator. This is an AI-powered image processing tool that offers a wide range of features to enhance and edit photos. With this amazing tool, users can convert photos from various formats effortlessly. The tool also provides a comprehensive set of photo editing tools, including AI art generation, and others. Moreover, Moreover, it also aims to save users time and effort by automating repetitive tasks and boosting productivity. Additionally, this offers image editing APIs for developers to integrate into their platforms and enhance their projects. The tool is popular among users worldwide due to its ease of use and ability to deliver high-quality results quickly. It is widely used in e-commerce, graphic design, and marketplaces. PicWish is available for free download and also offers paid plans for additional features and benefits.
Profile Bakery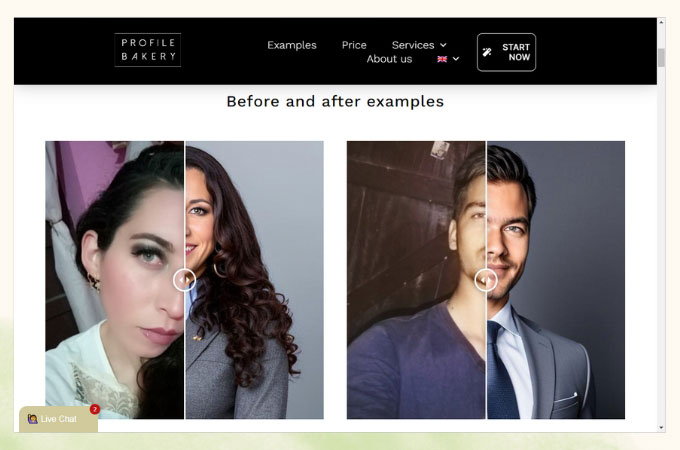 Experimenting with Profile Bakery is a decision you won't find disappointing. This exceptional AI headshot generator is ideal for crafting various headshot photos. The process is hassle-free without the need for registration or subscription to newsletters. Moreover, you'll enjoy useful complimentary resources such as CV templates and job boards, with continuous additions each month. Opting for the basic package grants you access to diverse styles and the flexibility to alter backgrounds during the booking process. Furthermore, Profile Bakery guarantees a 4-hour delivery. on the other hand, if you are concerned about privacy, rest assured, that Profile Bakery adheres to stringent privacy protocols, erasing your data after 30 days.
Secta AI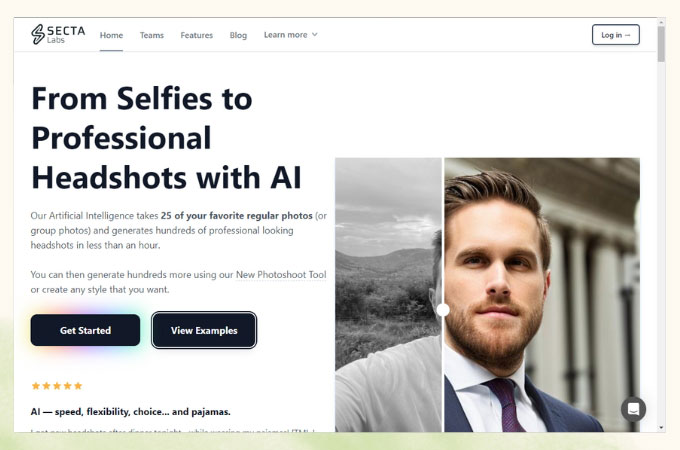 Secta AI stands out as a swift and budget-friendly AI headshot generator, capable of turning regular selfies into professional headshots. It can effortlessly produce numerous high-quality close-up portraits within just one hour. This advanced photo editing tool allows you to establish a private gallery for saving and selecting your preferred images, all while maintaining excellent picture quality through extensive customization options. Notably, this tool distinguishes itself with its money-back guarantee, assuring a full refund if you're dissatisfied, provided you haven't yet downloaded the images. Moreover, this tool is also suitable for team use. Amidst its many advantages, the aspect I find most appealing is its rapid and uncomplicated operation.
Dreamwave AI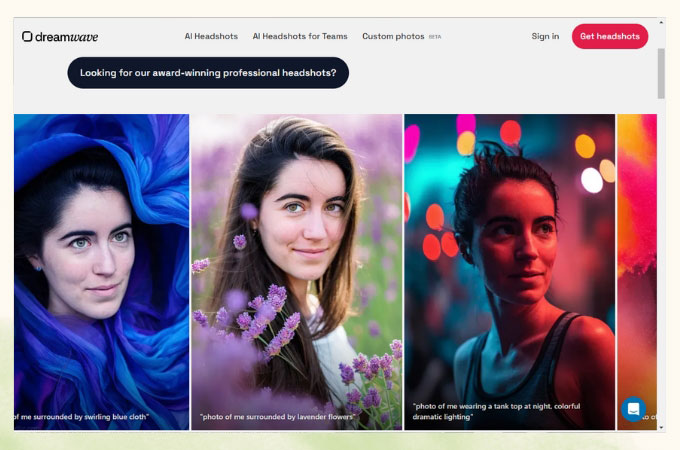 You can also check Dreamwave AI. This is an AI research lab that focuses on developing next-gen creative tools to augment human creativity with artificial intelligence. One of their popular products is their AI headshot generator, which allows users to create natural, accurate, and beautiful photos of themselves in just one hour, without the need for a camera. Users can generate custom photos with various scenes, outfits, and hairstyles, limited only by their imagination. Dreamwave's AI headshot generator is also capable of creating team headshots, making it perfect for remote teams. The generated customer photos showcased the versatility and realism of Dreamwave's AI technology. The company values empowering human creativity, ensuring safe and unbiased representation, and maintaining secure and private data. They prioritize controllable AI models that work for all ethnicities, genders, and body types.
Aragon AI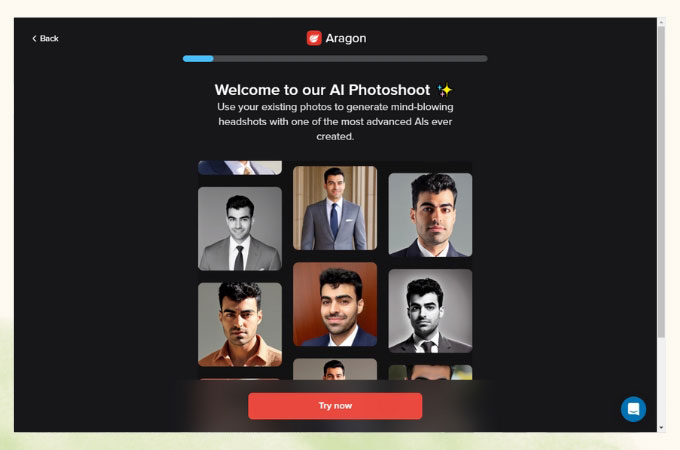 I also recommend Aragon AI. This is an AI headshot generator that transforms casual selfies into professional headshots. It uses artificial intelligence algorithms to enhance lighting, skin tone, and facial features, resulting in stunning and natural-looking photos. Aragon is trusted by leading professionals and has received positive testimonials from users. It offers a variety of settings, styles, and lighting options for users to choose from. With Aragon, users can create headshots for LinkedIn, social media, job applications, personal branding, professional websites, and even online dating profiles. The turnaround time for generating headshots is up to 120 minutes, and users only need to provide 14 selfies to get started. Aragon offers different pricing plans, making it accessible to a wide range of users. The platform is highly praised for its ability to save time, energy, and money, while still delivering high-quality results.
AirBrush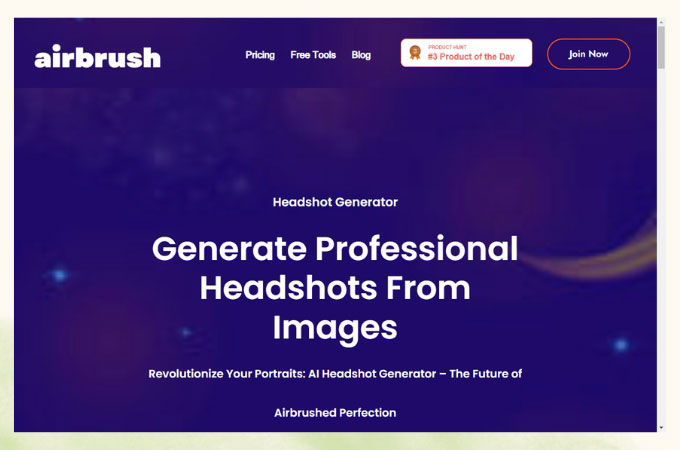 Another considerably best AI headshot generator app is AirBrush. This is an AI headshot generator that offers a user-friendly and intuitive tool for enhancing and perfecting portraits. Using advanced AI algorithms, AirBrush transforms ordinary selfies into stunning, professional-quality headshots. The tool removes blemishes and retouches photos, allowing users to elevate their personal brand or social media presence. AirBrush provides a simple step-by-step process for generating headshots, including selecting image variations, entering the image URL or uploading it, selecting the AI engine (Pix2Pix), choosing image dimensions, and optionally selecting advanced options. Users can create multiple headshots with variations and download them directly.
Headshot Pro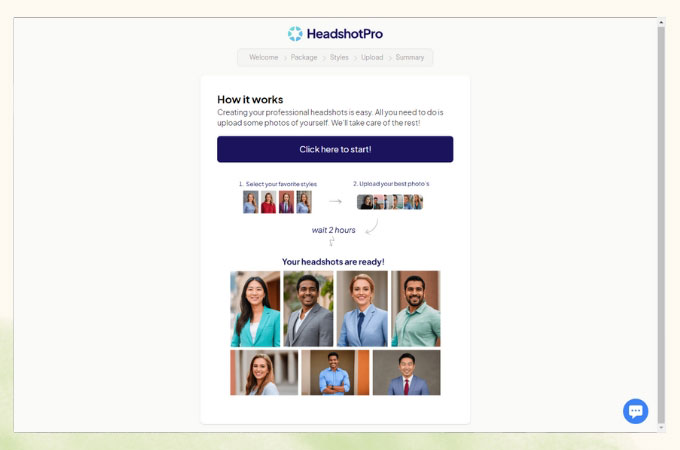 The last tool is Headshot Pro. This is an AI-powered tool that allows users to generate professional business headshots in minutes. It offers a convenient and affordable solution for individuals and teams looking to create high-quality headshots without the need for a physical photoshoot. With this tool, users can upload their photos, choose from various styles and backdrops, and use for almost 120 AI-generated headshots. The AI enhancements provided by Headshot Pro are highly praised for their ability to enhance facial features, adjust lighting, and smooth imperfections while maintaining the original photo's unique characteristics.
Tips and tricks for achieving the best results
To achieve the best results when using AI headshot generators for portrait enhancement, consider the following tips and tricks:
Start with High-Quality Photos
The foundation for great results is a high-quality original photo. Ensure your subject is well-lit, and the image is in focus, with a good composition.
Choose a reputable AI headshot generator with features that align with your specific needs. Research and compare tools before selecting one.
Customize the Enhancement
While AI generators offer automation, don't be afraid to customize the settings. Adjust the level of skin smoothing, eye enhancement, and other features to achieve the desired look while keeping it natural.
Avoid going overboard with enhancements. The goal is to enhance, not completely alter the subject's appearance. Keep a balance to maintain a natural look.
If the tool allows for background editing, ensure that the new background complements the subject and doesn't look out of place. A clean, simple background often works well.
Before applying any edits, make sure to save the original photo. This way, you can always go back to the unedited version if you need to.
Eye and Teeth Enhancements
Use eye and teeth enhancements with care. While brightening eyes and whitening teeth can enhance a portrait, excessive changes can make it look unnatural.
Pay Attention to Lighting
Ensure that the lighting in the edited image matches the lighting in the original photograph. Inconsistent lighting can make the image look unnatural.
Conclusion
AI headshot generators are a game-changing tool in portrait enhancement, offering time efficiency, consistent results, and high-quality editing accessible to users of all skill levels. Achieving the best outcomes involves starting with high-quality original photos, customizing enhancements for a natural look, and experimenting with different styles. As these tools continue to advance, they hold great promise for personal, professional, and diverse applications. However, ethical considerations are crucial to ensure that edited portraits align with subjects' preferences and maintain transparency in the process. Whether for photographers, individuals, or businesses, AI headshot generators provide a powerful solution to unlock the full potential of portrait photography and image editing.